Fundaments That Causes Ethereum MOON
3 min read
Ethereum – the largest altcoin on the market – has had two difficult years. From a historic high ($ 1,500) to $ 80. In 2019, it bounced off the bottom, but so far has not shown any large bullish momentum. Even if we disregard the mad leap of January 2018 and expect a historical high somewhere around $ 800-900, the Ethereum is still very low.
In 2020, however, we recorded quite good profits. The Ethereum woke up and even surpassed the $ 200 resistance this week and is expected to grow in the coming months. This is due to the huge number of strong positive fundaments that have accumulated in Ethereum over the last few months and of course the altcoin rally.
Ethereum recently got out of a two-year downtrend. Let's see which fundamentals are causing this bullrun.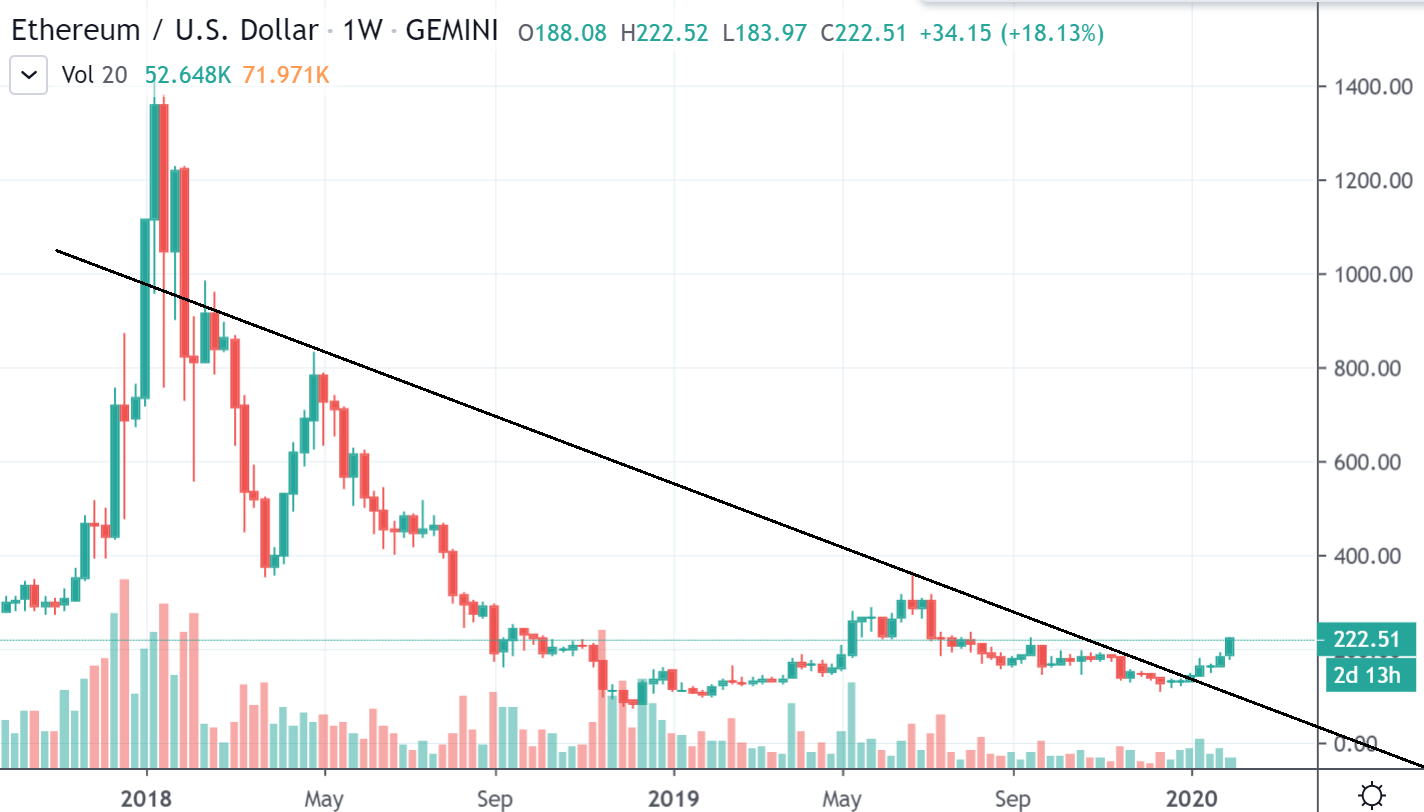 Achievements of DeFi ecosystem
DeFi (Decentralized Finance) goes up in 2020. Since January, their capitalization almost doubled and even exceeded one billion dollars yesterday. Of course, many people speculate that this is the reason why Ethereum's price has risen in recent days.
The defi ecosystem has a great influence on Ethereum's price. These are applications that already have real use. Be it decentralized stablecoin Dai from MakerDAO, Synthetix, Compound or other major projects in which hundreds of millions of dollars are locked.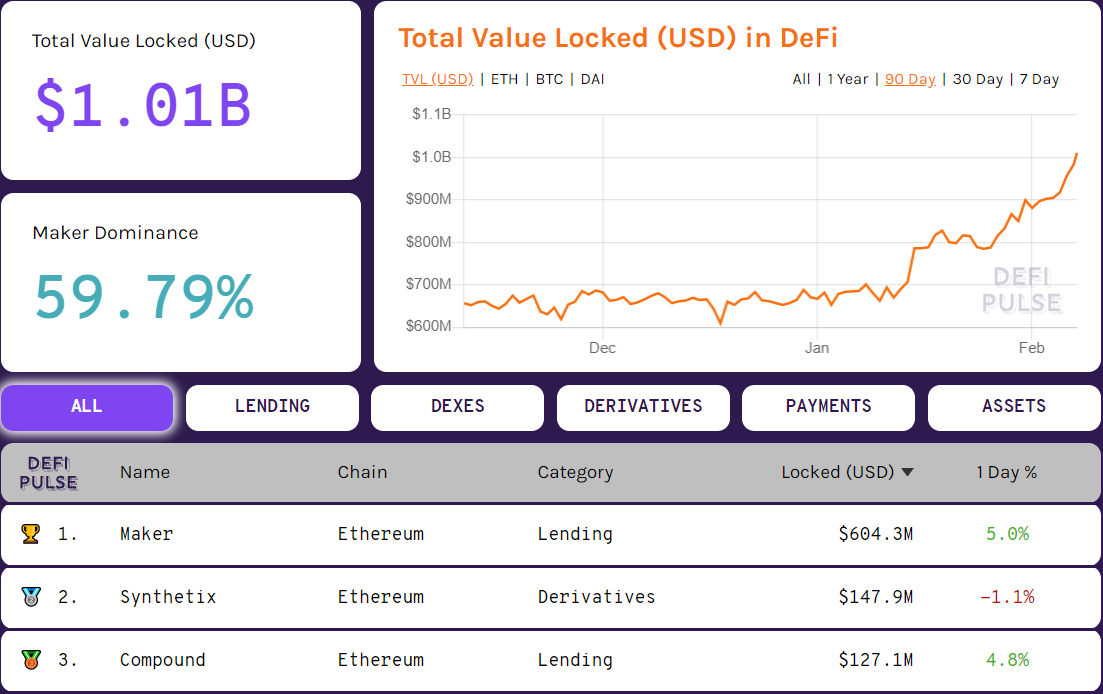 Cup & Handle formation
Ethereum clearly depicted the Cup and Handle formation on the chart. It is a turnaround formation that turns the trend. The fact that it appeared on the daily chart is a strong bullish signal for traders. Ethereum started buying more and stopped selling it as soon as it made some profit. This allowed Ethereum to overcome $ 200, and hopefully we will soon test $ 300.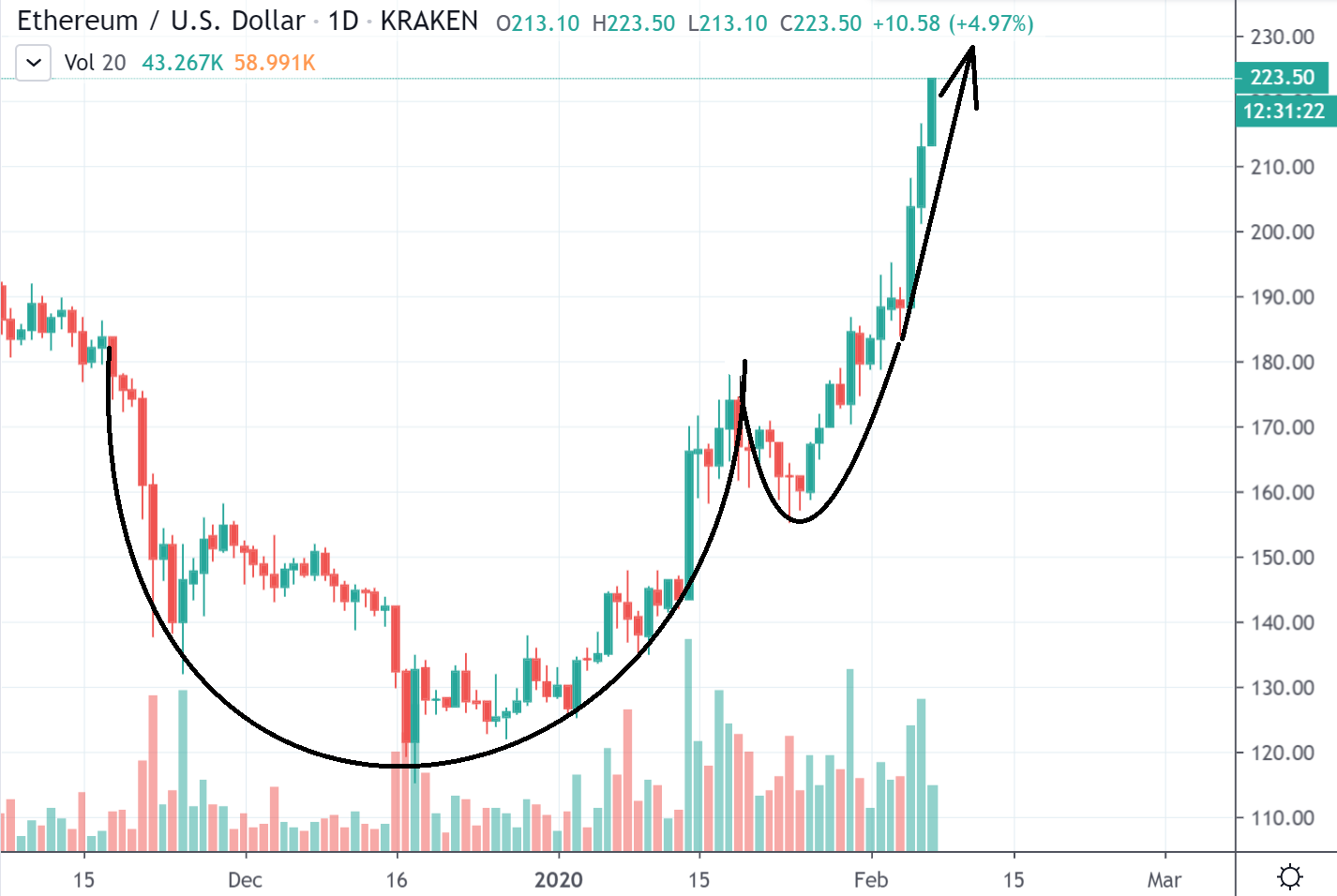 Continuous network upgrades and Ethereum 2.0
All of this is nice, but we would not expect any positive fundaments if the developers did not work hard on this project. The Ethereum blockchain has seen several important improvements over the past two years that have made it possible to scale better.
But what is more important is the fact that Ethereum 2.0 is finally approaching – a network upgrade that developers have promised us since ICO. Ethereum 2.0 testnet with fully functional staking works beautifully and has created over 22,000 validator nodes. It allows to significantly increase the speed and efficiency of the entire blockchain
Ethereum Trust Alliance
The success of Ethereum is closely linked to the success of projects running on this platform. Various low-quality coins during the ICO hype in 2017 (and especially after it) sunk the Ethereum. To avoid such a situation happening again, it is necessary to create a quality rating system.
The newly created Ethereum Trust Alliance ETA aims to create quality ratings for all Ethereum ecosystem projects. In the near future no one will have to blindly invest. Thanks to ETA, the quality of the project can be easily verified.