Further growth of BTC? If Bitcoin gets above 60,000, it could rise to $ 250-350,000
2 min read
Although 15 months have passed since BTC halving in May 2020, some analysts have not yet forgotten. Pseudonymous cryptanalyst Bit Harington draws conclusions from past post-halving cycles and very convincingly predicts further growth of BTC.
The growth of BTC
BTC halving is traditionally a bullish event, as it halves mining fees. The lack of BTC supply causes the price to rise. After the first post-halting peak, in 2012 and 2016, the price of BTC increased by 600% each time.
In PlanB's Stock-to-Flow BTC chart remains $ 60,000 as current resistance. If BTC manages to get above this level, it can continue to rise to $ 250,000 to $ 350,000.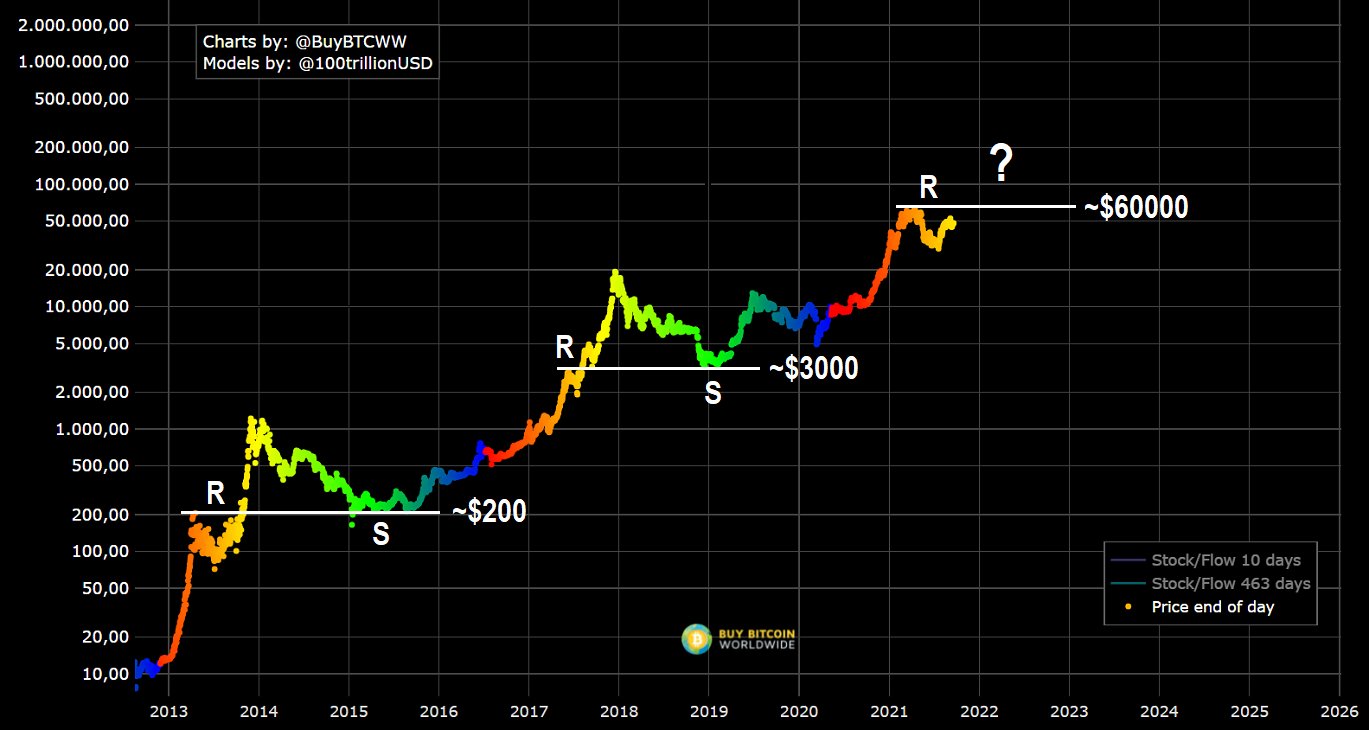 As we can see in the picture above, the horizontal lines represent the levels of resistance and support. Traders will test them several times before successfully breaking them and reaching new record levels. Similarly, the $ 60,000 level is now one such resistance.
Harington explains that BTC always experienced a "double peak" before getting above the resistance level.
"From this perspective, there will be a double peak after each header. After the 2nd halving, it was not as noticeable (as the obvious double peak after Heading 1), but this double peak can be seen in the indicators as a weekly RSI. "
This idea was supported by other crypto market analysts. For example, analyst Michaël van de Poppe supported this fractal theory. However, fractal theory also shows that after a large increase, the price of BTC will fall back to resistance levels.
"It makes sense and it is also in line with my expectations. We are somewhere in 2017. The big leak will come at a later stage to $ 250-350,000 and then BTC will drop back to 65,000 during the bear market, "added Poppe.
Shiba Inu reaches 900,000 followers on Twitter, overtaking Solana, Litecoin or Uniswap