Goldman Sachs: BTC outperformed other markets in 2021, but crude oil was on its heels
1 min read
Analytical data from Goldman Sachs show that BTC has strengthened its position as a store of value among many investors. BTC's profitability, according to the bank's scoreboard for 2021, outperformed all capital markets, including the S&P 500 and Nasdaq global indices, as well as stocks such as FAAMG.
The traditional store of value, gold, earned only 4%, so it is less and less interesting for the investor.
In 2021, BTC outperformed other markets
Market volatility over the past year has led to the emergence of fleeting market leaders: the new meme coin has shown high profits, in some cases exceeding several thousand percent. BTC's modest profitability – compared to Floki, Shiba Inu – reaching only 60%, temporarily pushed it into secondary positions for many croup investors.
However, due to such volatile results, BTC is becoming increasingly popular among traditional investors, many of whom consider it a value-preserving asset that outperforms any capital market.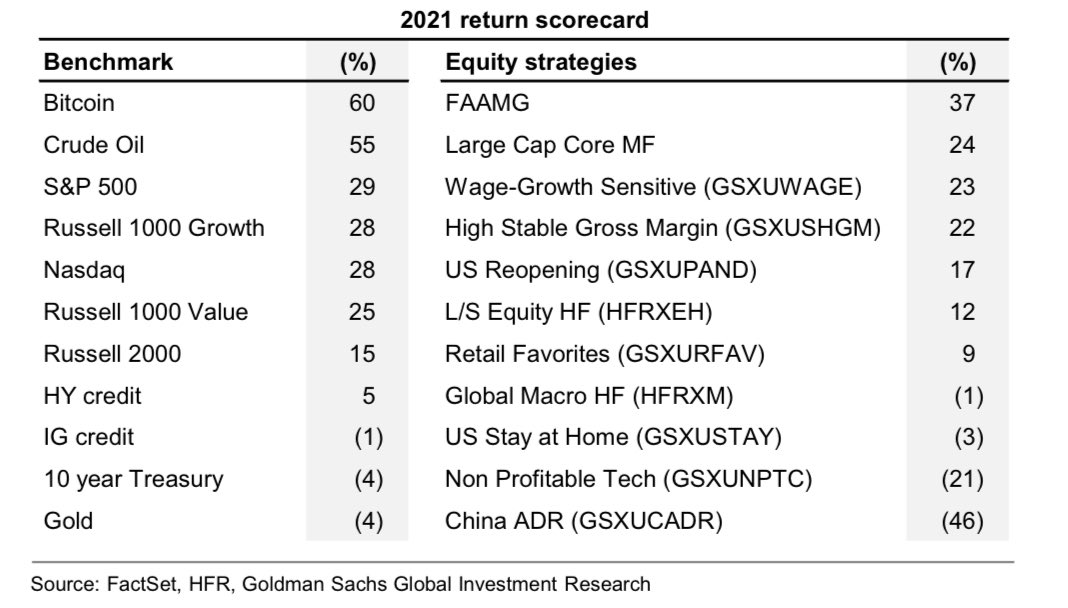 Gold was the biggest loser in the score. With a return on investment of 4%, the metal ranked lowest next to 10-year government bonds.
Zhu Su, CEO of Three Arrows Capital Hedge Fund, wrote on Twitter:
The demand for gold as store of value is inter-subjective I don't know any wealthy ppl in my generation who own any gold.

Have no gold objects in my homes, no gold on my items, no jewelry GLD ETF has been in nonstop redemption mode since Covid money-printing started.
These crypto trends await us in 2022 – Arcane Research report