Here Are the Biggest Celebrities Who Have Launched NFTs
5 min read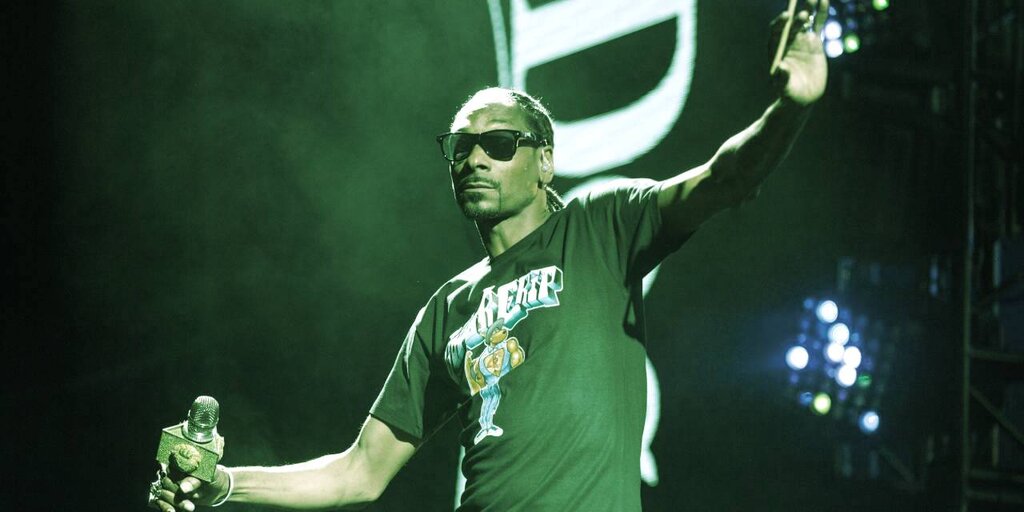 Internet trends in the 2020s can be scary, confusing things. From viral TikTok mashups to music playlists with titles like "lofi hiphop beats to chill and have an existential crisis to," some say the modern world has become a minefield of Escher-esque curiosities.
The latest craze to grip the world comes from the crypto space: non-fungible tokens, or NFTs. NFTs are blockchain-based assets that are provably unique thanks to identifying information recorded in smart contracts, and they've exploded in popularity (and price) over the past year.
From artwork to music albums and everything in between, artists, musicians, athletes, and dream-chasers are all selling their unique, non-replicable works to those with the funds and willingness to snap them up.
We've rounded up some of the biggest names that have jumped aboard the NFT hype train. Which ones would you drop your cash on?
Snoop Dogg
One of the most recent NFT debuts saw rapper Snoop Dogg release an NFT collection called "A Journey with the Dogg." The collection features Snoop's memories from his early years, NFT-inspired artwork, an original track called "NFT," and "Snoop Dogge Coins" (get it, DOGE fans?), which will be an open piece that's available for one hour only. The collection launches on April 2 at 4pm PT, and will only be available for 24 hours.
The Doggy Dogg Drop. Friday 4pm PST. pic.twitter.com/23i33lukzs

— Snoop Dogg (@SnoopDogg) March 31, 2021
Tony Hawk
Legendary skateboarder Tony Hawk announced the release of a tokenized video showing off his last ever 540-degree ollie via Ethernity Chain. The NFT lets someone permanently own the last footage fans will see of the retired pro skater performing the trick; he nailed his first one back in 1989 (32 years ago, if you want to feel old).
Lindsay Lohan
"Mean Girls" star Lindsay Lohan is no stranger to NFTs, having minted her own token on Rarible in February, which sold for $50,000. More recently, she's released her new single "Lullaby" as an NFT on Fansforever. While you can stream the song in its entirety, the NFT version comes with visuals that promise a "never before experience," whatever that is.
Damien Hirst
The darling of the 90s British art scene, known for his animals suspended in formaldehyde, Damien Hirst kicked off his NFT journey with the announcement last month of Palm, a new art protocol that will host "The Currency Project," spanning 10,000 oil paintings on paper, each with its own NFT. Previously, Hirst unveiled a series of eight prints called "The Virtues," which could be purchased with cryptocurrency.
Rob Gronkowski
The NFL tight end, four-time Super Bowl champion, and noted party animal who has endorsed big brands like Tide, Dunkin' Donuts, and DraftKings rolled out a collection of five digital trading cards on OpenSea last month; they sold for a Gronk spike-worthy $1.6 million worth of ETH.
Francis Ngannou
UFC heavyweight champion Francis Ngannou sold $580,000 worth of NFTs following his title fight, which, remarkably, was slightly more than his guaranteed purse for the fight against opponent Stipe Miocic—namely, $500,000 for knocking him out, plus a $30,000 sponsorship bonus. Not a bad week for the champion, all told.
Aphex Twin
DJ and producer Aphex Twin sold his first NFT on March 14 for a cool $128,000. Called "afx/weirdcoreblockscanner", the oddly-named piece was a collaboration between Aphex and visual artist Weirdcore. Interestingly, digital artist Freeka Tet (who also worked on the collaboration) has since shared a video showing how to unlock and extract hidden files from the NFT's seed.
Grimes
Canadian musician Grimes is somewhat of an NFT superstar, having sold around $6 million worth of digital artworks. Her WarNymph collection of 10 pieces—some of which are one-offs and others come in sets of thousands—has made Grimes one of the bestselling NFT creators around. With trippy artwork featuring different worlds, giant cherubs and more, the works might not be to everyone's taste—but there's clearly a high demand for it.
NFT drop in 20 mins pic.twitter.com/LChtcudm1O

— ︎𝔊𝔯𝔦𝔪𝔢𝔰 (@Grimezsz) February 28, 2021
Lewis Capaldi
Scottish singer-songwriter Lewis Capaldi has announced that he'll release a set of NFT ticket experiences in conjunction with tech company Bondly, giving fans the chance to go on "an experimental journey" with a few perks thrown in for good measure. Owners of his tokens will be able to attend a private in-person event next year, essentially making the tokens extremely exclusive tickets that can't be forged.
> https://t.co/DI6JFKQkVl
> https://t.co/ITVjIjUpsK pic.twitter.com/EmEfO3uxSW

— Lewis Capaldi (@LewisCapaldi) March 31, 2021
Kings of Leon
Tennessee rock band Kings of Leon have made an impressive $2 million from NFT sales of their latest album "When You See Yourself," which was released last month. Part of the sale involved six "Golden Ticket" auctions, which guaranteed their owners four front row seats to one show of every Kings of Leon tour for life—a pretty impressive and useful feature, for hardcore fans at least.
Soulja Boy
Mere days after buying up his first cryptocurrencies, Soulja Boy minted an NFT called Soulja Boy "Crank That." A total of 20 versions were made available on Rarible, priced at 5 ETH (around $7,000 at the time). This isn't his first foray into the world of crypto; he's previously asked his fans on Twitter for crypto tips, and even mooted creating his own cryptocurrency.
Go collect my NFT: https://t.co/ME2fda9GIU @rariblecom

— Soulja Boy (Drako) (@souljaboy) January 29, 2021
John Cleese
You might think John Cleese, of "Monty Python" fame, doesn't belong on a list with the likes of Snoop Dogg, Grimes, and Gronk, but when Cleese minted a crude drawing of the Brooklyn Bridge as an NFT last month, there was huge national media interest. The drawing most recently re-sold on OpenSea for 17.8 ETH, or $36,000. "The world has gone terminally insane," Cleese said.
William Shatner
Trading Card NFTs featuring images from William Shatner's personal life and career sold out in an impressive nine minutes when they went on sale in July last year. Snapped up on online marketplace WAX, 10,000 were sold, featuring around 125,000 digital collectibles in total. Choice cards include a picture of him hugging the legendary Leonard Nimoy, and, er, an X-Ray of his teeth, for some reason.
Yes. You want a pack of my NFT trading cards? I put X-ray images of my tooth from 1953 up as an NFT. Who does something like that? Me! Where have you been, dawg? I know…celebrating BTC. Where are your laser eyes? Send my love to my superfans Serena & her mom! https://t.co/7oPtIzYoBR

— William Shatner (@WilliamShatner) February 20, 2021
Want more NFT action? Check out our extensive coverage of the latest news in the NFT space.