Higher interest rates in the US could boost BTC appreciation, says analyst
3 min read
Over the past few weeks, the price of BTC has suffered from fears that the US central bank (Fed) would raise the interest rate. In this sense, cryptocurrency, like other risky assets, could suffer from market volatility.
However, analyst Caleb Franzen has taken a different view of this consensus. For him, cryptocurrency and US interest rates are already directly connected. Thus, an increase in interest rates could end up driving a new bullish rally.
Breaking common sense
At first, Franzen clarifies that the relationship between interest rates and risky assets is, in fact, inversely proportional. According to him, when interest rates on 10-year US government bonds rise, the stock market tends to fall. Likewise, falling interest rates benefit stocks.
Therefore, BTC, as a risky asset (according to the market's view), would follow this same pattern. But Franzen shows that cryptocurrency is beginning to behave not as a risky asset, but as a protective one.
Therefore, the BTC would no longer be influenced by the US interest rate, as is the case on stock exchanges. Indeed, the analyst revealed that cryptocurrency and interest rates are increasingly intertwined.
"The correlation between #BTC (candles) & 10-year Treasuries (teal) since mid-2020 is uncanny. Perfect overlap and these quantitative relationships are not being discussed. For the bull run to continue, will rates need to rise further?", he asked.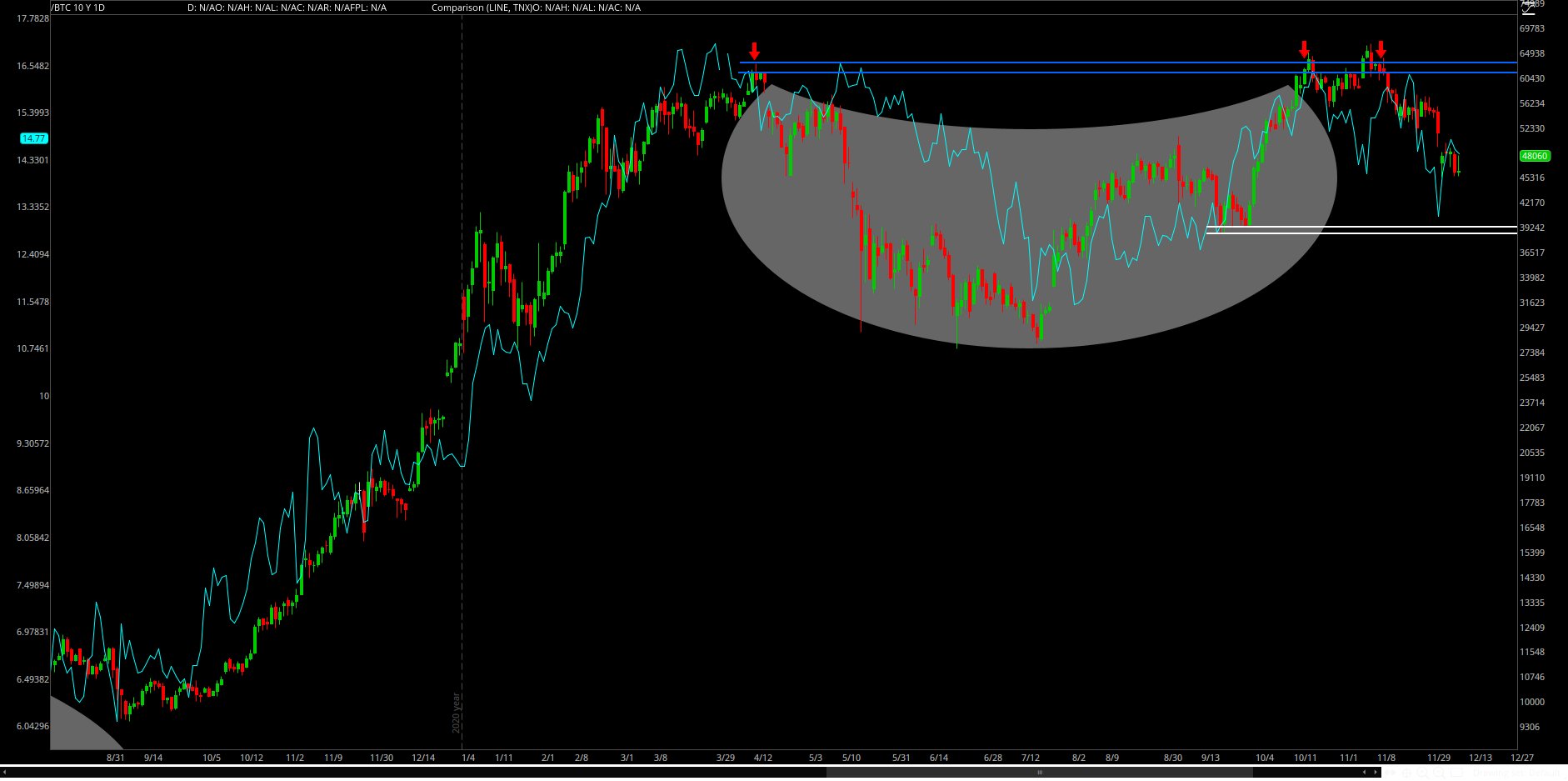 Also according to the analyst, this correlation is unique and does not exist in any other risky asset. The fact, highlights Franzen, is that low interest rates were positive for the BTC. But with the normalization of rates from 2022, the analyst highlights that inflation should be the new high factor in 2022.
Price hike will set BTC trend
Therefore, if there is no correlation between the BTC and the interest rate, the cryptocurrency is no longer seen as a risky asset, but rather as a protective asset. For Franzen, an asset against inflation, which hit records in the US in 2021.
Those records, in turn, are forcing the Fed to raise interest rates to contain rising prices. But at the same time, more and more people are adopting BTC as a store of value.
As seen above, interest rate increases lead to the sale of risky assets, such as the stock market. This money, in turn, is directed towards the search for protective assets. In this scenario, BTC may receive part of these liquidity inflows in search of protection.
Although it sounds strange, more and more people are using BTC as protection, especially in poorer countries. If this reality also occurs in the US, the high demand combined with the scarcity of BTC could cause prices to explode.
"More than anything else, this could be proof that BTC is working as a hedge against inflation. If inflation continues to rise in 2022, the Fed's anticipated actions to speed up the tapering and lifting process will likely cause rates to move higher."
However, Franzen cautions that these are just conjectures. After all, there is no way of knowing when (or if) the Fed will raise interest rates, nor how much. But the relationship between the BTC and the 10-year bonds will likely be one of the factors of attention for 2022.