How ASIC orders from institutional miners affect the price for terahash
2 min read
Unlike previous cycles, large institutional capital enters the market not as short-term speculators, but for the purpose of long-term capital allocation.
Buying and using an ASIC is a capital-intensive investment that has no immediate payback period. It is necessary to purchase a large number of machines, which may not arrive for several months, negotiate with large energy companies and create a physical infrastructure for hosting ASIC. This is not a project that can be successfully run overnight.
The allocation of institutional capital to the BTC mining sector is a testament to the institutional confidence in the successful development of this sector over the years.
ASIC orders by institutional miners
Publicly traded mining companies (RIOT, MARA, HUT and others) will provide significant hashing power in the BTC network in 2022. These mining companies publish their ASIC orders and are very transparent about the size of the projects they are building.
By analyzing publicly available data, it is possible to estimate how much hashing power these companies will bring to the network and how this will affect the price for terahash.
To date, the 14-day moving average of a BTC hashrate is 161 exahashes/s. This means that all miners in the BTC network will jointly execute a total of 161,000,000,000,000,000,000,000,000,000,000,000,000,000,000,000,000 (quintillions) hashes per second., to extract another block.
With the delivery of all orders placed by public miners, it is estimated that another 56.5 exahashes/s will be added to the network by the end of 2022. This is 34.7% of the total current hashrate.

This is a significant investment that will take 6-12 months for the data in the BTC network to be fully hashed.
Of course, the actual total hashrate is likely to continue to grow faster than at present, as there are many more miners than existing institutional miners, but it is useful to understand the amount of hashrate that public miners bring to the network and how this in itself can affect mining profitability. in 2022.
Below are three different scenarios that visualize how these new networked ASICs will affect the TH cost.
If the price of BTC remains at $ 58,000, the hash price ($/Thash.) Will fall from today's $ 0.33 to $ 0.24 by the end of 2022. It would still be beneficial for almost all miners.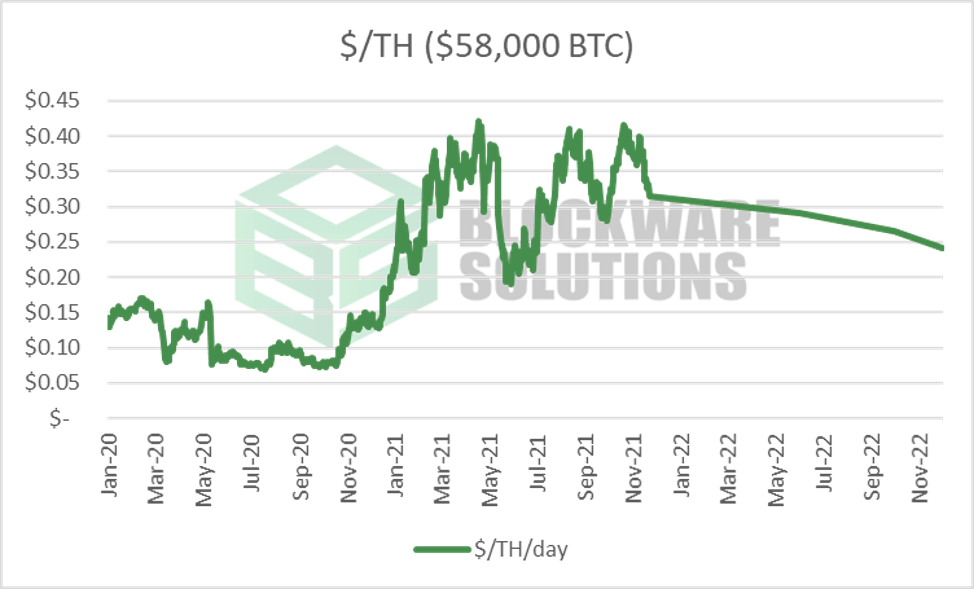 If BTC drops to $ 20,000, the price for Thash will drop to $ 0.08 by the end of 2022. This is roughly the hash price we saw after the halving in 2020, which caused a significant surrender of the miners.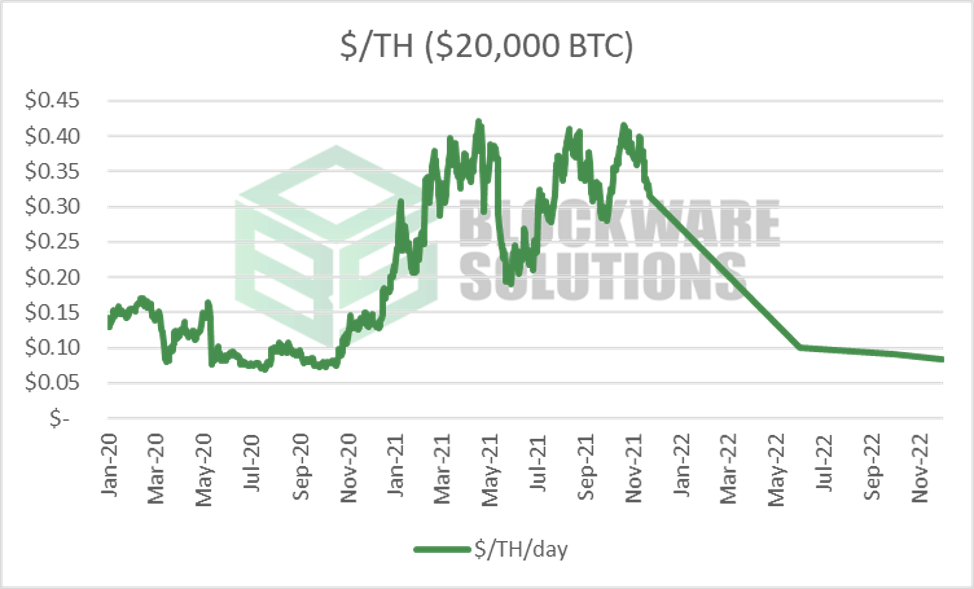 If the price of BTC rose to $ 250,000, the price for TH would be higher than $ 1.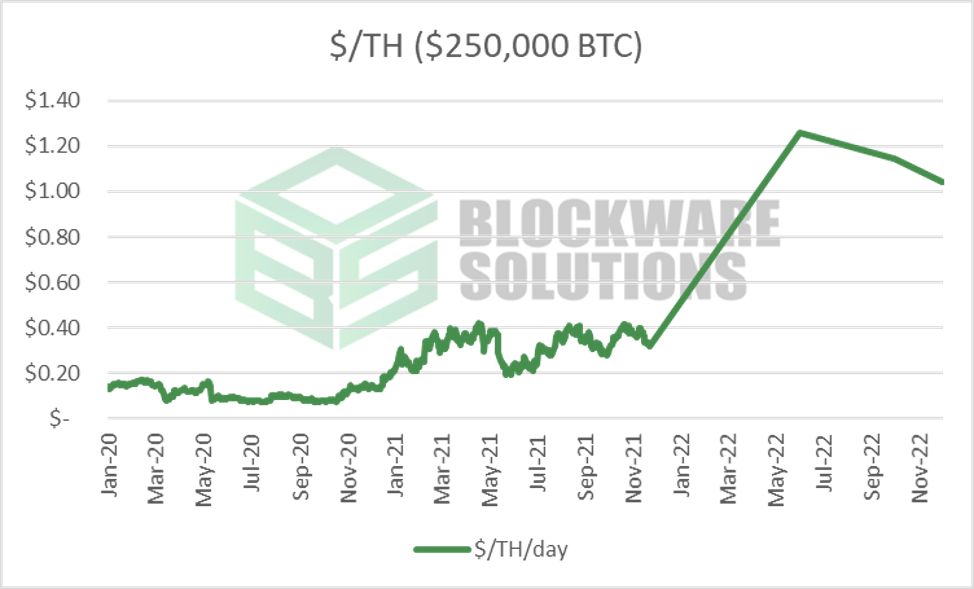 Institutional miners will bring a significant amount of hashing power to the BTC network in 2022, however, mining margins should remain acceptable in 2022 unless the price of BTC drops to $ 20,000.