How much the ETH ecosystem lost due to hacks in Q3
2 min read
A recent report by Atlas VPN found that in the third quarter of 2021, hackers raised more than $ 1.1 billion in stolen cryptocurrencies.
Three quarters of this year have already surpassed the entire previous year
While the cryptocurrency sector has grown exponentially in recent years, the number of blockchain-related cybercrime has also increased. Cyber ​​security issues and the exploitation of these vulnerabilities by hackers are a major problem around the world, and the increasing frequency of attacks is only adding fuel to the fire.
Atlas VPN found that in the third quarter of 2021, hackers raised more than $ 1.1 billion in stolen cryptocurrencies, most in the ETH ecosystem, more than $ 800 million.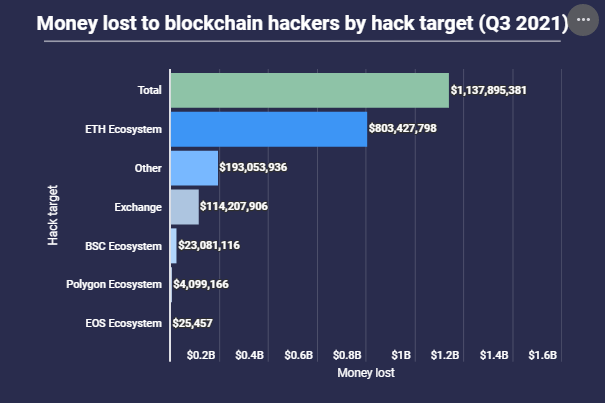 In addition to suffering huge financial losses, the ETH network was also targeted by the largest number of attacks, exactly 20.
The most significant hack on the network during this time was the Poly Network hack, in which the hacker stole $ 610 million in cryptocurrencies. While he returned most of the funds, he revealed several shortcomings in the network. This hack also stressed the need to solve this problem.
The Binance Smart Chain (BSC) also performed poorly in terms of cybersecurity, suffering seven $ 23 million exploits during the third quarter. However, the BSC can attribute a huge portion of this amount to the pNetwork disruption. The DeFi cross-chain platform was hacked in September, and holders lost approximately $ 12 million in BTC.
However, exchange hacks have fallen sharply in recent years due to strong compliance and security efforts. Between July and September, however, seven hacks were still made. The most important hit the Japanese cryptocurrency exchange – Liquid. This resulted in a loss of $ 90 million in stolen tokens.
The report also found that while the number of hackers looking for vulnerabilities in networks increased, so did the number of frauds and "rug pulls", a maneuver where cryptocurrency developers leave a project and run away with investor funding. They usually take place in the DeFi ecosystem, especially on decentralized exchanges, where they create a token and leaf it to DEX, then pair it with a leading cryptocurrency.
A total of 146 hacking events were registered in the first three quarters. This represents a 20% increase since last year, when 122 hacking events and frauds were recorded.
This number is expected to increase as similar activities occur in the current fourth quarter. In addition, the ETH ecosystem and the cryptocurrency exchange remain the primary targets of hackers, the report said.