Increased correlation between BTC and the stock market poses a risk
2 min read
For a long time, the price of BTC showed a decorrelation from the stock market. That is, when BTC appreciated, stocks fell, and vice versa. However, both assets have started to come closer together – and that is a risk to the system in many countries.
The assessment came from economists Adrian Tobias, Tara Iyer, and Mahvash S. Qureshi, members of the International Monetary Fund (IMF). According to them, this relationship can create shocks capable of destabilizing the entire financial market.
"The increased correlation between the cryptocurrency and equity markets indicates a growing interconnection between the two asset classes that allows for the transmission of shocks that can destabilize financial markets," economists warned.
BTC and stocks: united by institutional
The main source of the study are new research organized by Iyer, as shown in the chart below. Since 2020, the correlation between BTC and the S&P 500 stock index has become steadily positive.
The peak of this correlation occurred in March 2020, during the Coronacrash, when it reached 0.6. It was at the beginning of the pandemic where practically all assets fell sharply in price. Since then, the index has fluctuated between 0.2 and 0.4 for most of the last two years.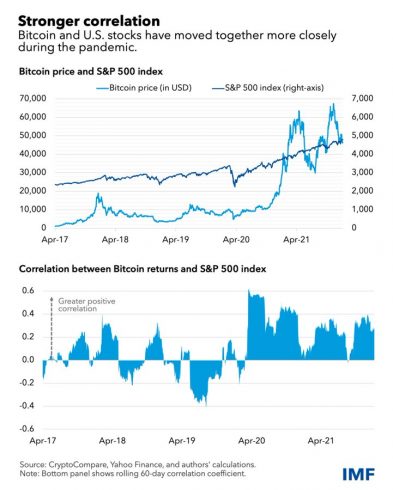 This correlation is confirmed by another report issued by the company Kaiko, focused on data analysis in cryptocurrencies. The document, released on Monday (11), shows that the correlation coefficient between the price of BTC and the S&P 500 reached 0.61. This was the highest level recorded since July 2020.
On the other hand, the correlation between BTC and the Nasdaq 100 index reached 0.58. That is, BTC also has a strong relationship with technology stocks. In fact, many companies in the industry, such as MicroStrategy, already have cryptocurrency as part of their balance sheets.
Even emerging markets are more in line with the price of cryptocurrency, as the MSCI Emerging Index shows. According to the report, the correlation between the two reached 0.34, a 17-fold increase from previous levels.
Traditional market embraced BTC
Correlation coefficients between assets vary on a scale of -1 to 1. The closer to 1, the closer is the price behavior between them. The closer to -1, the greater the divergence.
In this sense, the researchers claim that cryptocurrencies, especially BTC, are no longer on the sidelines of the so-called traditional financial system. On the contrary: their price movements are already starting to affect even the stock price on the stock exchange.
"BTC volatility explains about one-sixth of the volatility of the S&P 500 during the pandemic, and about 10% of the variance in S&P 500 returns. As such, a sharp decline in BTC prices can increase investor risk aversion. and lead to a drop in investment in equity markets," the authors warned.