Kazakhstan government cuts Internet and affects 18% of BTC hash rate
2 min read
Kazakhstan Government is facing a series of protests due to the increase in the price of gas in the country. In retaliation, most internet services were blocked, which temporarily affected BTC mining.
According to entrepreneur and BTC enthusiast Matt Odell, around 12% of the processing power (hash rate) of the network was affected by the measure. Without internet connection, machines cannot update the blockchain and mine blocks.
Using a graph obtained from the Internet monitoring service Netblocks, Odell illustrated the situation in Kazakhstan. The country registered about 100% connectivity until Wednesday (4), when there was an abrupt cut in the connection.
~12% of the BTC hash rate has been disconnected from the network due to the Kazakhstan Government cutting internet nationwide in response to anti government protests.

The BTC network continues to operate smoothly. Even if this hash never reconnects that will continue. pic.twitter.com/vIFSNOPhx6

— ODELL (@ODELL) January 5, 2022
Also on the 4th, President Kassym-Jomart Tokayev made a statement asking for help from the Russian army to contain the protests. At this point, the connection was partially re-established, but it dropped again after the pronouncement ended.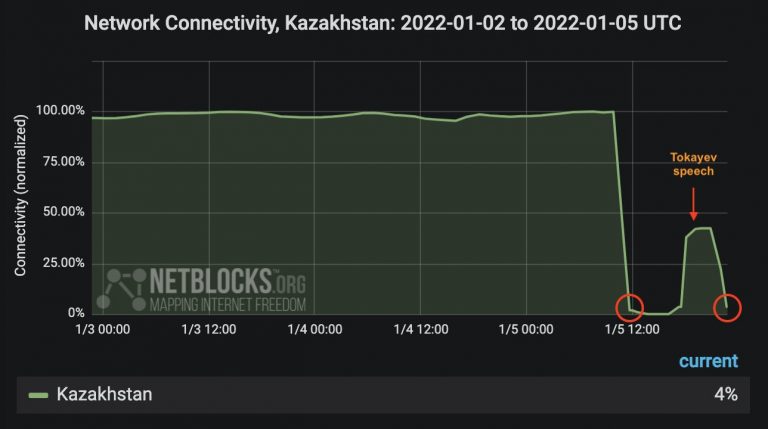 However, the network was not severely affected because of the fact. In fact, the BTC hash rate has even gone up in the last 24 hours, according to data from the BTC.com pool. At the time of writing this text, the network records about 180 exahashes per second (EH/s).
"Approximately 12% of the BTC hash rate was disconnected from the network due to the Internet cut in Kazakhstan in response to anti-government protests. The BTC network continues to operate smoothly. Even if that hash never reconnects, the network will continue," Odell said.
Understand the protests
The wave of demonstrations began when the former Soviet republic abolished controls on the price of natural gas. Like most countries in the region, Kazakhstan has gas as the main source of electricity and fuel for cars, as well as heating for homes.
With the end of subsidies, gas prices exploded, triggering a chain reaction that drove up fuel and energy prices. The first protests started on Sunday, but on Tuesday (4) they already occupied the largest Kazakh cities.
The escalation of the protests prompted the government to call in the police and army to fight them. Aiming to prevent protesters from organizing new acts, the country's internet blockade was decreed.
In this sense, BTC mining ended up being caught in the crossfire. According to data from the University of Cambridge, 18% of the BTC hash rate is located in the country, much of which comes from the migration from China that occurred in June 2021.
As a result, Kazakhstan is second only to the United States among the countries with the greatest weight in mining. However, contrary to what happened in China, this time the BTC's hash rate was not severely affected, which highlights the benefit of the decentralization achieved by the network.
Axie Infinity Releases Update and Teaser Trailer for New Lands