LUNA will face extreme sales pressure at US$ 105
2 min read
One of the cryptocurrencies that has been attracting the market's attention in December is Terra (LUNA). The digital currency has had an impressive streak of rallies, reaching new highs for the past four consecutive days.
Following the historic high, several cryptoactive analysts turned their eyes to LUNA. Although the cryptocurrency has registered important increases in the month, according to Jonathan Morgan, a pause in bullish momentum is likely.
As the analyst pointed out, LUNA's price is at an extreme and approaching extreme overbought conditions.
"The Relative Strength Index is approaching the first overbought level in a bull market. Probably, the level will be even higher if Terra reaches US$ 105", he said.
According to the analyst, the Composite Index is also at historic highs which also indicates an overbought area. So, this suggests a short-term bearish.
For Morgan, if the LUNA price moves to $105, the Composite Index will have a high probability of creating new historic highs.
LUNA
In addition, Optex bands are close to the overbought extremes and on a slope that suggests it will exceed those extremes, thus setting yet another bearish pattern in LUNA's price.
"The ceiling identified at $105 is the logarithmic expansion of 100% Fibonacci for LUNA. Given the near parabolic rise over the past nine days, an average reversal towards Tenkan-Sen at the psychological price level of $75 is likely support zone," he said.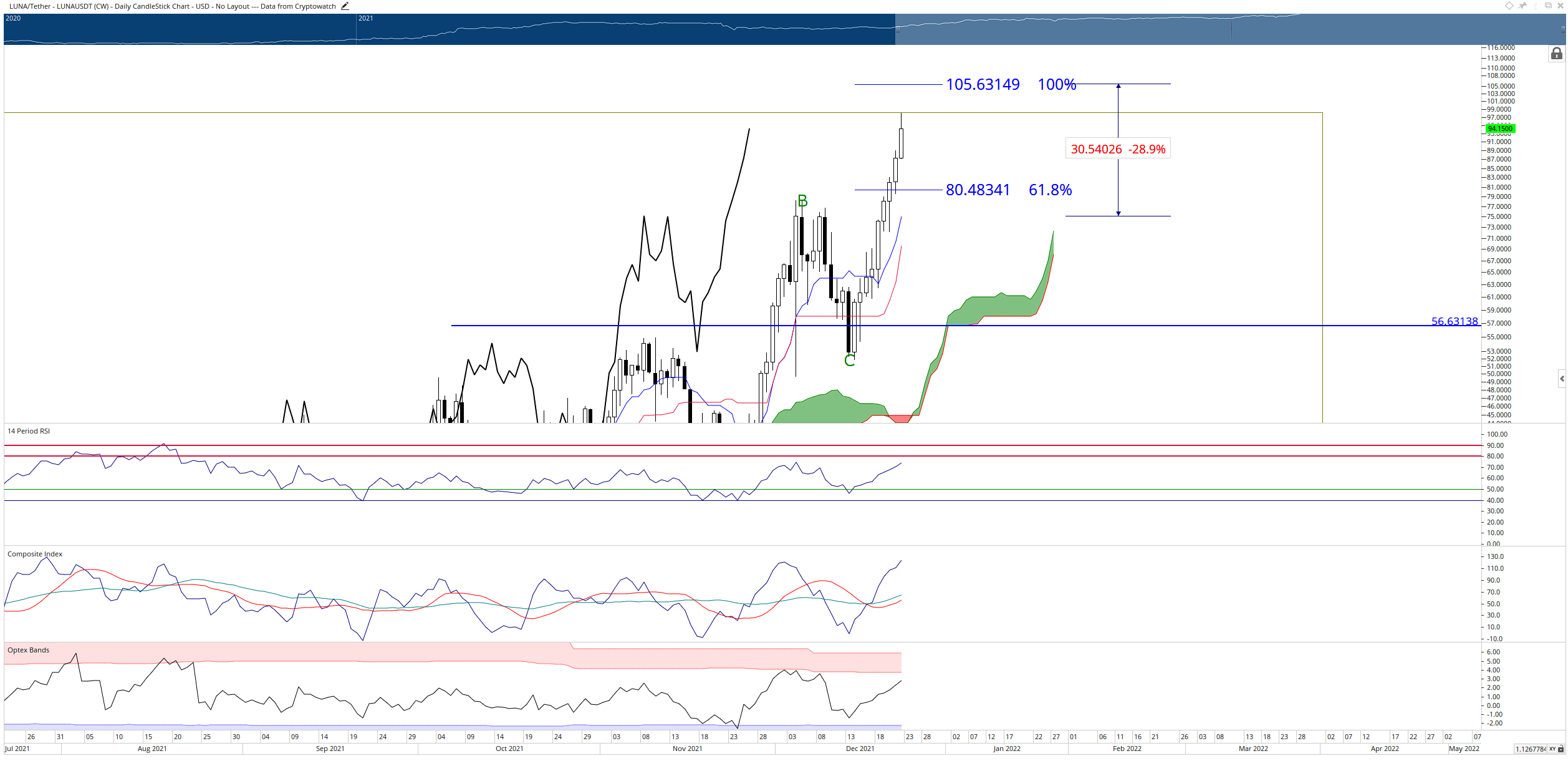 However, the price of the LUNA is already quite extended and may not reach $105. It is entirely possible that it will return to the $75 level without going over $100.
"Downside risks are likely limited to the high volume node and Kijun-Sen to $68," Morgan concluded.