Mercuryo Brings American Users a Seamless Gateway to Buy Crypto
4 min read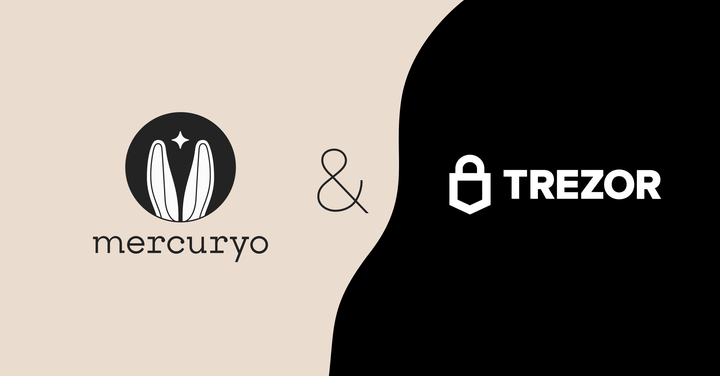 Mercuryo, a global payments network that supports cryptocurrency payments, struck a deal with the hardware wallet provider, Trezor, and its sister platform, cryptocurrency exchange rates comparison tool Invity.io, allowing the fintech firm to expand its operations to the United States.
The new deal will improve Mercuryo's reach in a massive new market.
Meanwhile, Trezor users from 50 US jurisdictions will be able to purchase digital currencies via the Mercuryo platform quickly and simply by using their MasterCard and Visa cards.
Mercuryo is a fintech startup founded in 2018. The company works as a cross-border payments network that offers many payment solutions to clients around the world. It handles both cryptocurrency and fiat payments and payouts for businesses.
At the time of writing, Mercuryo has a large customer base that currently numbers over 600,000 users worldwide. Furthermore, the firm continues to partner up with high-profile crypto enterprises, including the world's largest exchange, Binance, as well as Bithumb, Bitfinex, and more than 200 market makers.
Trezor is a well-known and trendy hardware cryptocurrency wallet that provides advanced security for handling BTC and over 1,000 other coins.
Its product is considered highly secure because it doesn't expose users' private keys to computers it gets connected to, reducing the chance of being compromised.
As a result, Trezor maintains a reputation as one of the safest hardware wallets on the market. Trezor's new asset management interface, Trezor Suite, is currently undergoing public beta testing.
Invity is a comparison tool for cryptocurrency exchange rates that was developed with the intent to make crypto purchases and exchanges easier. By compiling real-time rate information from different crypto exchanges on one platform, Invity allows its users to select the offer that suits them best.
As a result, deals with crypto become more straightforward and less time-consuming. Invity's comparison tool is fully integrated in Trezor Suite and it now also includes Mercuryo, further boosting the company's reach.
Trezor and Mercuryo are not new acquaintances. The two companies have already partnered before to conquer the European market. Their partnership in the US is only an extension of the relationship that the two have already established.
Mercuryo has recently expanded its operations to the US market, and its partnership with Trezor and Invity will allow it to include all of the two companies' existing users in its network. It will also attract new ones through advanced payment services that are both low-cost and fast.
The partnership between Mercuryo, Trezor, and Invity will help push crypto adoption, bring more manageable crypto payments to US users, and potentially contribute to regulating the crypto industry.
By making cryptocurrencies more available and easier to obtain, people will be able to invest, trade, and earn from the growing crypto industry and enjoy contactless digital payments.
"We are very excited to continue and expand on our relationship with Trezor. Our combined efforts in Europe have proven to be very beneficial – not only for our users and customers but also for the companies. With the US still searching for an easy way to make cryptocurrency payments, it is our hope to be the ones to provide it to them," Mercuryo's co-founder and CBDO, Petr Kozyakov, stated regarding the new partnership.
"Mercuryo has been available to European Trezor users for some time, so we're excited their offers are now available in the US too. We're confident that offering more choices to Americans who want to buy BTC will drive more users to adopt crypto thanks to the convenience of buying at competitive rates within the secure Trezor Suite environment," Marek "Slush" Palatinus, CEO of SatoshiLabs, commented on the partnership between Mercuryo and Trezor.
About Mercuryo:
Founded in 2018, Mercuryo is a cross-border payments network that aggregates a large number of payment solutions worldwide and provides fiat and crypto payments and payouts for businesses.
Headquartered in London, UK, the firm operates a leading global digital asset payment gateway. In addition to a fast-growing customer base of over 600,000 users, Mercuryo has partnerships with prominent crypto enterprises, such as Binance, Bitfinex, Trezor, Trust Wallet, Bithumb, and over 200 market-makers.
With ambitious plans to scale up globally, the company closed a €2.5m seed funding in 2020 led by a well-established international VC fund, Target Global. In January 2021, Mercuryo expanded its services to the US.
About Trezor, Satoshi Labs:
Trezor wallets are manufactured by Satoshi Labs, and they are among the oldest hardware wallets in the crypto industry. SatoshiLabs is a privately held company founded in 2013 and based in the Czech Republic.
The first company product was the world's first cryptocurrency hardware wallet. Its popular flagship product, the Trezor Model T, introduced new measures of security such as its full-color touchscreen.
SatoshiLabs is also the creator of more than 22 innovative security standards like Recovery seed, Passphrase, or Shamir Backup, which are significantly improving the whole industry of online security.
Present in over 220 countries worldwide, SatoshiLabs remains open-source, making the best security solutions accessible to anyone, anywhere. More information at www.satoshilabs.com and www.trezor.io.
About Invity.io:
Invity.io is a privately held company founded in 2019 and based in the Czech Republic. Invity has compiled a network of providers into a comparison tool that offers the web's best crypto buy and exchange rates all in one place.
Invity aims to use its straightforward interface and educational materials to open the world of crypto to everyone, regardless of their technical knowledge.
Invity is also highly security conscious and has valuable connections to longtime crypto players, and so is proud to power the purchase and exchange platform for the Trezor family of hardware wallets.
Invity also maintains Coinmap.org, a crowdsourced map of BTC ATM locations and businesses that accept cryptocurrencies around the world. More information at https://invity.io.
The post Mercuryo Brings American Users a Seamless Gateway to Buy Crypto appeared first on BeInCrypto.