Miners hold the largest amount of ETH since 2016
2 min read
The amount of Ethereum (ETH) held by miners has reached record levels.
ETH miners expect further price increases
The balance held by ETH miners is the largest since shortly after the network was launched five years ago. According to the Santiment analytical platform, 532,750 ETH is the largest balance of miners since 13 July 2016. The amount corresponds to approximately 0.45% of the total ETH supply in circulation, which is currently 117.8 million ETH.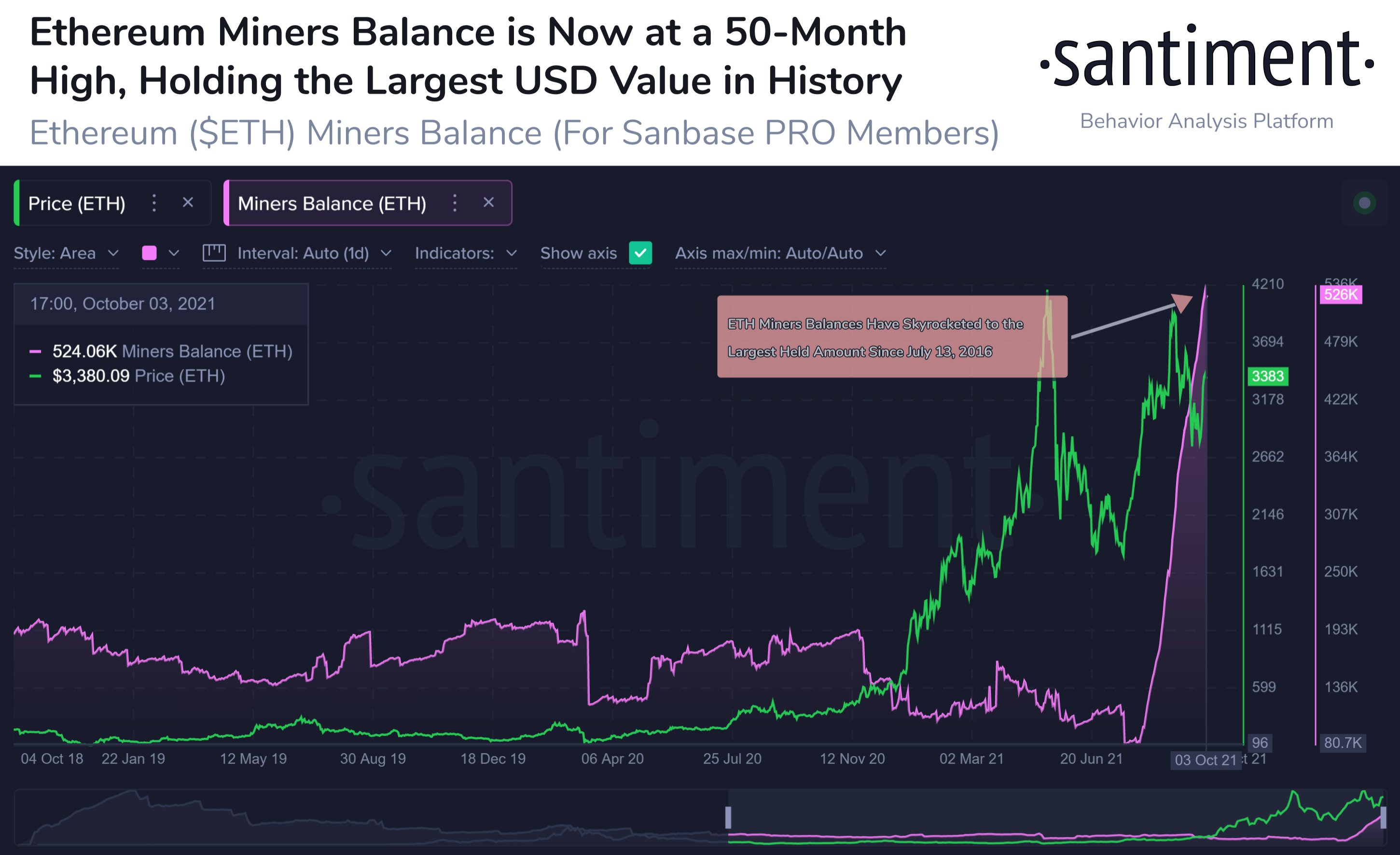 Miners usually sell the asset regularly to cover expenses that include the cost of electricity and hardware. The reluctance to sell suggests that miners are waiting for further price increases.
The level of ETH hashrate, which is often seen as a reflection of network security, declined during the exodus of miners from China along with BTC. ETH Hashrate dropped to 477 terahash per second (TH/s) at the end of June, but has fully recovered in the last three months and reached new highs. Currently, this is an increase of 150% since the beginning of the year.
This is despite the fact that the largest pools, SparkPool and BeePool, have suspended operations. Interestingly, according to BitInfoCharts there was no noticeable decrease in the hashrat, which reached a historic maximum of 745 TH / s on Tuesday.

In September, ETH miners, after the hard fork London in early August, began to accumulate assets. Miners expect further price increases from potential deflationary properties after the introduction of EIP-1559, which burns some transaction fees.
According to Ultrasound.money, ETH 484,873 ETH has been burned at the time of writing.
In addition, a large percentage was also invested in the ETH 2.0 Beacon Chain contract. According to beaconcha.in approximately 6.7% or 7.9 million ETH was locked.