More than 75% of BTC holders are in profit, reveals Glassnode
2 min read
Glassnode's latest report revealed that, currently, with BTC close to $50,000, 76% of cryptocurrency holders are in profit.
Regarding the percentage of BTC holders in profit, the report presents a graph of the evolution of this indicator since November 2020.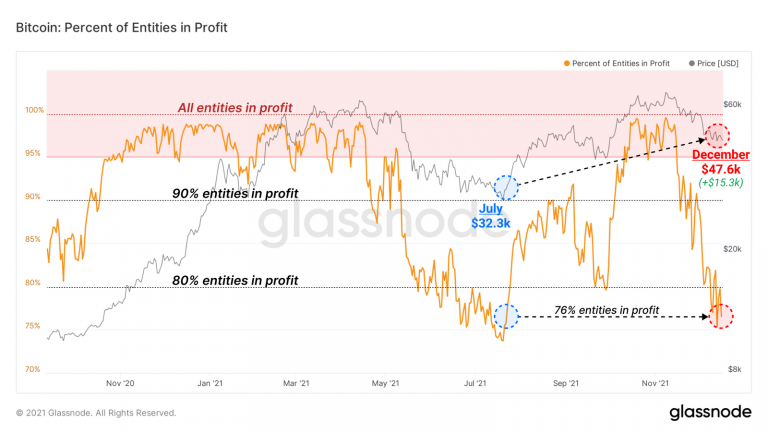 As highlighted by Glassnode, in July this year, 76% of entities showed profits with their investments in BTC, a figure similar to the current one.
Then, when BTC hit historic highs close to $70,000 in October and November, 100% of cryptocurrency holders were profiting. According to the report, this resulted in a period of price discovery.
"Now, at the end of December, the price is US$47,600 (more than US$15,000 more). And there are again 76% of entities with a profit", highlights Glassnode
It is worth noting that, in July, the price of BTC was at the lowest levels of the year. On the 20th of that month, for example, the BTC was traded below US$ 30,000.
Even so, the percentage of investors in profit was practically the same as it is today. In this regard, the report explains that it means that most BTC were purchased from July onwards.
Additionally, Glassnode notes that this indicates that the current support composition is top-heavy. In other words, many BTCs were bought when the price of cryptocurrency was high and are now at a loss.
1 in 4 BTC is in red
Another way to approach this aspect, according to the report, is by analyzing the distribution of unrealized prices. This analysis shows all outstanding BTCs at their last traded price.
"A quick look reveals that 24.6% of the entire offer is above the current price, around $47,000. That means 1 in 4 BTC is in the red."
Finally, the report also highlights that the so-called hodlers, long-term investors, continued the accumulation.
"Hodlers maintained consistent pressure to accumulate and are now grabbing coins at a rate of 3.4 times the daily coin issuance. In other words, strong-handed HODLers are absorbing supplies at more than triple the rate of new coins being mined each day."