Most bullish week of Bitcoin in 5 years
2 min read
With a weekly increase of 28.04 percent, the Bitcoin price has had its strongest week in five years. The crypto currency was able to climb from just under 22,082.71 US dollars to 28,275.23 US dollars on the BTC crypto exchange. The last time bitcoin price on Binance had a stronger week was between February 12 and February 18, 2018. At that time, bitcoin price on Binance ranged between $8,063 and $10,282.43. At that time, the BTC course was just getting started for the pre-halving rally, to then start for the big bull run in 2020/21, which should catapult the cryptocurrency to almost 69,000 US dollars on November 10, 2021.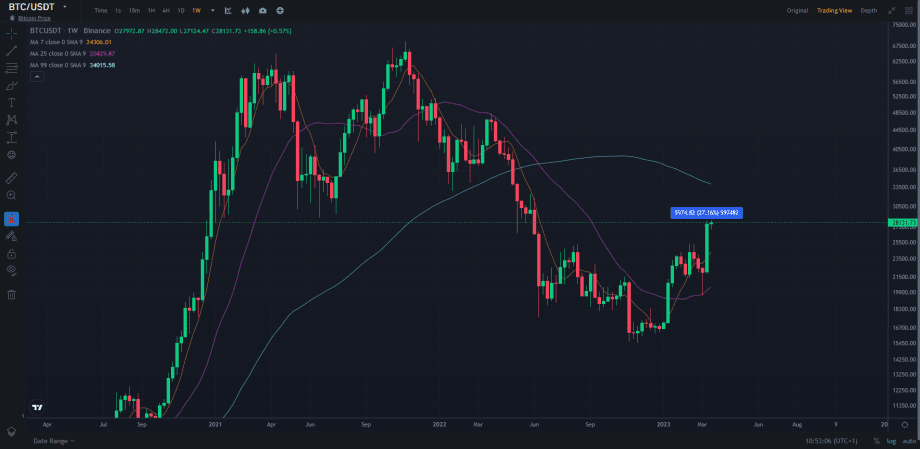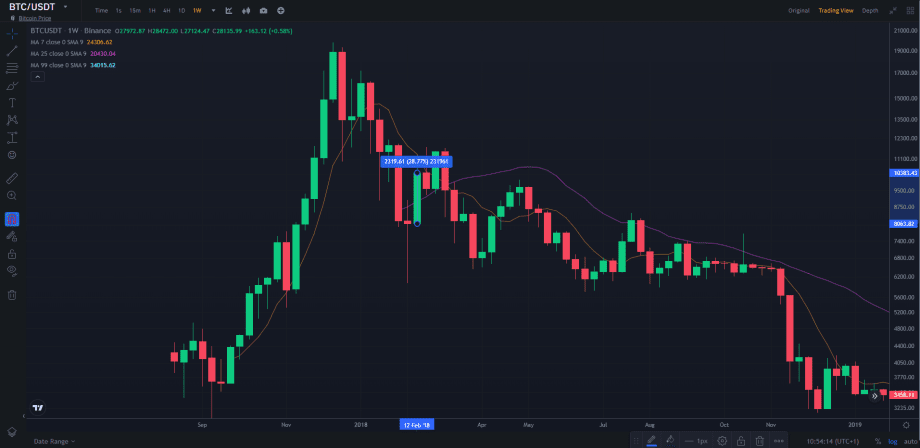 Bitcoin halving occurs when the supply of cryptocurrency is halved. This halving occurs approximately every four years and has resulted in a strong bull run each time until now. The last halving took place on May 11, 2020.
Of course, it remains speculation that the current bullish week will lead to a similar bull run as last time. The next halving is expected to be on March 12, 2024.
How high can the Bitcoin price go?
With this question, too, we are moving in highly conjectural territory. As the artificial intelligence ChatGPT revealed to us in its version GPT4 last week, it considers a price of up to 150,000 US dollars to be likely in the coming year. The basis for these calculations were chart analysis methods, supported by the Bitcoin course data from the past year.
If EX-Coinbase CTO Balaji Srinivasan has his way, the price could even be significantly higher. In a Twitter bet, Srinivashan promised a BTC price of $1,000,000. His reasoning: the US dollar is rushing toward hyperinflation.
I will take that bet.
You buy 1 BTC.
I will send $1M USD.
This is ~40:1 odds as 1 BTC is worth ~$26k.
The term is 90 days.
All we need is a mutually agreed custodian who will still be there to settle this in the event of digital dollar devaluation.
If someone knows how to do this… https://t.co/tcuBNd679T pic.twitter.com/6Aav9KeJpe

— Balaji (@balajis) March 17, 2023