Most popular blockchain networks
2 min read
The global adoption of blockchain technology has gained tremendous momentum in recent years. The crypto company TripleA recently published that over 420 million people around the world now use crypto.
But which blockchain networks are these people using? An analysis of on-chain data sheds light on this, showing that currently 15 of the most widely used blockchain networks are either Layer 1 or Layer 2 blockchains, with Osmosis (OSMO) being the only L1 "appchain" that made it to the list.
This is the most used blockchain
This may come as a surprise to some, but according to the on-chain data from token terminals The Tron (TRX) blockchain is currently the most used blockchain network in the world. With over 1.6 million daily active users (DAU) Tron was able to secure this place ahead of the BNB Chain, Bitcoin and Ethereum. Token Terminal defines daily active users as the number of clearly identifiable addresses that interact with relevant smart contracts on a blockchain on a daily basis.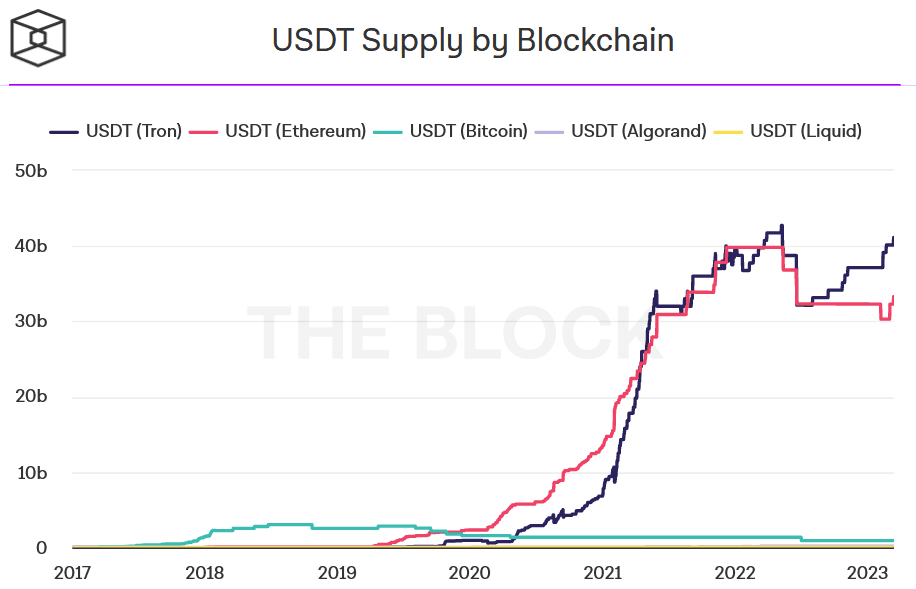 The fact that a large part of the trading volume in the crypto space takes place in USDT and is settled in the background via the Tron blockchain contributes to Tron leading the rankings of Token Terminal.
Top 10 Blockchain Networks by Users:
Tron (TRX): 1,600,000
BNB Chain (BNB): 1,140,000
Bitcoin (BTC): 647,030
Ethereum (ETH): 378,110
Polygon (MATIC): 347,040
Litecoin (LTC): 283,600
PancakeSwap (CAKE): 127,180
Solana (SOL): 110,330
Arbitrary: 95,690
Fantom (FTM): 72,880
Source: token terminals
Trends in the usage activity of the top projects
Among the Layer 2 blockchains, Polygon ranks first with almost 350,000 daily active users. The DeFi exchange PancakeSwap on the BNB Chain is currently the most used decentralized application with around 127,000 daily active users.
Despite the lack of smart contract functionality, Bitcoin has more users in the ranking than the Ethereum mainchain. However, it should be noted that the UTXO address model used by Bitcoin can more often result in a user interacting with the blockchain with multiple addresses.
It can therefore be assumed that the number of users on the Bitcoin Mainchain is slightly overestimated. But what also needs to be pointed out is that Lightning users are not recorded by Token Terminal.
The usage activity on the top projects shows some trends: Tron remains the most used crypto platform while other projects like Bitcoin, Litecoin, Fantom, Uniswap and 0x have seen consistent user growth over the past few months. However, Optimism's daily active users have declined following the OP airdrop campaign.