The negative sentiment on Twitter is peaking again, history shows that it could be a bullish one
2 min read
Could the price of BTC really be ready to move up despite the highly negative sentiment among the Twitter community?
With the primary cryptocurrency losing more than $ 3,000 in a few days and reaching another local low, crowd sentiment is largely negative, according to recent data. However, similar developments in the past have proven to be signals for local gout, and the question remains whether history will repeat itself
Sentiment is low, but it could be good
BTC tried to get over $ 37,000 at the end of June, but was quickly rejected and headed south in the following days. Despite a relatively positive start in July, when BTC attempted another leak, the asset has lost more than $ 5,000 in value since June and reached a three-week low yesterday.
This unfavorable development naturally affected the general sentiment of investors and access to primary cryptocurrency. Data from the analytical source Santiment show that the overall sentiment on Twitter towards BTC "remains negative", while most comments predict that we will have further price declines.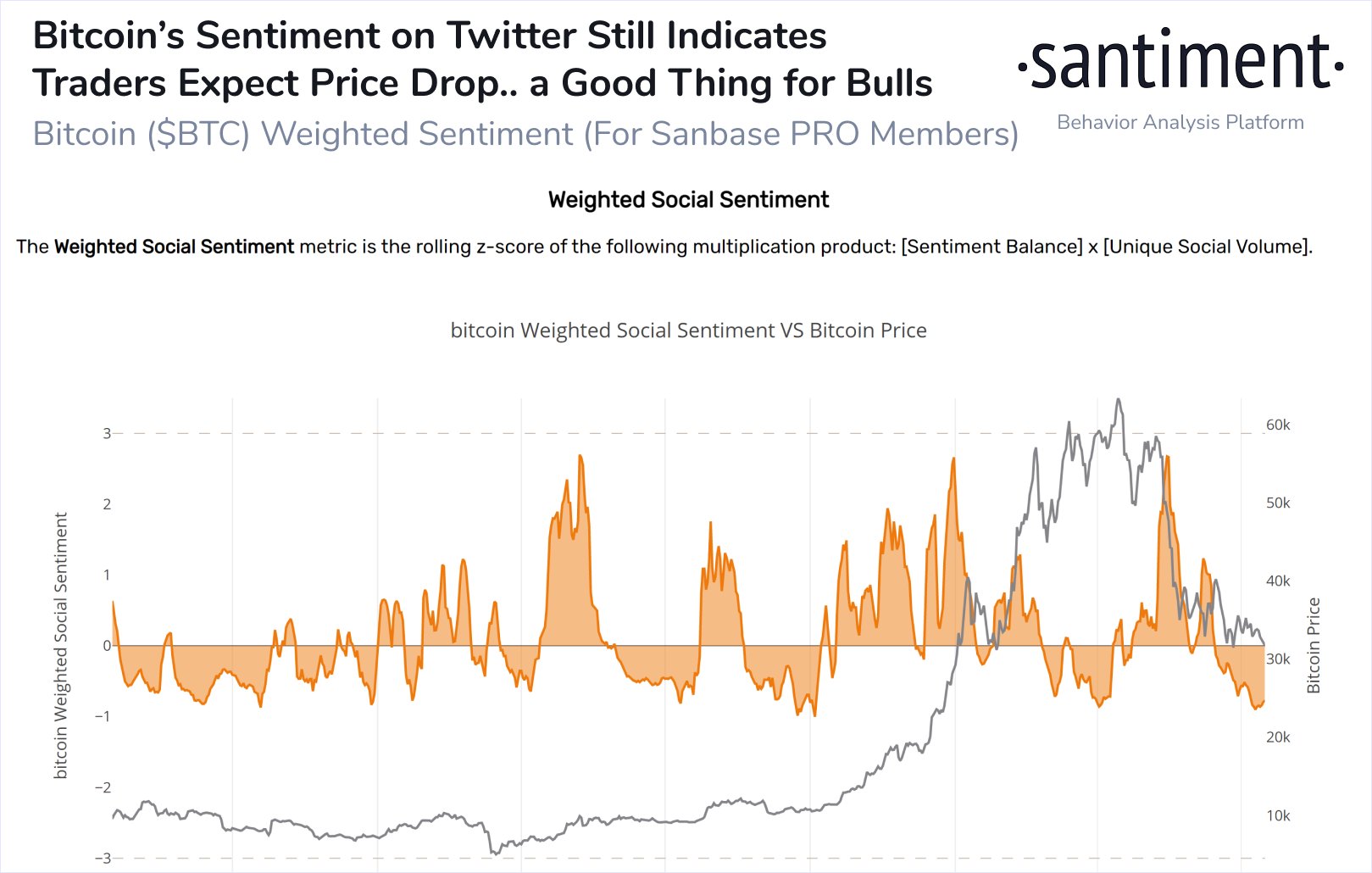 However, the price of BTC actually tends to work in the opposite direction to that shown by the general sentiment, as the chart above shows. For example, the community was largely optimistic in early January, when BTC reached a new all-time high, but then declined rapidly. Once sentiment returned to negative territory, BTC continued its impressive bull run, resulting in an ATH of nearly $ 65,000.
As such, Santiment concluded that the current negative state means "that there is a greater possibility of a price increase."
The index of fear and greed confirms negative sentiment
While the Santiment platform data from above shows sentiment on Twitter, the fear and greed index shows a macro image. In addition to social media discussions, it calculates various types of data, including volatility, surveys, and volume, to see if general sentiment is positive or negative about BTC.
The metric divides the final results from 0 (extreme fear) to 100 (extreme greed). It now supports the above statement, as it shows a state of "extreme fear" that has dominated the market for several consecutive weeks. In fact, the index fell to 15 yesterday, while last week it was at 20.
It is also affected by the latest price movements, but history shows that BTC responded well when the index was in a state of extreme fear for so long.