NFT trading volume is rising – its highest since May 2022
2 min read
In recent months, trading in non-fungible tokens (NFTs) on the Ethereum blockchain has seen a steady increase. The data from the cryptanalysis company CryptoSlam According to the report, trading in NFTs has increased for the past three consecutive months and in February broke through the $1 billion mark for the first time in nine months.
Competition in the NFT market drives up trading volumes
The main exchanges for non-fungible tokens on the crypto market are the two decentralized marketplaces Blur (BLUR) and OpenSea. They dominate trading NFTs on Ethereum and are noisy DappRadar responsible for over 95 percent of all NFT trading in the crypto market.
How Data from Dune show, Blur in particular has recently been able to significantly expand its market share. The newcomer to the Ethereum NFT sector specifically targets experienced NFT traders and uses a sophisticated token airdrop campaign to attract traders and trading volume to its platform.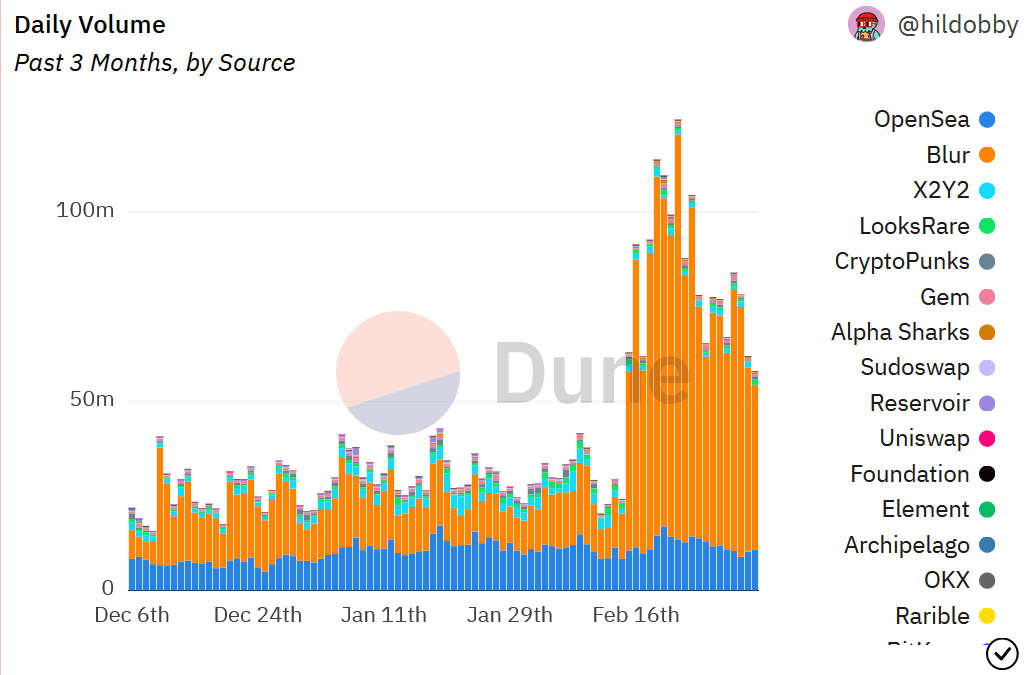 Although Blur has only been on the market since October 2022, the project has already managed to dethrone the long-standing top dog OpenSea. Loud CryptoSlam however, there seems to be some evidence that nearly 80 percent of Blur's trading volume is due to wash trading. Speculators would therefore only trade on Blur NFTs to qualify for BLUR token airdrops.
One of the biggest sell-offs of all time in the NFT market seems to confirm this assumption. A crypto whale sold over 1,000 of its NFTs worth 11,680 Ethereum on Blur and bought them back only a short time later.
According to an analysis by Nansen, Blur's airdrop campaign was one of the main reasons that prompted the whale to take this action.
Sustainable recovery in the Ethereum NFT market?
While the overall growth in trading volume is encouraging for the NFT market, the latest numbers should be taken with a pinch of salt. The fact that much of the trading volume could very likely be attributed to wash trading at Blur casts doubt on the sustainability of the rise. It therefore remains to be seen whether Blur will be able to register enough traders and maintain the trading volume even after its airdrop campaign.
Crypto exchanges with the lowest fees 2023