NFT trading volume jumped over 40,000% in 2021, report says
2 min read
One of the most talked about topics in the crypto market in 2021, without a shadow of a doubt, was NFT. Due to its popularity, the term was even elected the word of the year by the Collins Dictionary.
And no less. The sector has grown significantly this year, with record sales of NFTs and major companies releasing their own digital collectibles.
In addition, non-fungible tokens were heavily adopted by the play-to-earn gaming industry which also emerged in 2021.
NFTs move billions in 2021
According to The Block Research, turnover involving non-fungible tokens (NFTs) exceeded $13 billion in 2021.
That number, based on December 28 data, is a massive 42,988% increase compared to 2020 NFT trading volumes.
Last year, NFTs had a turnover of just over $33 million.
Leading this market is the OpenSea platform. In all, the largest NFT marketplace on the market facilitated nearly 88% of total business volume in 2021. That's more than $12.5 billion, according to The Block Research.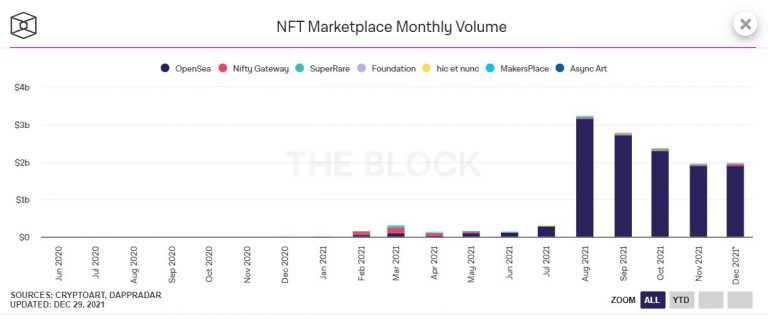 Throughout the year, the month with the highest volume of NFTs traded, as shown in the chart above, was August, with US$ 3.25 billion traded in this market.
This month saw an amazing growth of around 970% in the volume of NFTs traded compared to the previous month.
Then, the second month with the highest volume was September. That month, US$ 2.8 billion were moved and, soon after, comes October with US$ 2.38 billion.
On the other hand, the month with the lowest volume was January (US$ 17.19 million), when this market had not yet gained strength.
This December, at the time this article is written, the NFT market has already moved over US$ 1.99 billion, the fourth highest value of the year.