NFTs generated US$ 12 billion in the 1st quarter of 2022, according to report
2 min read
The non-fungible token (NFT) market is going through a period of consolidation after a historic start to the year. In the month of March, this market accumulated a total of $31.4 billion in trades, according to the Dapp Radar report.
In addition, in the first quarter of 2022 alone, about US$ 12 billion were generated. According to Dapp Radar, this shows that NFTs are not a passing fad and are here to stay.
"The NFT market is going through a period of consolidation after a historic start to the year. In March, the NFT space amassed $31.4 billion in deals, 62% of which came from the LooksRare marketplace. To make a more accurate comparison, the NFT market, excluding activity on LooksRare, generated $12 billion in the first quarter."
The report further noted that this figure is about 2% below the busy fourth quarter of 2021.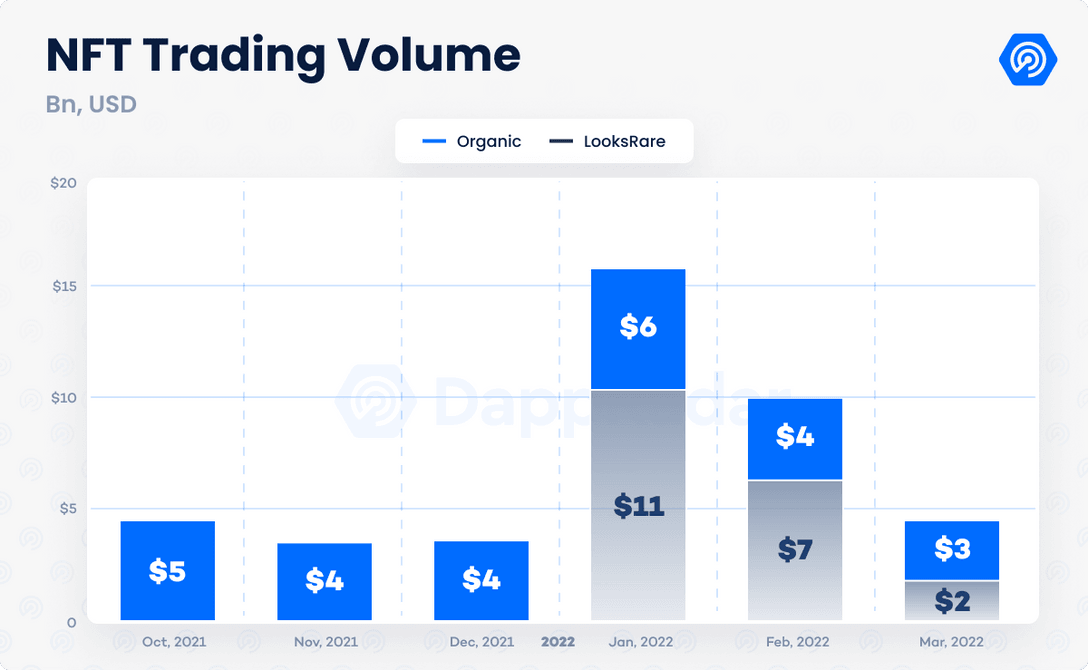 LooksRare Activity
As the report highlighted, activity on the LooksRare platform is something to monitor. That's because the market constantly launches products that demonstrate their consideration for the community by consistently updating the user experience.
Furthermore, it appears that inorganic trading or wash trading activity has dropped rapidly after the initial mining rewards for the LOOKS token were halved.
In a nutshell, wash trading is a market manipulation technique where an investor simultaneously sells and buys the same asset to create false and misleading activities regarding the asset's value and liquidity.
According to recent studies, there are indications of high wash trading activity on the LooksRare platform. Now, according to Dapp Radar, it appears that this activity is waning.
NFT market growth
The report pointed to yet another positive sign for the NFT space. This is about the increase in the number of sales taking place on non-ETH blockchains.
The number of contracts on Avalanche, for example, increased 582% compared to the previous quarter. Meanwhile, sales at Solana and Polygon were up 34% from the previous quarter.
According to the report, this growth in other networks shows that NFT adoption is just getting started:
"All in all, the NFT space shows signs of maturing. The NFT market starts to recognize valuable or hidden projects after seeing many failures like the Pixelmon and Tai Lopez NFT releases.
Finally, Dapp Radar noted that major NFT projects have proven to be a store of value. They mainly highlighted Yuga Labs' Bored Ape Yacht Club:
"The team showed how a utility-oriented project can become a leading Web3 brand in less than a year. The NFT market moves into mainstream consciousness as digital brands and virtual real estate continue to make headlines across the industry and into the mainstream."