OKEx Token Price Bottoms Out After Founder Taken Away by Police
2 min read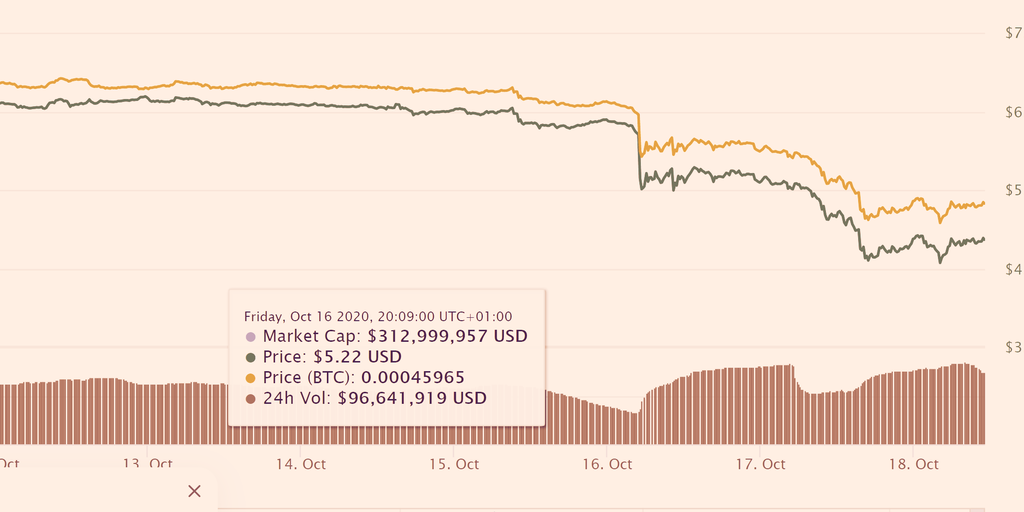 Western traders of OKB, the coin minted by beleaguered cryptocurrency exchange OKEx, will soon wake up in sweats upon reading the coin's price; traders in the East will go to sleep expecting nightmares and Europeans—for whom the day shall relentlessly continue—must ride it out.
The coin continued its decline yesterday, prompted by Friday's announcement that the Malta-based exchange had suspended indefinitely withdrawals after Chinese police firmly requested that the founder of OKEx follow them to the station the day before.
We'd like to officially clarify: Withdrawals from @OKEx are still temporarily suspended, but all other operations are running smoothly. User funds are safe. Please check back here for the latest updates.

Updated statement: https://t.co/t4bifbtEC0

— OKEx (@OKEx) October 16, 2020
Yesterday afternoon OKB hit its bottom as traders concluded that the coin's price deserved to fall no further. The coin had fallen from about $6 to about $4.13, according to metrics site CoinMarketCap. As Saturday became Sunday the price rose slightly to $4.4, but the market took issue with the price rise and sunk the coin back to $4.21. 
Today the market tries to edge OKB's price upward again—its current price is $4.37—but nothing more for now. 
The exchange has not issued announcements since Friday's suspension of withdrawals apart from its announcement yesterday of an adjustment to fees for an obscure financial instrument for traders buying and selling Filecoin, the coin that launched this week after raising $200 million in an Initial Coin Offering three years ago.
OKEx said on Thursday that its other functions remain stable and that its customers' funds are safe. Also unaffected are its community events. "Thank God It's Flying" and "AMA-Riofuel" took place on Thurday without a hitch, and today's "OKEx Price Prediction-ETH" is still anticipated.
In its Telegram chat administrators attempt to quell frustration and anger by telling customers that the exchange is "in the midst of processing" and that customers should wait for "any update regarding the withdrawal issue."
The views and opinions expressed by the author are for informational purposes only and do not constitute financial, investment, or other advice.