OpenSea receives $ 300 million
2 min read
OpenSea looks back on an extremely successful year 2021. In the past 30 days alone, the NFT platform has processed transactions valued at over $ 2.5 billion.
On January 4th, the company announced that it had raised around $ 300 million in a financing round led by Paradigm and Coatue. Devin Finzer, CEO of OpenSea, was pleased in a blog post on the success of the financing round:
We are excited to work with these incredible partners, thinkers and developers. You are a great addition to our Web3, NFTs, and Consumer Experience team.
In addition to the general expansion of the team, the financing round is intended to advance OpenSea in three other central areas:
1. Accelerate product development and user experience
The investors therefore want to work with OpenSea to give even more people access to NFTs. On the one hand, this should be achieved by simplifying the operation of OpenSea. On the other hand, OpenSea is to be integrated on other blockchains in addition to ETH and Polygon in order to reach a large number of communities.
2. Improve security and reliability
In addition, OpenSea plans to use the investments to improve its customer support and the security of its NFT marketplace. There are now 60 employees working in these areas. This number is expected to increase to over 120 employees by the end of 2022.
3. Targeted investments in the NFT space
In addition, the NFT trading platform plans to start a special NFT funding program in the first quarter of 2022. The aim of this funding program is to provide targeted support to important actors within the NFT ecosystem in order to shape and support the future of the NFT space.
The valuation of the crypto start-up is now over due to the financing round Up $ 13.3 billion and shows how strongly the trading center has grown in recent months.
OpenSea trading volume is booming
In the year 2022, too, OpenSea seems to have a great future. Both the financing round and the data from Dune Analytics show that investors remain bullish.
NFTs valued at over US $ 950 million have been traded on OpenSea since the beginning of 2022. In addition, January 3, with a daily trading volume of just under $ 260 million, narrowly missed a new record for the NFT marketplace.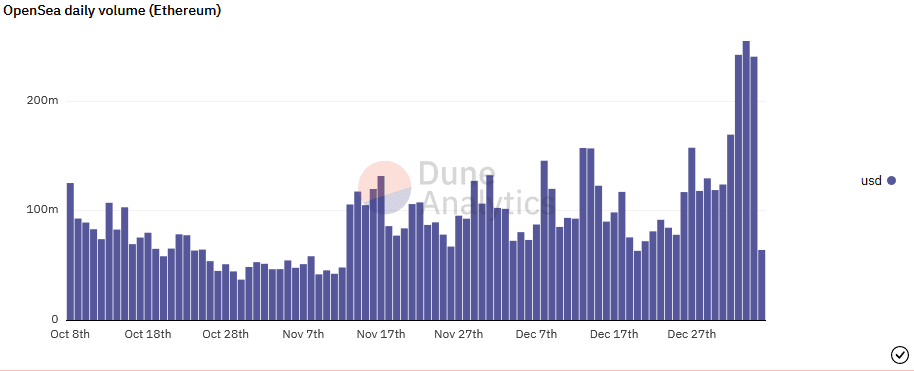 According to Dune Analytics, the NFT marketplace saw a higher trading volume of $ 322 million on August 29, 2021 only. It will be exciting to see when OpenSea can break this record.
Axie Infinity Releases Update and Teaser Trailer for New Lands