Play-to-earn Block Farm Club Announces New Own Metaverse
4 min read
The new wave of blockchain-based games, play-to-earn style, brings new things to gamers daily. New tokens, new NFTs and new profit possibilities enter the market and become one more option for investors.
However, if you are a gamer you know that, in the end, in addition to the financial return, what really matters is the immersion experience in the game. That's why games with their own metaverses are increasingly successful in the market, generating millionaire profits for the most assiduous players.
Thinking about it, the Block Farm Club, announced the Blockverse. The game's own metaverse will allow new players to enter the NFT world and, in fact, generate even more profits in cryptocurrencies.
Based on successful games like My Neighbour Alice, Plant vs Undead and Town Star, Block Farm Club is a free referral game, with token generation listed on exchanges and with active and profiting players.
What is Blockverse?
Blockverse is the metaverse itself of Block Farm Club, designed for those who don't have much time to spend in front of the computer. At the same time, an entirely new module was developed for those who love to play games.
Composed of minigames that generate rewards in BFC tokens, the goal is to make games more accessible to the most diverse player profiles.
Seeking a common place for interaction between the different profiles, Blockverse will feature two game modes. The minigames will be quick games for those who don't have a lot of time available. The roleplay mode is for players who can spend a few hours playing.
On Blockverse you will also be able to manage all your NFT accounts, wallets and even your NFTs school. Token holders will be able to participate in metaverse decisions, such as supporting new games or burning tokens.
Blockverse will be implemented gradually. The first step will be the transfer of game data to the new platform, setting up the connection with Blockverse. In this first step, players will have two weeks to accept the modification, which will be done free of charge.
This is the last phase of the roadmap proposed by developer. Accounts created after the implementation of Blockverse will already be in the new platform rules.
Mini games and Battle Royalle
One of the big news in the new metaverse is the implementation of the new Battle Royalle mode. Unlike minigames and roleplay, players will be able to participate in new championships and exclusive events, in PVP or Team vs Team mode.
Matches played in Battle Royalle Mode will bring an added challenge, incredible rewards and will be broadcast live worldwide!
Tokens for any situation
In addition to new features, the new Blockverse will also bring new features to native tokens.
In addition to enabling the purchase and sale of NFTs on the platform, tokens can also be used as a base currency for sending between games, for governance and decisions, rewards stakes, feature payments and much more!
Every three months the decisions of the entire metaverse will be debated among the governance token holders. All decisions will be taken by votes, which will have different weights for each holder.
However, each game will still have its own token, economy and gameplay.
Transferring resources between games
New metaverse of Block Farm will allow the most cherished resource among players: resource transfers. Whenever a game is not profitable, you can transfer gems, coins, chips, NFTs and tokens to another game within the metaverse.
Furthermore, stakes can also be made inside the metaverse. Each token will have its own rates and rules for purchases.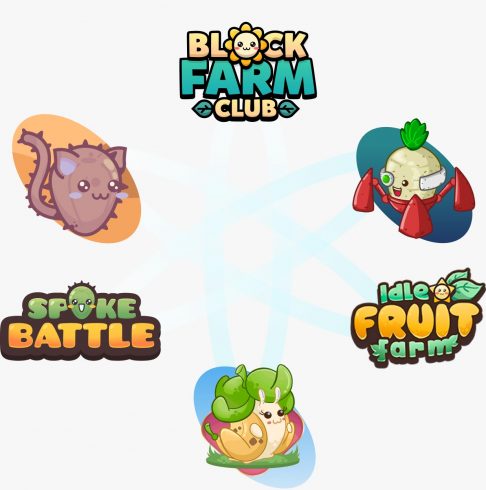 By participating in stakes, players will also participate in exclusive Blockverse token pools, as well as earn exclusive bonuses. In addition to participating in a global stake, you will also be able to receive unique NFTs.
About the game
Block Farm Club is a play-to-earn-style farm simulation game based on the Binance blockchain. The entire ecosystem of the game is made up of lots, crops, items and animals, all in NFT.
Block Farm Club's great success is how easy it is to start playing. With just $ 5, you can start playing play-to-earn, participate in the buying and selling of NFTs and start generating profits in BFC token.
In addition to the 3D graphics, the improvements that are coming with the implementation of the metaverse will enable an incredible experience for players.
In the game, it is possible to fulfill the challenges to collect gems, to transform them into BFC token. Furthermore, it is possible to accumulate tokens to gain governance power, buy new items and place your NFTs in the school to level up!
In 10 minutes, the teenager earned $ 1 million on NFT "Belugies"