Polkadot may start bullish rally after listing on Frankfurt Stock Exchange, says analyst
2 min read
This week, cryptocurrency Polkadot (DOT) was listed on the Frankfurt Stock Exchange through an exchange-traded product (ETP) by Valor, a subsidiary of DeFi Technologies. For analysts, this release could help boost the DOT price in the medium term.
As highlighted by Skerdian Meta, an analyst at FX Leaders, in November last year, Polkadot entered a bear market like other cryptocurrencies.
Since its all-time high of $55, reached on November 4, the price of the 12th largest cryptocurrency by market cap has dropped 64%.
At the time of writing, DOT is trading at $19.72.
Is Polkadot Worth It?
Despite this, long-term expectations for both Polkadot and the cryptocurrency market in general remain optimistic.
According to Skerdian Meta, at this point, Polkadot is showing some signs of reversal, indicating an alt.
"Polkadot has lost considerable ground since trading at $56 in early November before dropping to $16 in January. The 50 MA(yellow) has turned into solid resistance. And if we look at the history of the chart, this moving average has been setting the trend for Polkadot. Each time the price moves above this level, the DOT/USD pair is bullish and vice versa."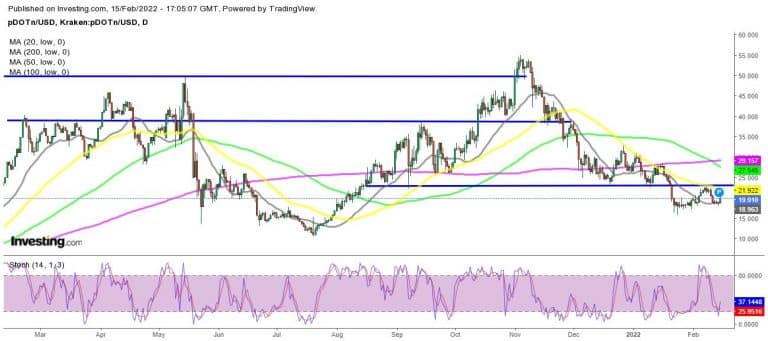 The analyst pointed out that the altcoin price has been below the 50-day MA since November. Furthermore, the last attempt to overcome it, earlier this month, failed, as did the previous ones.
However, according to Meta, DOT is now rapidly reversing, which suggests that the bearish period may be over. So, soon, buyers are likely to push the price above the 50 MA.
Other Polkadot Developments
As factors that could make Polkadot more widely adopted, the analyst noted that the network consumes about six times the amount used by the average US household.
This is, according to him, the lowest amount of energy consumed among the main blockchain networks.
ETH, for example, consumes 1.6 million times what a normal home uses. BTC consumes 8.6 million times more than a family home, according to the Crypto Carbon Ratings Institute.
In addition, the network is also trying to encourage developers, with its Polkadot Pioneers Award. This should help increase developer activity on the Polkadot network.
Meta further pointed out that Crypto.com recently launched Polkadot deposits and withdrawals in its ecosystem.
This fact, together with the launch of the Frankfurt Stock Exchange, should help make Polkadot more visible to new customers, "andespecially now, with the launch of parachains", concluded Meta.
Netflix films the strange life of the BTC launderers