Prepare for Bear Market 2022, says analyst
2 min read
Popular cryptocurrency analyst Will Clemente is not optimistic about the future of BTC price in 2022. He said he has his eye on several key indicators that suggest a bear trap could happen in the near future.
In his analysis, Clemente used derivative data to see if traders are overly bullish or overly bearish on the BTC.
"We were cautious before the flush two weeks ago. But we reset the metric back to the lowest level since May earlier this year. It's generally in a healthy area, but I started to see some buildup since the flush," he said.
According to the analyst, the buildup is among investors who believe in a fall in the BTC.
According to Clemente, the derivatives data shows that traders are not placing aggressive long positions, reducing the possibility of another market correction via the long squeeze, similar to what happened on December 4th.
In addition, Clemente added that he is seeing a divergence between the illiquid supply shock ratio, which compares the movement of currencies from liquid entities (weak hands) to illiquid entities (strong hands), and price.
"It would be really funny to me if this bullish divergence happened like the last two. Just watching the price action to confirm it's happening. Patience is the key", he pointed out.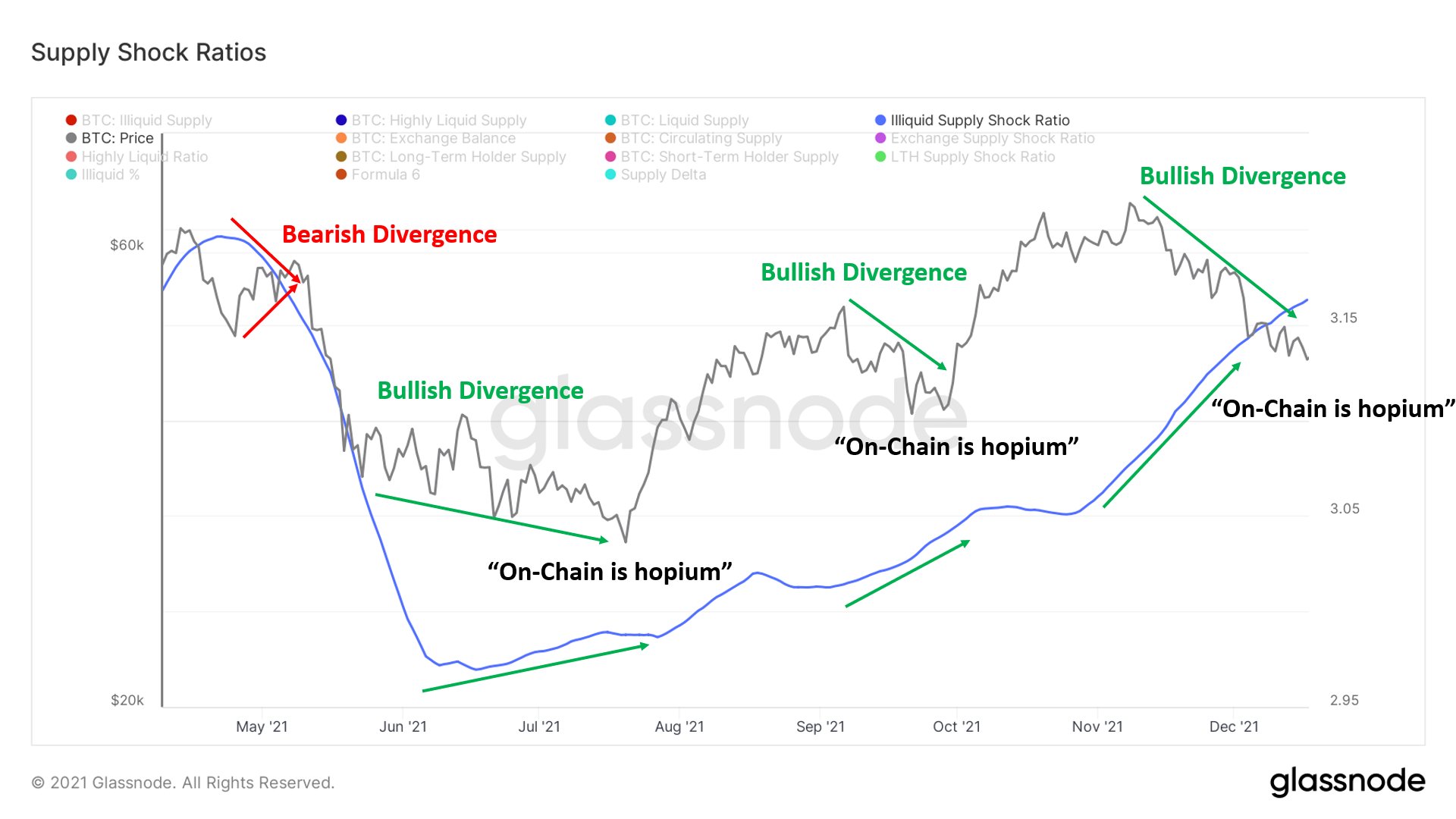 BTC Price
According to Clemente, the data he is seeing in the on-chain metrics and derivatives markets suggests that BTC may be creating a big trap for bears.
"We are currently not there YET, but the setup is becoming more likely imo.", he says.
He further pointed out that the 30-day moving average of the Profit and Production Index (SOPR) indicates that traders are currently taking care of losses.
"Limit 1 (black line) serves as the median between a profit and loss state. When below, market participants are noticing losses in total. When above, market participants are earning aggregate profits", he analyzed, indicating the black line as the indicative point of high or low.
Finally, he said he will remain cautious with the BTC until the SOPR goes above 1, indicating profitability. If it doesn't, a bear market can start.