Retail investors are back, but not because of BTC
2 min read
Retail investors have always played a major role in the cryptocurrency sector, but it seems that they are yet to arrive on the BTC scene; At least that's what Google trends show for the biggest cryptocurrency. They seem to have a new favorite – Shiba Inu (SHIB).
Retail investors are not here for BTC
BTC and retail investors often moved hand in hand. In 2017, when the cryptocurrency recorded its then ATH of $ 20,000, the growth was mainly due to smaller investors. Four years later, something similar happened. When BTC reached its ATH in April, Google search – usually a good indicator of retail investor behavior – rose again.
However, the situation now seems to be completely different. The number of queries in the world's largest search engine containing "Bitcoin" has been relatively low for several weeks now. Shortly after the asset reached a new all-time high of $ 67,000, the number of searches barely increased.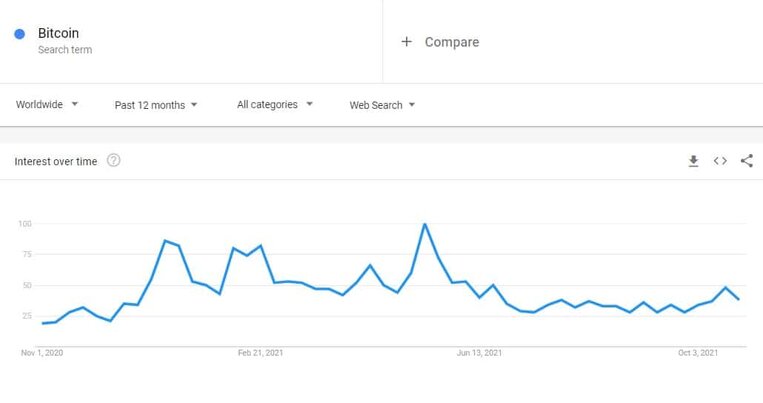 Similarly, the situation with another popular query "buy bitcoin".
They're here for Shiba Inu
Other data from Google Trends show that retail investors are indeed present in the cryptocurrency sector, but are not looking for BTC, ETH, Ripple or Binance coin. They even forgot about the previous sensations of 2021 – Dogecoin and SafeMoon.
Instead, they are now primarily looking for a DOGE killer, Shiba Inu.
As the chart above shows, Shiba Inu's predicted queries will surpass the previous ATH that came earlier this year.
The number of searches coincides with the recent Shiba Inu boom. Last year, it was launched as a meme coin and saw impressive growth, acceptance from small investors and the support of a massive SHIBArmy – currently represented by hundreds of thousands of fans.
It is the most powerful cryptocurrency since the beginning of the year with a staggering return on investment of more than 100,000,000% (read correctly, one hundred million percent). The chances of such an impressive increase avoiding the attention of small investors, many of whom are seeking quick profits, are slim.
However, the cryptocurrency community has seen many similar incoming and outgoing trends, many of which have resulted in mass pain for those who arrived late for the party. This does not necessarily mean that Shiba Inu can end up the same way. However, prospective investors should focus on conducting a proper survey to look for key reasons why they want to buy a particular asset, instead of going after current trends.