Santiment analyzes and projects the future of 5 'blue chip' tokens, including Shiba Inu
2 min read
Digital asset analytics firm Santiment analyzed in a recent report five tokens built on ETH it called "blue chips." The term refers to valuable assets, considered to be "layer 1".
In the analysis in question, Santiment Insights projected the future of Shiba Inu (SHIB), Uniswap (UNI), Yearn.Finance (YFI), Aave (AAVE) and Chainlink (LINK).
Inflow to exchanges
In a more comprehensive analysis of asset inflows on exchanges, Santiment noted:
"Overall, we don't see any concerns in the five selected cryptocurrencies. People seem to be very confident in their possessions."
As an example, he presented the SHIB chart: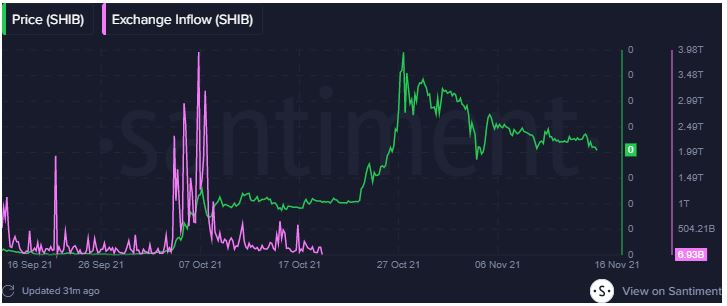 "A downward trend in SHIB deposits on exchanges is indicating that traders don't fear Shiba will fall. They will not send tokens to platforms to sell."
Still analyzing token inflows on exchanges, Santiment evaluated the decentralized exchange (DEX) Uniswap (UNI):
"Three rising peaks could indicate that people wanted to take profits just before the dump. But nothing similar after the 'dump' itself".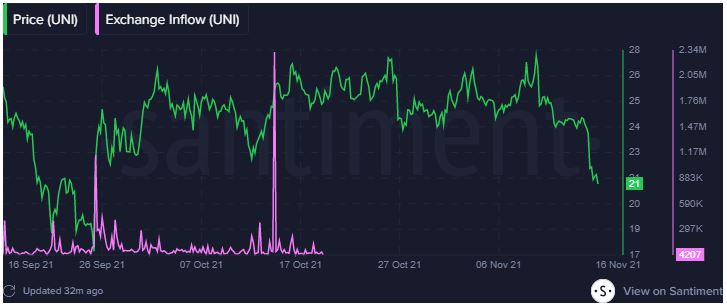 Active deposits
The second aspect analyzed by the company was the active deposits: "The same here, with no visible worries or minor concerns. Except for YFI":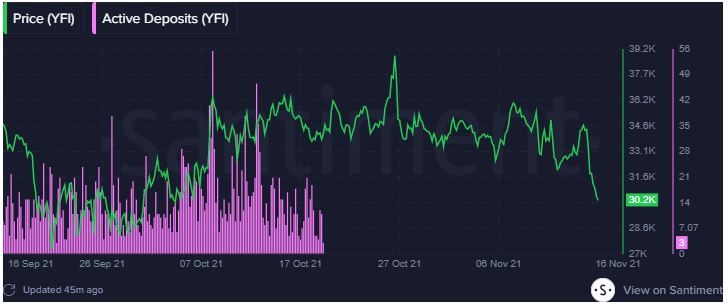 According to Santiment, there is a series of rising deposit increases, suggesting that holders are looking to exit positions.
With regard to the loss of profits on the network, Santiment stated:
"Interesting that the image here is completely the same again: almost no sales panic, except on YFI."
The company also analyzed the "Age Consumed" parameter, which shows the number of tokens that changed their address on a given date, multiplied by the time since the last change.
"All five tokens do not have significant outliers here. Probably no oversized bags were moved or sold."
Whale behavior
Finally, Santiment analyzed the behavior of whales:
"We want to take a look at the distribution of supplies by address balance with around $500,000 to $50 million worth of tokens. It's stopped or falling (whales unloading). Here, we can say that only one token out of five is showing a downtrend in whale balances on the last day. It's LINK"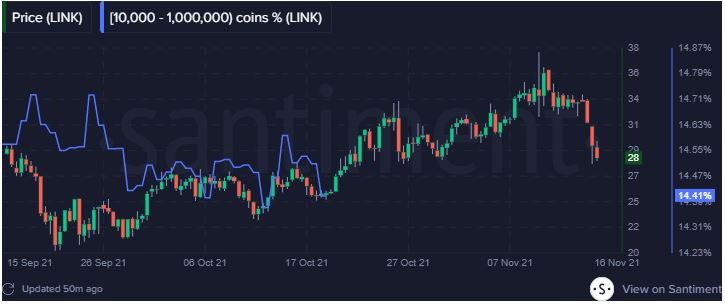 In short, Santiment concluded:
"We don't see many signs of panic or sales of selected ERC-20 tokens. People don't seem to care about the fall. This makes us suggest that we may see an additional correction until the trustees' confidence wears off."
Blockchain will be the base layer for the multiverse that will connect the different metaverses, says analyst