SEC put these coins on the hit list
2 min read
The Securities and Exchange Commission (SEC) is getting serious. The US Securities and Exchange Commission is filing lawsuits against two of the country's largest crypto exchanges. Those responsible face severe fines and possible jail terms. In addition to the exchanges, various coins and tokens are also being targeted by the regulator. Are a whole range of cryptocurrencies now threatened with delisting?
It's about these coins
Both in the complaint against Coinbase, as also in the opposite Binance names the SEC a whole series of coins that, according to the authority, fall into the category of securities (Under the provisions of the Securities Act of 1943).
If this categorization is correct, the stock exchanges would have needed a license to trade in securities. The problem: Neither Coinbase nor Binance has such a license.
According to the SEC, the following assets are said to be securities: SOL, ADA, MATIC, FIL, SAND, AXS, CHZ, FLOW, ICP, NEAR, VGX, DASH, NEXO, ATOM, ALGO and COTI.

Remarkable: None of the cryptocurrencies mentioned are Proof of Work (PoW) coins. All use alternative consensus mechanisms, most rely on Proof of Stake (PoS). This is consistent with the SEC's line in that the agency categorizes both Coinbase and Binance as illegitimate securities services through their staking-as-a-service.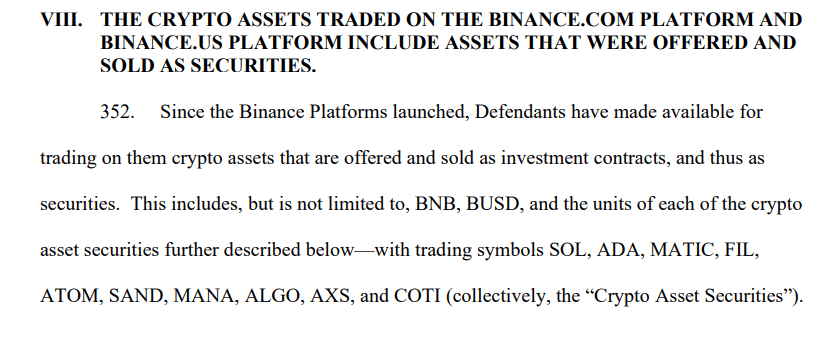 Is there a sale now?
There is no question that doubts about the legal status of crypto assets do not exactly inspire confidence among US investors. This is also reflected in the price tables. Solana, for example, is down 9 percent since the SEC hammer.
Binance Coin (BNB) is even more clearly dismissed. The native token of the Binance Smart Chain has lost 13 percent of its value since the bad news from Washington. No wonder: the SEC also classifies BNB as a security and pays particular attention to the token: the search term "BNB" appears a total of 153 times in the SEC document.
Binance delists first trading pairs
While Coinbase hasn't taken any action yet, Binance has already taken trading pairs off the platform.

Other US trading platforms are also getting cold feet. Representatives of the investment app Robinhood at a hearing before the US Congress on June 6 announced to re-examine certain coins offered on the platform. Coin delistings are not desirable from the investors' point of view. Eventually, the flow of capital suffers, as does the liquidity of the asset.
However, only Bitcoin receives recognition from the highest level. SEC chief Gary Gensler has repeatedly referred to the mother of all cryptocurrencies as a "commodity". Most recently in February of this year. Consequently, the BTC sell-off does not take place.