Solana Records New All-Time High for Second Time in a Week
2 min read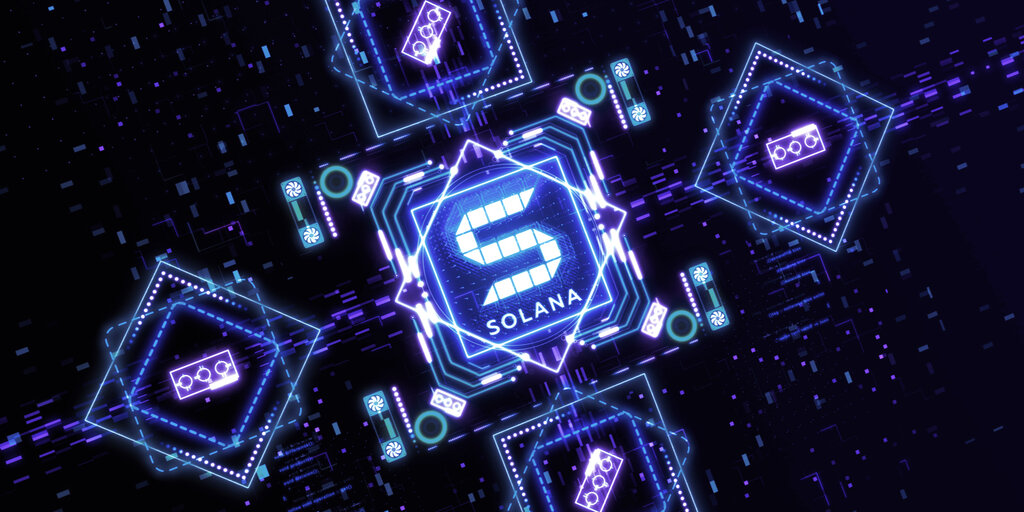 ETH competitor Solana grew a staggering 22.7% overnight to hit a price of $83.21 barely a week after beating its former all-time high of $78.63.
Today's overnight surge sees the currency establishing a firmer foothold as the tenth-biggest crypto by market cap, according to data aggregator CoinGecko. 
Like Ethererum, the Solana blockchain utilizes smart contracts—lines of code that execute "if-then" statements akin to productivity tool IFTTT but for crypto—to enable a whole world of financial services and decentralized apps to be built on the blockchain. 
Solana's network mines its native SOL token using a proof-of-stake (PoS) consensus mechanism. This means that it's a lot greener than BTC and ETH, which both currently use the energy-intensive proof-of-work (PoW) model. 
In PoW, network miners that are capable of verifying the most network transactions are those with the most hardware muscle and the highest electricity bills. In a PoS environment, however, the miners who validate the most transactions are those that stake the most crypto. 
ETH is hoping to migrate to the PoS model at some point during the rollout of its ETH 2.0 upgrade. 
Energy consumption is not the only metric where Solana currently leaves ETH trailing. Solana can handle about 1,000 live transactions a second and its developers claim that number could theoretically be as high as 50,000—significantly greater than ETH's humble capacity of around 15 transactions a second. 
Solana faces mixed news cycle
Today's monumental price surge reveals keen investment in Solana, though the network has been affected by some bad news over the last week. 
Last weekend, the Luna Yield exit scam defrauded investors out of $6.7 million.
But in the world of blockchain, one bad apple doesn't necessarily spoil the whole barrel. 
Yesterday, digital asset management company Osprey Funds beat out industry titan Grayscale to prepare a Solana investment product. The Osprey Solana Trust was registered with the U.S. Securities and Exchange Commission (SEC) on Tuesday. 
The move signals some weighty institutional backing for the one-year-old currency. 
The views and opinions expressed by the author are for informational purposes only and do not constitute financial, investment, or other advice.