Sorare Review – NFT fantasy football
4 min read
If you like nonfungible tokens (NFT) and football management games, Sorare should be the right choice for you. As the NFT paves the way for the mainstream, with OpenSea's popularity skyrocketing in 2022 and even older names like Gamestop announcing their own NFT marketplace, the ground is set to continue to attract mainstream attention. Sorare can become a popular choice for NFT fantasy football managers as it offers a fun and innovative combination of blockchain and fantasy sports.
Sorare review
Sorare is an NFT-based fantasy football management game where you can earn, buy and sell player cards and enjoy an immersive gaming experience. Here you can build and manage your dream team and even sell your best players for money – just like in real football. However, it is not only the NFT that make Sorare a special game.
In other words, Sorare cards are not just NFT collectibles on the ETH blockchain. Yes, these are cards that have been tokenized and can be traded on Ethereum, but these trading cards are also used to play Sorare fantasy football. One of the main objections that people have about the NFT is that many of them have no function other than art or symbolic presentation. Those who are more aware of NFT know that the technology behind NFT is more than just JPEG images.
Sorare guide
Sorare's game mechanics are similar to the mechanics of other fantasy sports games. However, Sorare takes this proven formula and revives it with innovative blockchain technology, thus adding an aspect of real value to the game.
Registration on Sorare is easy. All you have to do is enter your email, username and password, or sign in with Gmail or Facebook. Then Sorare will provide you with lots of free trading cards at every turn and allow you to build a team with them.
First you have to build a team of 5 players, which consists of a goalkeeper, defender, midfielder, forward and another player of your choice: whether it is a defender, midfielder or forward. After building your team, you choose a captain from your group, who can get extra points in each match.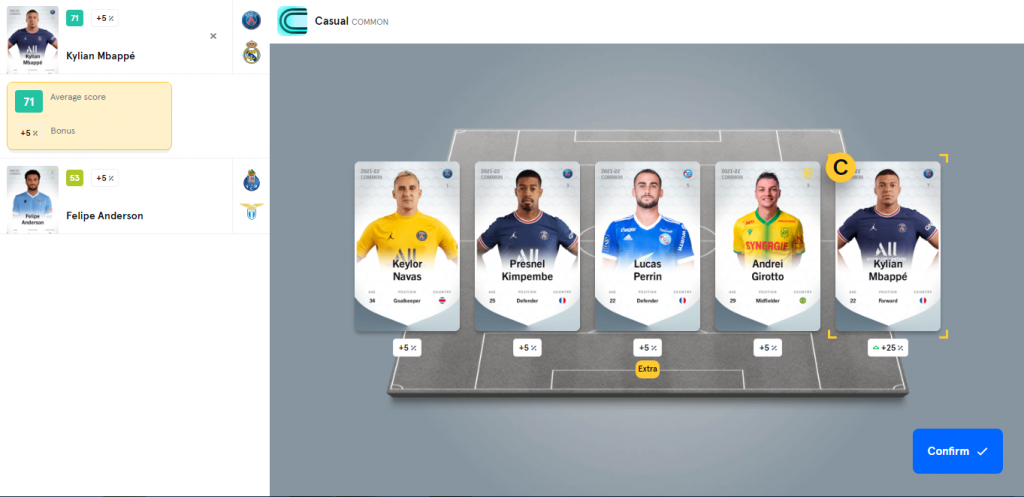 You can also use your blockchain-based team to play in your preferred competitions, which can be leagues in Europe, Asia, etc. By choosing the competition you deem appropriate, you can win prizes that come in the form of trading cards and cryptocurrencies.
Your score can reach a maximum of 100 and is based on the player's actual performance. Points will be awarded for goals, assists, passes, interventions and other statistics according to current football statistics.
Purchased Sorare cards are NFTs, which come in a variety of rarities, different from white regular cards, which are readily available. These rarity NFTs that can be purchased come in the form of limited, rare, super rare and unique. The limited edition cards are only issued per 1000 per season, rare cards are created only for 100 per season, super-rare cards for 10 per season and unique cards only 1 per season. Usually, the rarer the card, the stronger your fantasy football team.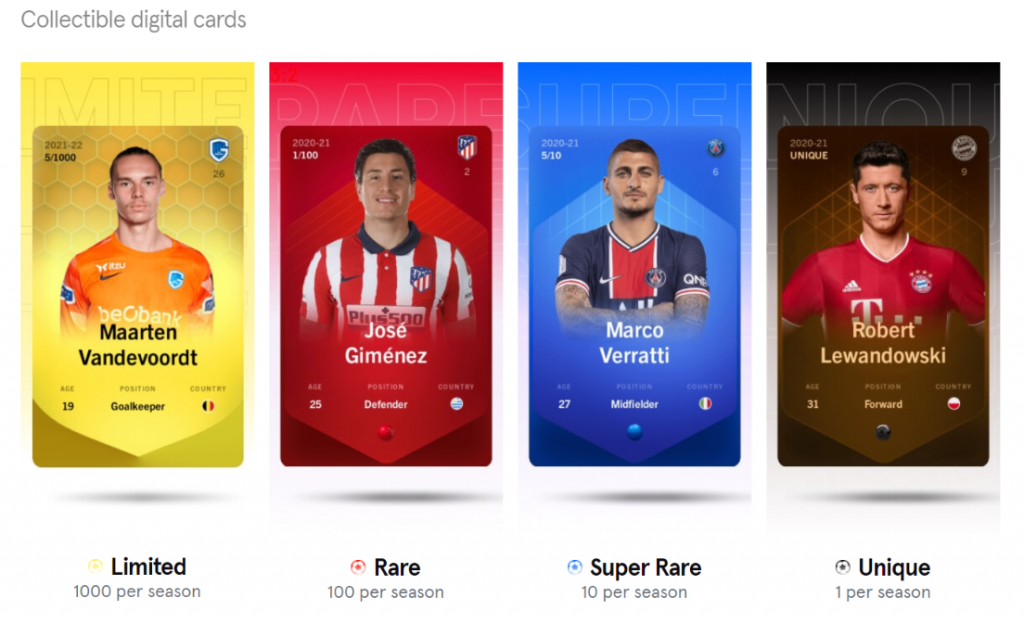 The cards also have their own experience, which increases the strength of your cards when playing tournaments and encourages you to use them to increase their value.
This way, the game ensures that you are not doomed if you only have regular cards. While it's easier to win with rarer cards, the right strategy can offset some of the specific disadvantages. Add to that the fact that Sorare gives you many free cards that you can join your team and the game is more fun.
In addition, there are special competitions based on the rarity of your team. You need at least 3 limited edition cards to unlock the higher level of the competition, 3 rare cards to unlock the next level, and so on. As such, you can choose to match players who have a rarity comparable to yours.
Being on the ETH blockchain can also be expensive for most users, so distributing free Sorare cards is a great idea. It gives players just starting out the opportunity to learn game mechanics before investing money.
Once the players are ready to buy cards, the game has its own marketplace, on which you can buy and sell cards, along with packages and individual sales. Thanks to that, Sorare is one of the most interesting NFT games today.
Conclusion
Sorare is one of the projects that needs to be watched for at the dawn of the NFT revolution. As NFTs have already entered mainstream consciousness, widespread adoption could quickly approach. Sorare is far ahead of ordinary fantasy sports thanks to the innovative use of the NFT and has the potential to become an active collectible sports game. As such, Sorare is an exciting project that has already hit the cryptoworld and still has huge potential for growth.