Staking ETH on ATH
2 min read
The big Ethereum sell-off predicted by some has not materialized. Instead, ETH staking has reached a new milestone. Over 19.3 million Ethereum has now been deposited into the Ethereum Staking Contract. This development makes it clear that many investors have more, not less, confidence in Ethereum as a result of the successful Shappella upgrade.
But that's not the only exciting statistic about ETH staking. In the following, we will therefore take a look at other interesting numbers and analyze what they mean for the second largest cryptocurrency after Bitcoin.
SEC fuels staking withdrawals
An analysis of the crypto company nansen shows that Kraken and Coinbase together with 870,688 ETH are currently responsible for 78.3 percent of all main withdrawals from ETH staking. Nansen defines principal withdrawals as all withdrawals from ETH staking made by active validators in the Ethereum 2.0 network. These withdrawals occur when validators wish to reduce or exit their staking positions and withdraw their staking ETH and rewards earned.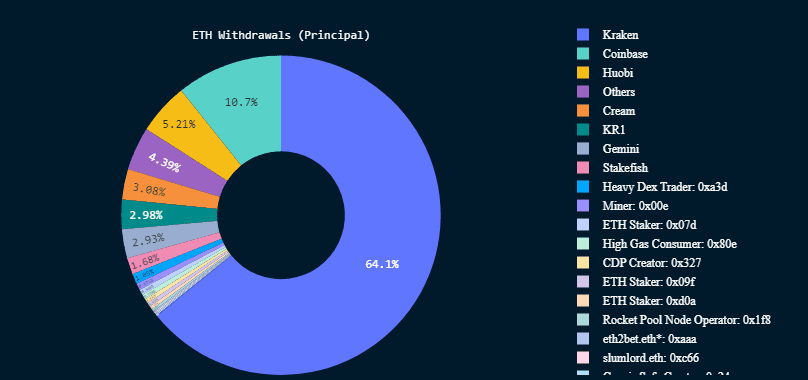 As the chart shows, at 64.1 percent, the overwhelming majority of all staking withdrawals come from crypto exchange Kraken. The reason is that the SEC has ordered the crypto exchange to shut down its staking service under threat of a lawsuit. SEC Chief Gary Gensler's crackdown is showing its aftermath here.
However, the development suggests that numerous users of the Kraken staking service are still interested in staking. It is therefore likely that they will re-stake their ETH on alternative platforms or in private wallets after successfully withdrawing from Kraken.
On-chain data shows that this development already seems to be happening. Because decentralized staking providers have been gaining new users in the past few days, as shown by data from Nansen.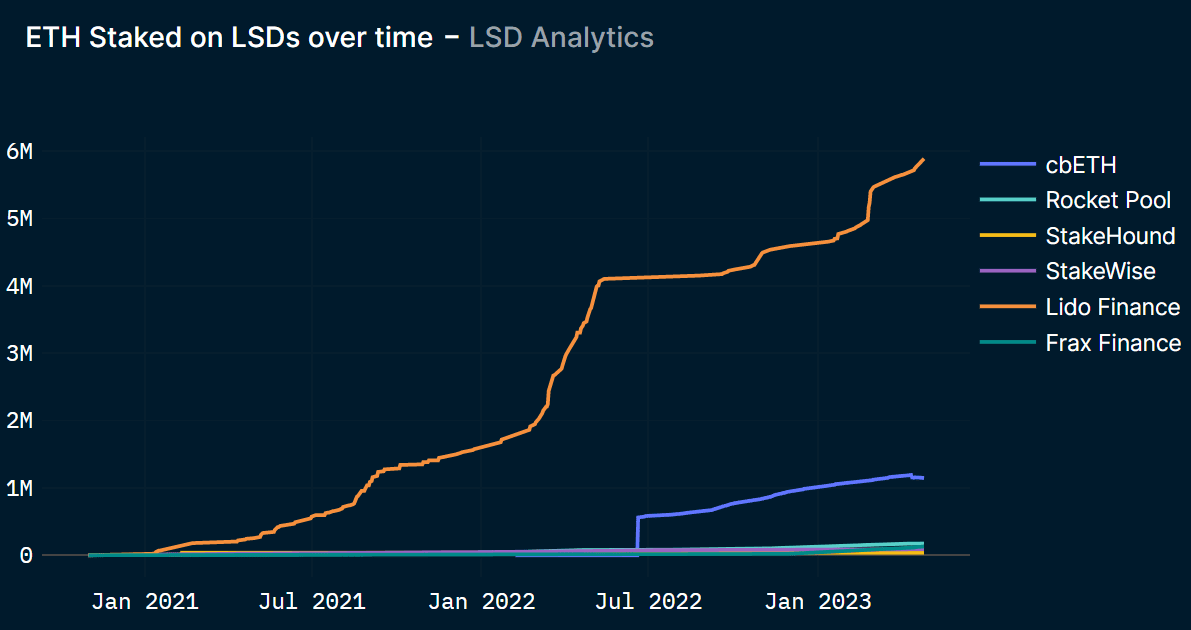 This development is an indication that core exchange customers are moving their ether from their staking offerings to alternatives in protocols like Lido, Rocket Pool, Frax Finance or new, decentralized alternatives like Ether.fi.
Conclusion
Reaching the new all-time high of 19.3 million Ethereum staked shows growing investor confidence in the Ethereum ecosystem following the successful Shapella upgrade. Despite regulatory hurdles like the SEC lawsuit against Kraken, interest in Ethereum staking remains high. The fact that more and more investors are staking their ETH and net present more ETH staking deposited as withdrawn shows the continued confidence of many investors.