Stormtrooper image-making artists sold out NFTs within hours, but without permission
4 min read
The Art Wars Collection, a series of NFTs depicting painted Stormtrooper helmets from the Star Wars franchise, has been criticized for being released without the consent of the artists who created the original works.
The series consists of 1,138 images chosen by curator Ben Moore and was released on November 6 in partnership with the coinage platform NFT Dropspace. The purported collection sold out in five seconds at 0.6 Ether each, amassing 682.8 ETH (worth $3.03 million at the time) for Moore and Dropspace.
However, Sholi Goodman, an attorney representing about 30 artists whose work was included in the NFT, claims that about 100 of the tokens are unauthorized reproductions that were sold without the artists' consent.
Stormtrooper helmets
Since 2013, Moore has held Art Wars as an inaugural event that showcases Stormtrooper helmets with paintings by renowned artists.
"Over the years, he's had artists paint artwork on these Stormtrooper helmets and show them off," said Goodman, an attorney specializing in blockchain and intellectual property law. "Apparently he also took pictures of them."
Moore did not immediately respond to questions sent by The Defiant to his email accounts.
Goodman became involved in the matter after being contacted by artist Jeff Hamilton, whose work has become one of the most valued NFTs in the Art Wars collection. "He emailed me or called me one day and said, 'What is this? I have never authorized it and they are selling it without my permission,'" said the lawyer.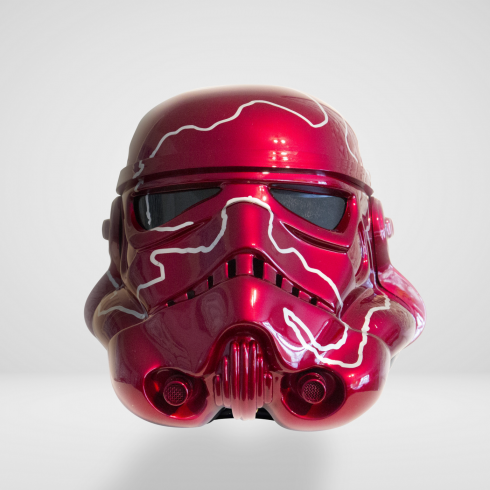 After contacting other artists who also had their work sold without permission, the group grew to more than two dozen working together to take action against Moore.
Goodman says he went to Moore in an attempt to find an amicable solution. "It's his first downfall and I don't think he's really thought much about intellectual property rights," the lawyer said.
"Ben Moore was claiming on social media on every platform he could that he had IP rights when he absolutely didn't," Goodman continued. "I spoke to him once and tried to give him the opportunity to do the right thing and include the artists, but he wasn't interested."
Agreements and Waivers
Although Opeasea and rarible having removed the Art Wars NFTs listings, the series generated nearly 1,000 ETH of secondary trading, with the Financial Times estimating that 1,600 Ether ($6.58 million at current prices) interacted with the contract after the OpenSea listings were withdrawn on November 22nd.
However, Goodman has copies of the contracts and states that "they explicitly allowed him to photograph, but not to use the photos for any commercial use. […] they cannot be used for resale – they can only be used for promotion".
The lawyer adds that Moore "sent emails to a lot of artists once he realized that [a situação] it wasn't good and there was no way out of it – trying to pay them what they sold, minus gas fees, to try to get them to sign agreements and exemptions, which none of them signed."
"There was a video of him on YouTube or something where he bragged about all the money he made while wearing a Stormtrooper helmet, driving around London and firing a fake gun. […] we have these videos too," said Goodman.
Unauthorized Project
Rather than immediately suing, which Goodman says "could take years", the artists hope to "kill" the unauthorized project by releasing an authorized series of non-fungible tokens in partnership with the NFT platform Dooingud.
Goodman notes that the artists plan to "reward community members who lost their money on the fraudulent initial takedown" by broadcasting NFTs of the new project to them.
Details regarding the next authorized delivery are also being discussed, with artists being able to select any image for their contribution to the collection.
Many of the artists are still planning to file a lawsuit against Moore in the future, said Goodman, adding that they "probably will" file a lawsuit against Dropspace as well.
Significant Challenges
Mel Vera of Dooingud emphasized that the authorized release provides the opportunity for artists to "have a positive experience" with web 3.0, despite the incident with Moore, rather than leaving them with "a bitter taste for the community [criptográfica]".
"The point is not to let anyone come out of this with a very negative experience," added Vera.
Goodman also noted that there were significant challenges involved in educating artists about NFTs, stating that there are "lots of artists over 60 [anos] and they don't even know what an NFT is."
"Most of them didn't fully understand [NFTs] technically," said Goodman. However, he noted that "many of them knew about NFTs and the money related to them."
How ASIC orders from institutional miners affect the price for terahash