Technical analysis of BNB – all time high within reach?
2 min read
Binance coin (BNB) as one of the few has more progress compared to the rest of the market. The BNB is always ahead in this regard, so it is the main candidate for a brief analysis. As for the rest of the market, it's so fat, unsalted for now. We have normal business days behind us, so I don't expect much dynamism to come during the weekend. At first glance, the BTC moon candle looks good, which the market could appreciate next week.
Current situation on 1D BNB / USD
During the last market turmoil, the Binance coin managed to stop at the lower limit of the $ 450 support zone. Which the next day the market rewarded in the form of impulse growth. This reflection should not surprise anyone, because it occurred in a place where there is strong support confluence. Especially according to the volume profile, it started very strong here liquid the area.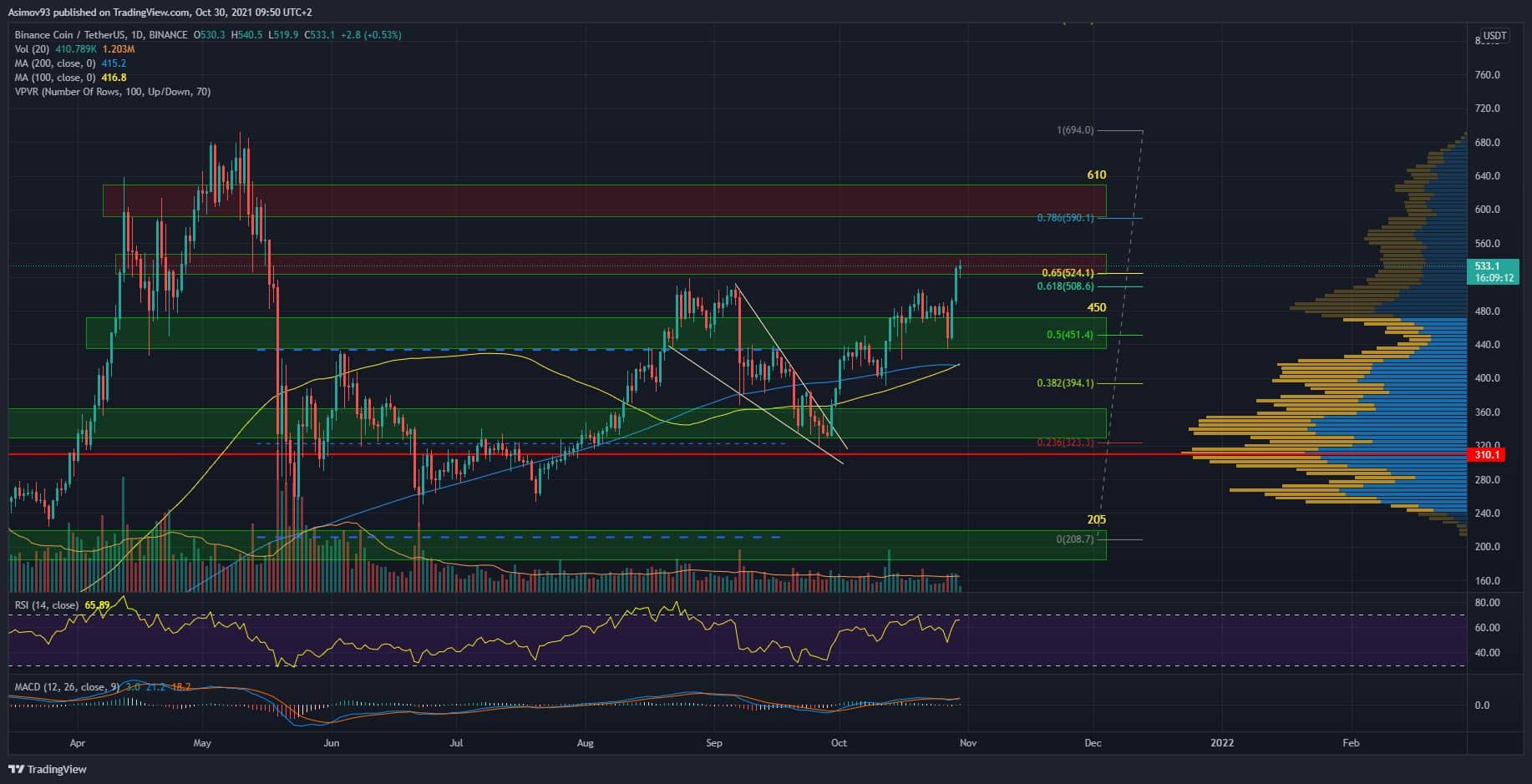 Thanks to the subsequent growth, the BNB gained almost 24%, which is a great result. Support was maintained, so the market gained new confidence. Currently the course is attacking at S / R level 535 USD. We are consolidating, but I do not think that the resistance is already broken. Indeed, he is still fighting for her.
There is also confluence at the current level. In the form of price level and important Fibonacci levels, 65%. Respectively, this is not a pure Fibonacci level, but we take it as one of the most important. So if there is an upward breakthrough, the last obstacle on the way to ATH is $ 610. Here, too, there is confluence, as it is close to 78.6%.
However, according to the volume profile, there should not be too much resistance at the latter level. If the BNB overcomes the current resistance, a new all-time high is within reach. However, I keep repeating that it depends mainly on BTC.
Indicators
There is already a bearish divergence on the RSI indicator. But the asters have already noticed that he is not in an overbought area. If any divergence is created at normal levels, the divergence has much less weight. That's why I wouldn't take her very seriously yet. In any case, it is important for the BNB that the values ​​of the indicator go above 70 points. Unfortunately, it's a hippo story on MACD. There are those on the histogram divergence because more. A total of three.