Technical analysis of BTC – today is a big day?
2 min read
BTC closed yesterday in a favorable form, which could be a signal for continued growth to a new all-time high. Among other things, this confirmed the relevance of the support on which BTC consolidated for some time. But it is still not completely won. Keep in mind that with the last growth on the new ATH, everyone has already painted $ 100,000, and in the end, they have changed direction out of nowhere. Therefore, care must be taken.
Current situation at 1D BTC / USD
After a relatively longer consolidation of around $ 61,000, BTC was finally able to rebound meaningfully. So, this is not a big impulse yet. But at least we got above the support band. However, it is still small. We need an aggressive approach to higher price levels. It still gives me the impression of hesitation.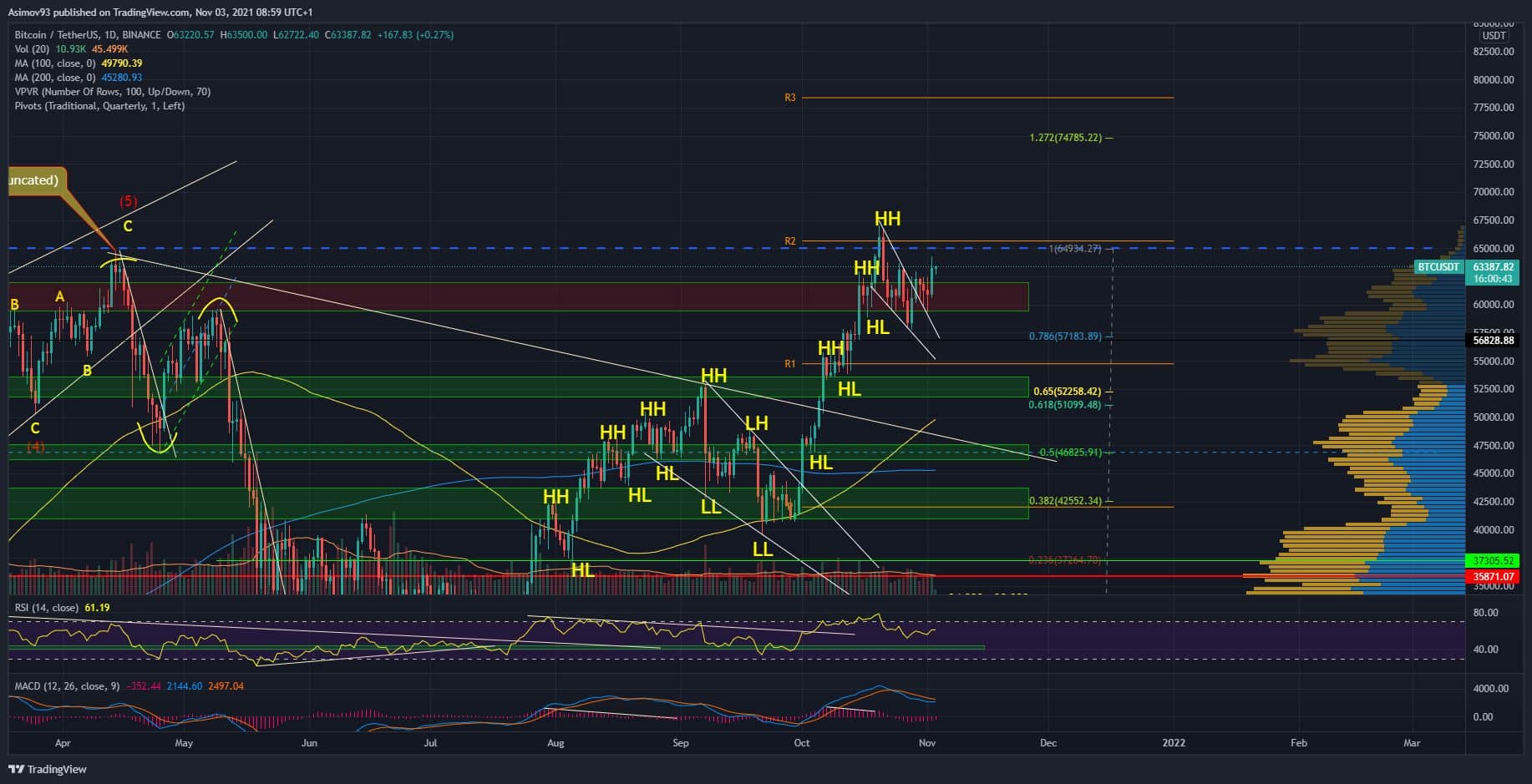 And since shitcoins randomly pump, I'm not the only one watching the hesitation on BTC. On the one hand, it's nice that self-confidence has increased at least somewhere, but on the other hand, it's not entirely good. As I have said several times, BTC should go first, then altcoins and then shitcoins. Not the other way around.
Therefore, some also claim that the bull run will not continue. Because the moment they start randomly pumping shitocins without the whole market going up, it looks like the last reverberations. People still remember the first half of 2018. At that time, BTC slapped under ATH, while various shitcoin nonsense went to heaven. Although then BTC could not even test the original ATH. So now the market is much stronger.
From a technical point of view, it is therefore still important to maintain support at around $ 61,000. And soon advance on ATH from October 20. Stay there and go to levels above $ 70,000. Consolidate here. Will the market finally do as expected?
Indicators
The daily RSI is at 60 points and the momentum has been more or less positive for a few days. So will we see further progress soon? If so, it is of the utmost importance to get above 70 points. If this happens, it is quite certain that a bearish divergence will appear here. But if it's a bull run, it shouldn't matter. The MACD indicator still has a negative torque.