Technical analysis of BTC- will the tweezer bottom be successful?
2 min read
BTC has a potential peak in the form of a Shooting star on the weekly chart, which we showed in yesterday's analysis. Today, however, we will focus on the daily chart, where we will show the fresh reflection from the close support. The market was really heading for a rebound over the weekend, and on Monday it was just confirmed. These are the very situations that are quite schizophrenic. A turnover signal is generated on the weekly graph, but on the daily graph it is reflected. Which side should you join then?
Current situation at 1D BTC / USD
During the weekend, it was such a small tug without a result, but thanks to this price action, it was known that BTC was heading for a rebound. More specifically, it is heading for a rebound of $ 61,000. The so-called Tweezer bottom. These are simply two candles, which together form a turning formation. In connection with the low volumes, it was also clear that the sellers were starting to run out of strength.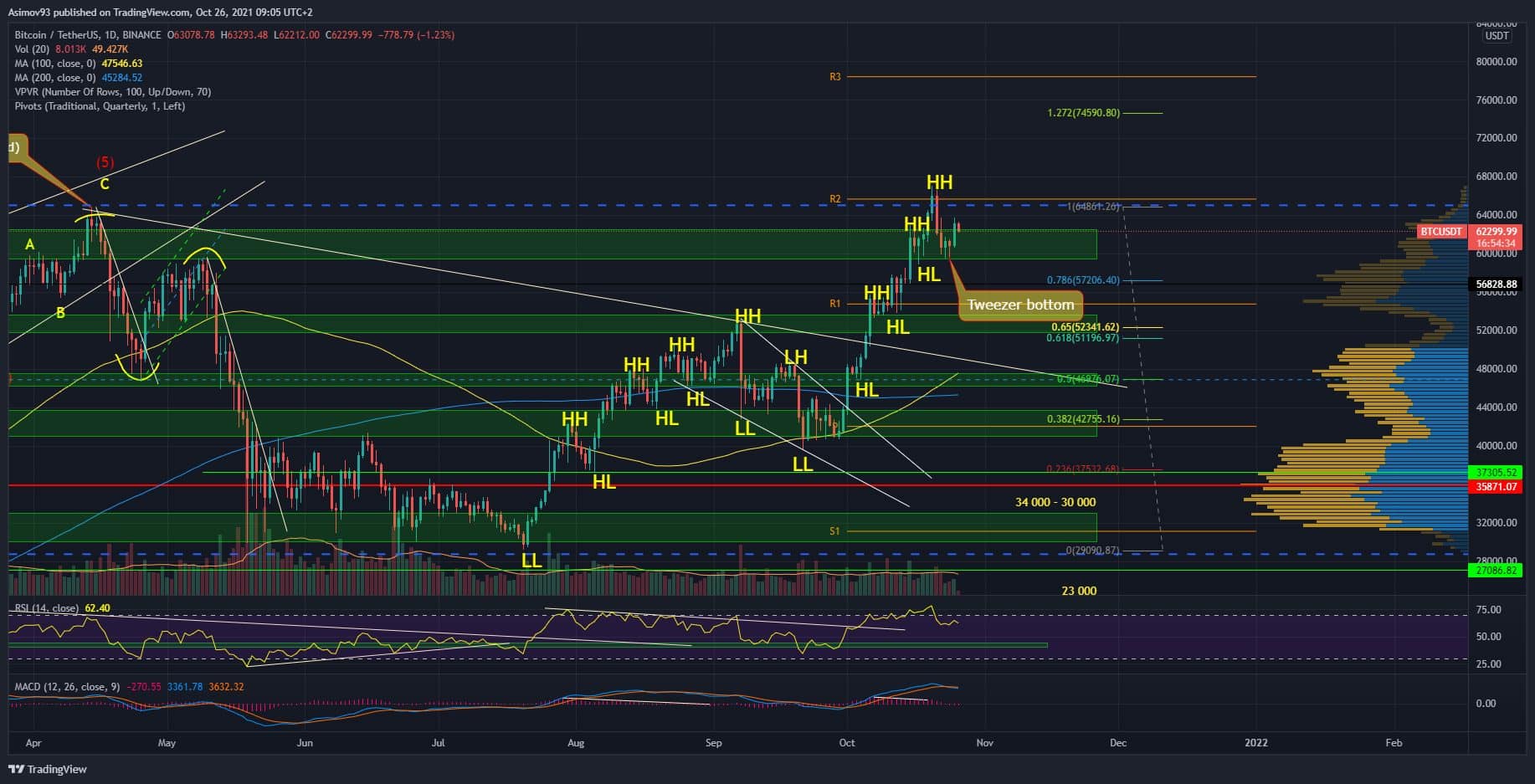 On Monday, there was a rebound from support. At first, the reflection was even a little stronger, but in the end BTC didn't get much anywhere. Plus volumes they were really pathetic yesterday. We need much more so that the market can continue to higher price levels.
This is also the reason why altcoins do not go up. In the altcoin market, it is clear that we could go up. However, BTC is constantly holding back everything. If the king does not show strength, the subjects will not rush forward.
Anyway, as I said, as long as BTC is over $ 61,000, everything's fine. However, it is necessary for the market to defend this level. Otherwise, a big problem arises, which brings with it a possible confirmation of the Shooting star on the weekly chart. Basically, the final form of the lunar close is at stake here. This time frame looks very good and mainly takes precedence over the weekly one. Although the weekly potential turnover is looming, the market should prefer a higher framework.
Indicators
The peak on the daily RSI is about 78 points. Then we went down to 60 points where the reflection came. The current values ​​are about 62 points, so no major progress has been made so far. Especially BTC needs a positive momentum. Bearish divergences were applied to the MACD histogram and there was also a bearish cross.