The amount of BTC kept by whales is at annual highs
2 min read
Santiment analytical platform pointed out that addresses holding between 100 and 1,000 BTCs (so-called "whales") now contain 21.3% of all existing BTCs.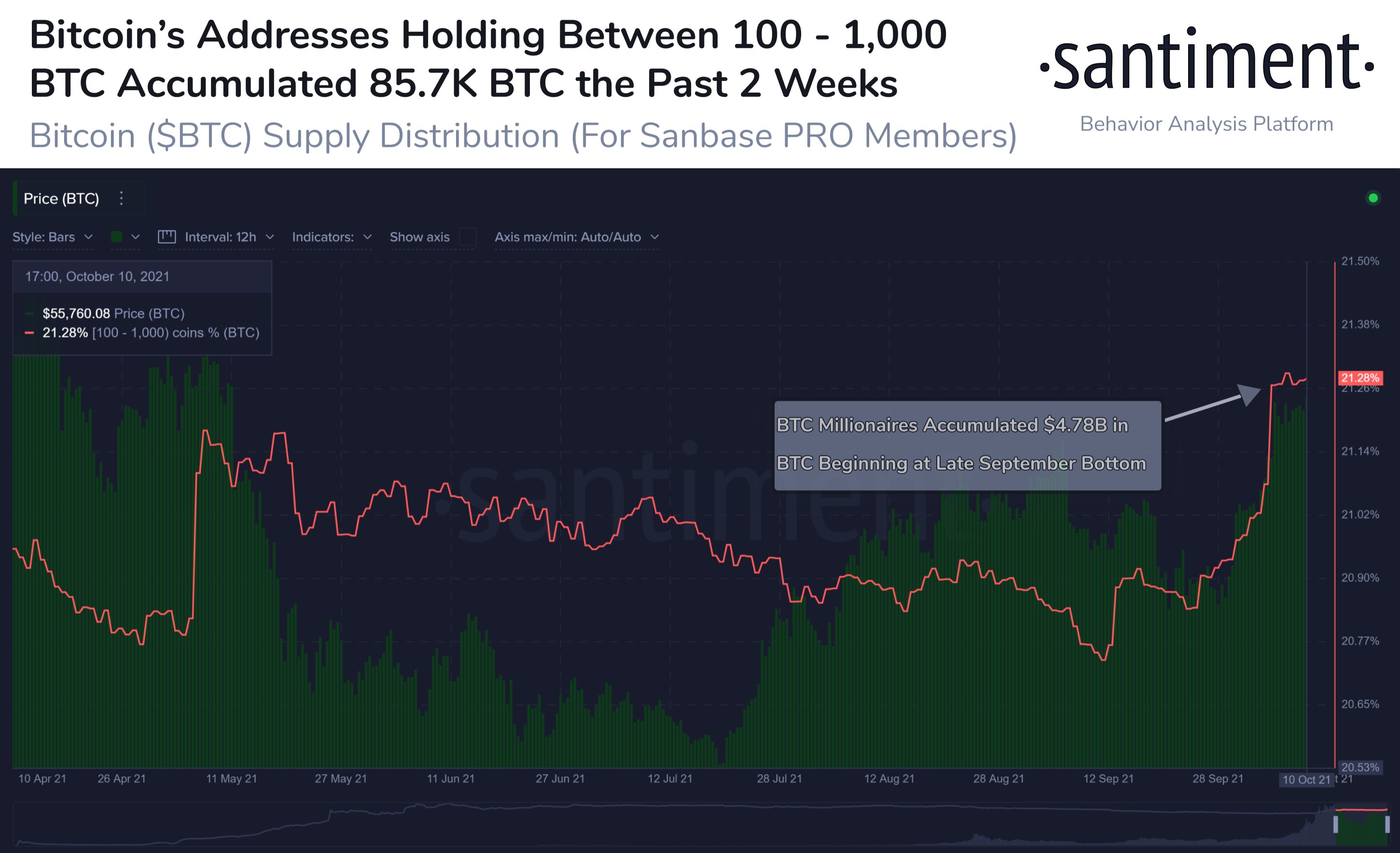 source: Twitter
The BTC market is ruled by whales
This percentage has been growing strongly since the end of September, when it fell to 20.7%.
It is worth mentioning that 100 BTC has a current market value of more than $ 5.6 million, while 1,000 BTC corresponds to approximately $ 56 million. These are therefore addresses that belong either to real whales or to organizations that operate in the markets on behalf of their users / customers.
The current level of 21.3% is the annual maximum for this metric, which is also higher than the 21.2% recorded at the end of April, when the price of BTC fell sharply after peaking in the middle of the month. Even then, the value of this metric rose sharply, although it fell to an annual low of 20.7% in mid-September in the coming months.
Accumulation in recent weeks
At the end of July, the price of BTC rose again after two bad months, when it was just above or just below $ 30,000. Santiment has revealed that whales have purchased 130,000 BTCs worth more than $ 5 billion in the past five weeks. The amount accumulated in the last two weeks is similar, suggesting that whales were much more in a hurry to accumulate this time than in July.
It is possible that these purchases suggest that whales expect prices to rise. As was the case after the end of July, when the price rose again during August, first to $ 40,000 and to 50,000, and then in mid-September it fell again to $ 40,000.
In total, there are less than 14,000 BTC addresses worldwide that contain 100 to 1,000 BTC, while those that contain between 10 and 100 BTC are almost ten times as many (131,000). They therefore contain a similar number of BTCs. There are just over 2,000 addresses that contain more than 1,000 BTC.

Overall, the number of BTC stored at addresses that have less than 10 BTCs is less than 15%, so they are unlikely to move the market. However, the number held at addresses between 10 and 1 000 BTC is up to 44% of the total, and these can affect the market.
Among the largest addresses are many crypto exchanges, which save the funds of millions of customers.