The number of BTC ATMs has doubled this year, exceeding 30,000 worldwide
2 min read
According to data collected by a major analytical website, the number of sites providing crypto ATM services has increased exponentially this year. The number of BTC ATM has doubled since January, and these cryptocurrency support facilities are now located in more than 80 countries.
More than 30,000 BTC ATMs operate worldwide
In the year when the cryptocurrency markets reached new historical highs, the adoption of digital coins increased and BTC vending machines made a significant contribution to this. Their number recently exceeded 30,000 – more than double the number at the beginning of 2021.
Data collected Coin ATM Radar show that, as of 1 January, there were 14,016 registered sites supporting services for anterior cryptocurrencies. And since October 27, their number has reached a staggering 30,011.
These crypto machines are located in 81 countries and are operated by 628 operators, according to the monitoring website. The United States is a strong leader with more than 26,000 seats, while neighboring Canada has just under 2,000 and the entire European Union hosts only 1,353.
The number of facilities increased in Spain (155) and pro-cryptocurrency Switzerland (130), but not all trends were positive. Their number has fallen in some other major markets, such as Austria, from this year's high of 156 in June to 140 now and the United Kingdom, which saw a dramatic drop from 229 on January 1 to 98 on Wednesday.
Supported cryptocurrencies vary between vending machines, but most provide the opportunity to purchase BTC, and many sell one or more other major coins, such as Bitcoin Cash, Ethereum), and Litecoin. Some also offer stablecoins like Tether or popular altcoins like Dogecoin. The number of two-way ATMs is also increasing, ie those that can also redeem your cryptocurrency.
The top 10 operators manage almost 68% of all crypto machines, ie more than 20,300 machines. BTC Depot, which is expanding its network in the US, is still the largest among them with 5,314 units (17.7%), while Coincloud is second with 4,028 (13.4%). Coinflip is in third place with 2,953 devices, which is slightly less than 10% of the total number of devices in the world.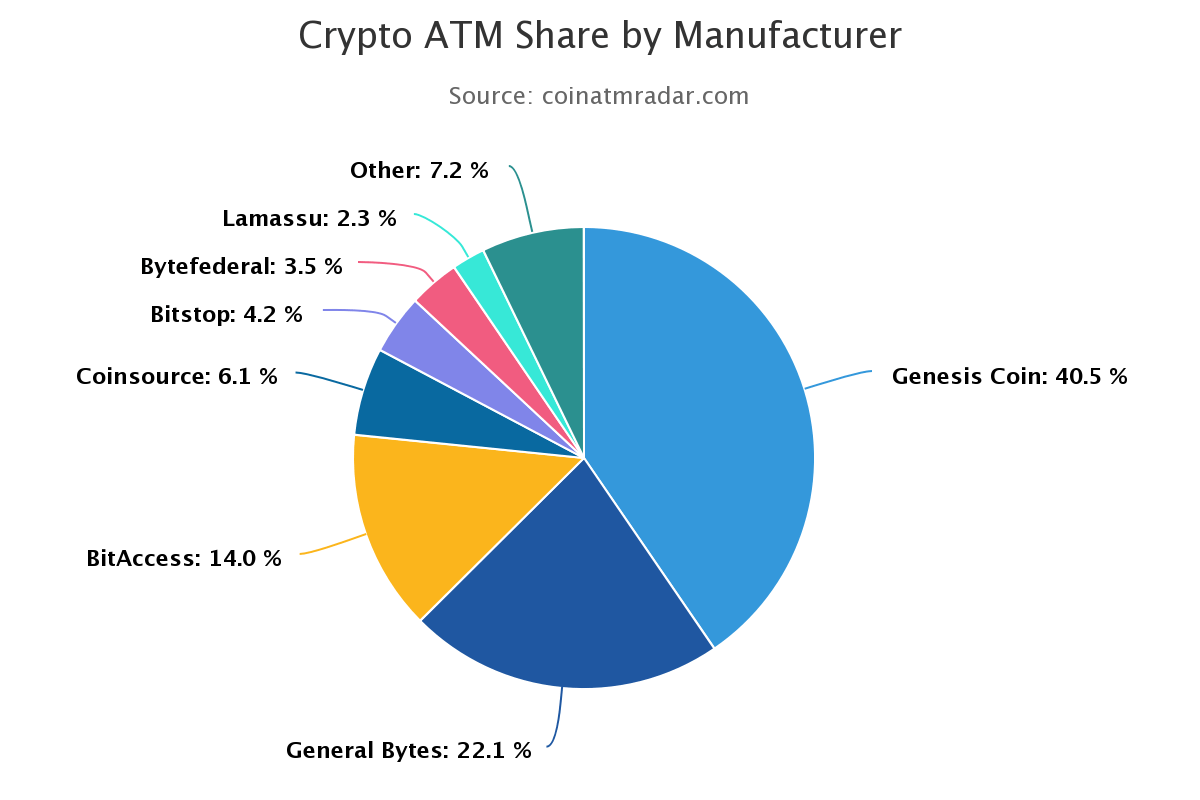 Genesis Coin remains a leading manufacturer of equipment with more than 40% of the market, followed by  General Bytes with more than 22%. Bitaccess is close to third with 14% of currently running devices. Other producers include Coinsource (6.1%), Bitstop (4.2%), Bytefederal (3.5%) and Lamassu (2.3%). Smaller companies have installed 7.2% of all registered crypto machines.
images source: Coin ATM Radar