The number of daily active USDT addresses has reached this year's maximum, what does this mean for crypto markets?
2 min read
One of the key trading volume metrics of the largest stablecoin, Tether (USDT), reached its highest level this year, indicating an increased level of demand. The data could indicate two potential scenarios for the cryptocurrency sector, based on the role of the USDT as a trade intermediary and as a safe haven.
Active USDT addresses confirm the increased demand
According to data from a crypto analytics firm Santiment daily active addresses, ie the number of unique users who traded the token in a single day climbed to more than 83,000, figure being the highest since early December.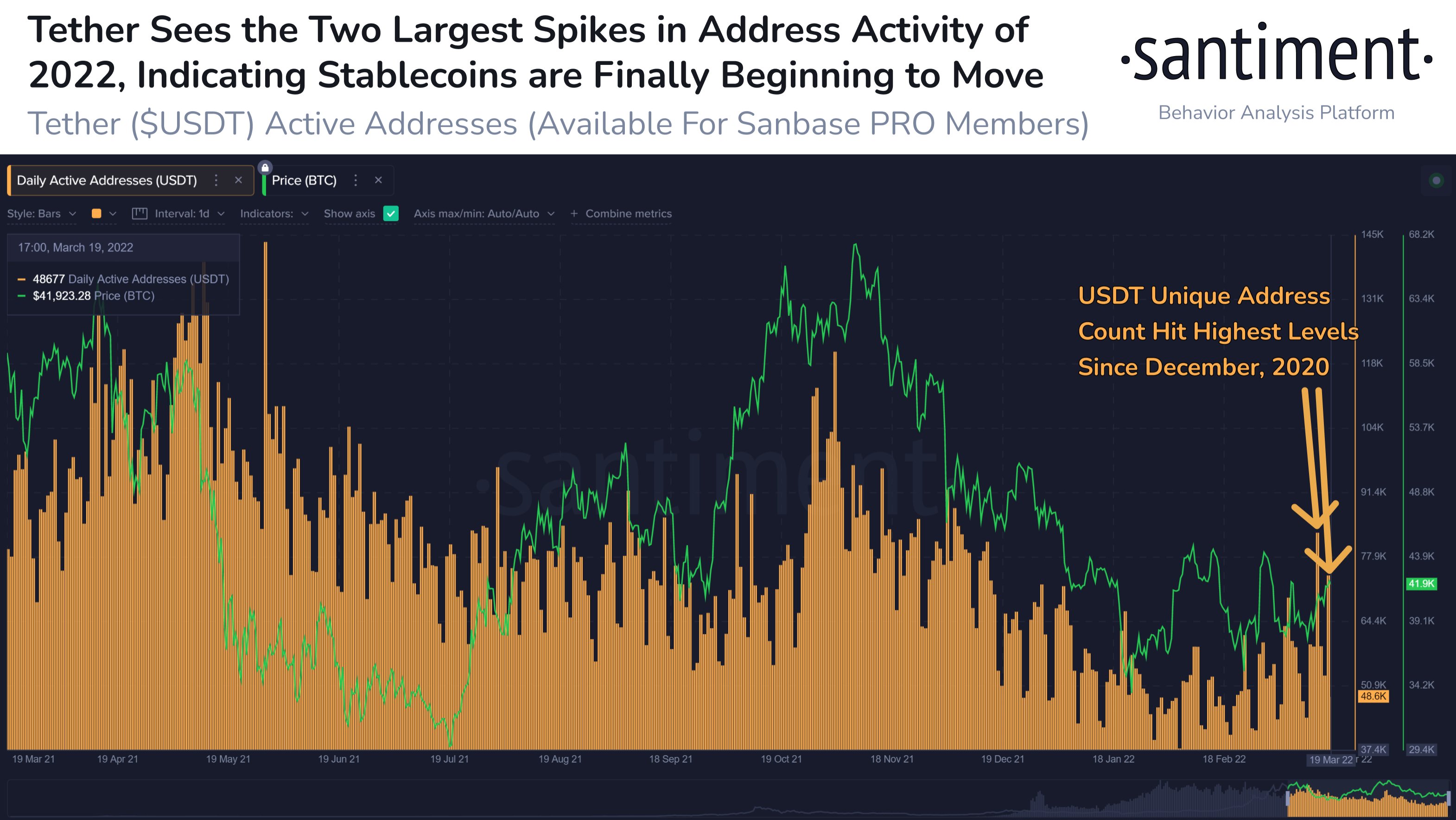 But the growing accumulation of USDT has several implications for the crypto market. The two most likely scenarios are:
Volatility will rise
USDT is most often used in trading in other cryptocurrencies, due to its binding to the US dollar in a ratio of almost 1: 1. Traders usually exchange their dollars for this token before using it to trade for other cryptocurrencies.
The accumulation of large amounts of USDT could mean that the market is ready for further trading, indicating greater volatility in the near future. USDT trading growth could eventually spill over into other tokens. Santiment also believed that the data indicated greater volatility.
Historically, gradually increasing active addresses are a bullish signal. A massive cluster of peaks at once can be a little more an indicator of volatility.
But on the contrary, increased demand for Tether could also mean
Safe Haven seekers accumulate USDT
The USDT's 1: 1 peg to the dollar, along with its large reserves, makes it the leading safe haven in the cryptocurrency sector. The token has seen an increase in volumes this year, mainly due to the Russian-Ukrainian conflict, which has increased volatility and pushed traders into safe havens.
Overall, sentiment is already tense due to the Russian-Ukrainian conflict and its economic consequences. Traders also have to deal with rising inflation and Federal Reserve action this year. The BTC index of fear and greed is located in the fear zone, where it has been operating since February.
All these negative moods could also be the driving force behind the demand for Tether.