The US has become a leader in BTC mining
2 min read
The consequences of China's ban on anything related to cryptocurrencies, including mining, have led to a massive redistribution of hash power. Following the ban on BTC mining in China, the country is no longer the leader in hashrate – it is the United States, as recent data from the Cambridge BTC mining electricity consumption index have shown.
The end of era
Although BTC and the rest of the cryptocurrency sector in China have been banned for almost as long as it has existed, the country has long been responsible for most of the BTC network hash rate.
In fact, no other nation has ever come close, because the cheaper electricity in China has attracted the miners very much. Data from Cambridge University are an example of this dominance. For example, China's share of the hashrate was over 75% at the end of 2019.
As the country proceeded with its internal bans and successfully drove out the miners, the hashrate began to decline. It has now dropped to zero, as the mining map shows, as Chinese authorities ordered all miners in May this year to stop operations and leave the country.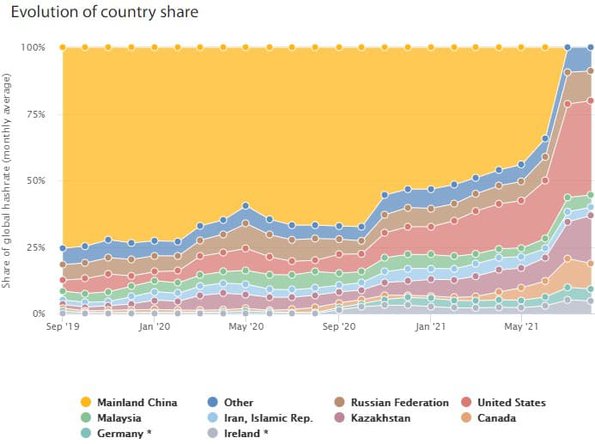 The world's most populous country disrupted the BTC network, as the hashrate fell by 60% in a matter of months. Due to the unique way of setting up the largest blockchain, we mean the difficulty mechanism, which adjusts itself, and thanks to the successful relocation of the miners, the metric has recovered again, but is still far from ATH.
The US has thus become a leader in BTC mining
The decline in the share of hashrate from China has allowed other countries to increase their position in this regard. During the darkest days of the ban in the giant Asian nation, news began to emerge that miners had begun moving west.
One of the most frequently mentioned destinations was the United States. While some US BTC supporters have advised miners to move there, some politicians, such as the mayor of Miami, have tried to entice them to tax incentives and cheap electricity.
These efforts seem to have worked, as the mining map shows that the US is now responsible for most of the hashrate of the BTC network with 35.4%. This means that the largest nation in the world in terms of nominal GDP has more than doubled since April this year.
Next in line is Kazakhstan with 18.1%, followed by the Russian Federation (11.2%) and Canada (9.6%). As BTC maximalists say, mining is now more decentralized – at least for a while.