The Valentine's Week In Summary
2 min read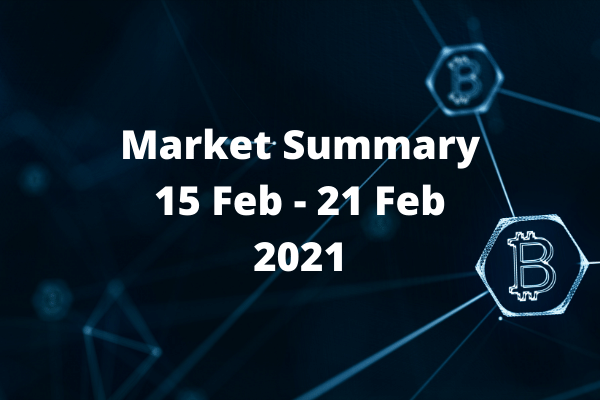 Market entered the week with a major correction. Bitcoin fell from a high of US$49,700 to US$45,700 representing a near 10% decline in a single day. Major DeFi tokens experienced worse-than-expected correction of around 20% on average. Uni down from US$23 to US$18. Yearn Finance down from US$51K to US$39K. The list of the A-listers go on.
We suspect prices across the general cryptocurrency market to continue its downward trend going into Feb 15 before entering into a consolidation phase.
What is not to love about this week? Correction always presents good buying opportunity. For those patient folks, may look into picking up good cryptocurrencies like BTC (the evergreen), ETH, UNI, YFI, BNB.
We expect more corporate and institutional news on Bitcoin and cryptocurrency support to further lend price support.
General Market Overview
The word of the week and the lowdown on the street is "reflation."
For those unfamiliar with the word, reflation basically means trying to stimulate the economy by increasing the money supply or by reducing taxes, with the goal of bringing the economy back up to the long-term trend, following a dip in the business cycle.
In plain English, governments are trying to spend their way out of the current coronavirus quagmire and markets are responding accordingly.
Now suffice to say that a stock market (or any other asset market) does not an economy make (tell that to petro-states), and are meant to be a reflection (if somewhat distended) of actual corporate economic conditions.
But a flood of money and record low interest rates are distorting market forces such that by most reasonable metrics the stock market has increasingly become disconnected from the economy, almost as if it's operating in a parallel universe of rainbows and unicorns.
For investors though, there's little alternative other than to make money while the market pays and in Asia, markets were higher in the Monday morning session with Tokyo's Nikkei 225 (+1.18%), Sydney's ASX 200 (+0.88%) and Seoul's Kospi Index (+1.34%) all higher, while Hong Kong's Hang Seng Index remained closed for the Lunar New Year holiday.
The post The Valentine's Week In Summary appeared first on SuperCryptoNews.