These BTC metrics send a bullish signal
2 min read
CEO of the analytical company CryptoQuant says that he is bullish on Bitcoin (BTC), despite a difficult week for the entire cryptocurrency market.
These BTC metrics send a bullish signal
CEO of the blockchain analyst firm says that several basic BTC metrics are showing signs of growth after a week, when the primary cryptocurrency dropped nearly 15% from a high of $ 52,774. At the time of writing, this is trading for $ 45,293.
Ki Young Ju wrote to his 245,600 followers on Twitter that BTC's offer on the cryptocurrency exchanges was approaching the lows of 2021, which can be interpreted as a bullish signal, as this is likely to reduce the risk of big sell-offs.
BTC supply on exchanges is about to break its previous low. Hope to see another sell-side liquidity crisis on Bitcoin.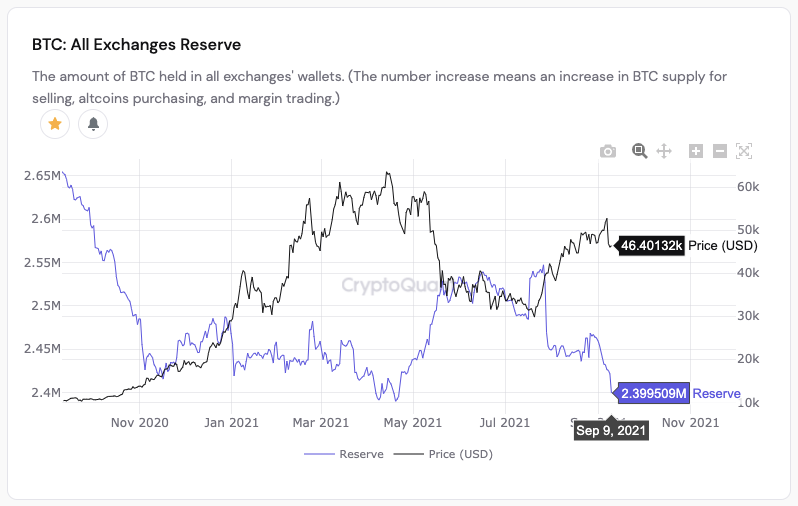 The director of CryptoQuant also said that crypto whales are moving their BTCs to derivatives exchanges, which is another potentially bullish indicator.
Whales are sending BTC to derivative exchanges from other exchanges to punt new positions or fill up margins. If you look at the historical data, the price goes up in the long term after their accumulation. Their positions seem to be long positions.
Ki Young Ju has previously said he believes BTC will reach $ 100,000 this year.
"No doubt it will reach $ 100,000 this year, but in the short term, if we don't see any significant buying pressure on Coinbase Pro, I think BTC will be bearish."
What do you think BTC will reach $ 100,000 by the end of the year?