This Bot Buys BTC Every Time Elon Musk Tweets About BTC
2 min read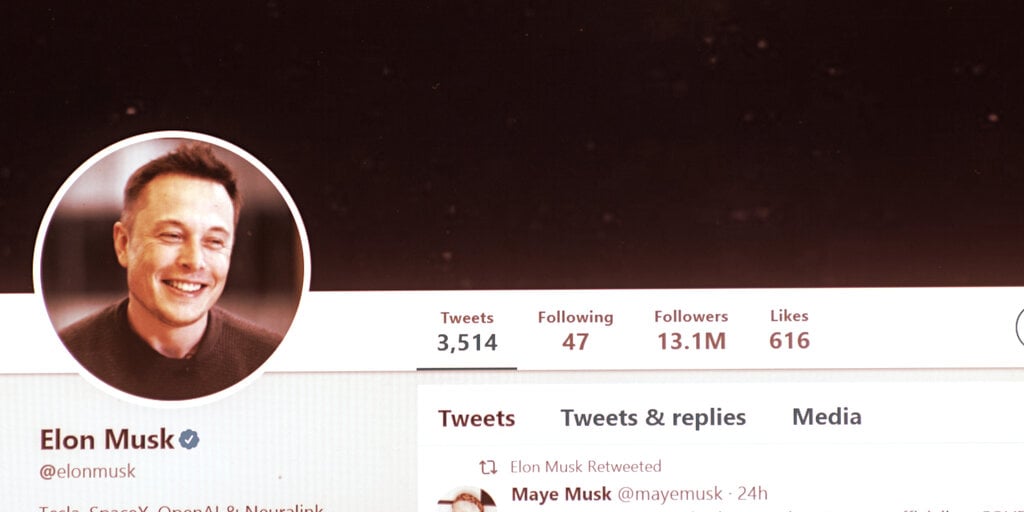 Elon Musk exerts an outsize influence on cryptocurrency markets—both through his role as CEO of Tesla, which has made BTC part of its business, and through his colorful Twitter account. When Musk tweets about crypto, prices jump.
All of this has led a London-based crypto trader, Andrei Badoiu, to build a bot that can buy BTC whenever Musk tweets about it. Badoiu says the bot can carry out a trade within seconds of a Musk tweet.
In an interview with Decrypt, Badoiu says traders have long used such tools to buy or sell stocks in response to comments from influential individuals, and that automated tools are especially apt for crypto markets, where comments by social media influencers like Musk often sway prices. In theory, Badoiu's bot could allow users to make a profit by buying BTC right before a Musk-driven price surge takes place—though this has yet to be tested in the wild as Musk hasn't tweeted since the bot went live.
While the bot might appeal to many investors, it also requires a high degree of technical know-how. As Badoiu's website explains, would-be users of the bot must configure it by means of Twitter developer tools and an account tied to the trading platform MetaTrader 5—steps that are likely too daunting for the average BTC buyer. Nonetheless, Badoiu says the project has generated considerable enthusiasm, both on Reddit and on the code-sharing GitHub, where he says dozens of people have downloaded tools to implement the bot.
Badoiu adds that, in time, he hopes major crypto exchanges like Coinbase and Binance will add research tools that show which individuals' social media activity influences crypto prices—tools that would help Badoiu and others build other bots to trade on their comments. Conceivably, the exchanges might also one day offer users an easy means to use bot-based trading themselves.
Badoiu also noted that his Musk bot tool incorporates so-called sentiment analysis—a fast-growing fields that uses AI to discern whether comments about a given topic on social media are positive or negative. While Musk's crypto comments until now have either been cryptic or outright enthusiastic, Badoiu warns this could change.
"Musk is so unpredictable, he could easily tweet 'BTC sucks' one of these days," he says.
The views and opinions expressed by the author are for informational purposes only and do not constitute financial, investment, or other advice.