Three Metrics Suggest Key Trend in Stablecoins After UST Collapse
2 min read
The Terra ecosystem collapsed earlier this month, with the LUNA token dropping to zero after the stablecoin UST lost its peg, i.e. its peg to the US dollar.
The fact impacted the entire cryptocurrency market. After all, UST was the third largest stablecoin on the market. Furthermore, distrust of the UST has spread to the general stablecoin landscape.
Tether (USDT), for example, has been under intense prominence over the past week. That's because it briefly lost its parity with the dollar. After that, there was a big USDT bailout.
On May 17, Paolo Ardoino, Tether's chief technology officer, said the company had about $7 billion worth of USDT redeemed within 48 hours.
Tether recently announced that it had reduced the amount of commercial paper in the reserve that backs its $74 billion stablecoin.
According to Tether Holdings Ltd., the reserve was at least $82.4 billion as of March 31, with $82.2 billion in liabilities related to the digital tokens it creates, according to an MHA Cayman guarantee in the Cayman Islands.
Against this backdrop, on-chain analytics firm Santiment has provided three metrics that provide an overview of the stablecoin during and after the Terra UST crash.
Key Trend in Stablecoins After Terra UST Collapse
According to Santiment, the first trend was the strengthening of USDC which grew in the period while USDT fell.
"A drop in the market cap of Tether in USDT and a subsequent increase in the market cap of USDC was observed, although according to data from CoinMarketCap, Tether remains the largest stablecoin by market cap at $74, 14 billion, followed by USDC, with US$ 52.80", points out the company.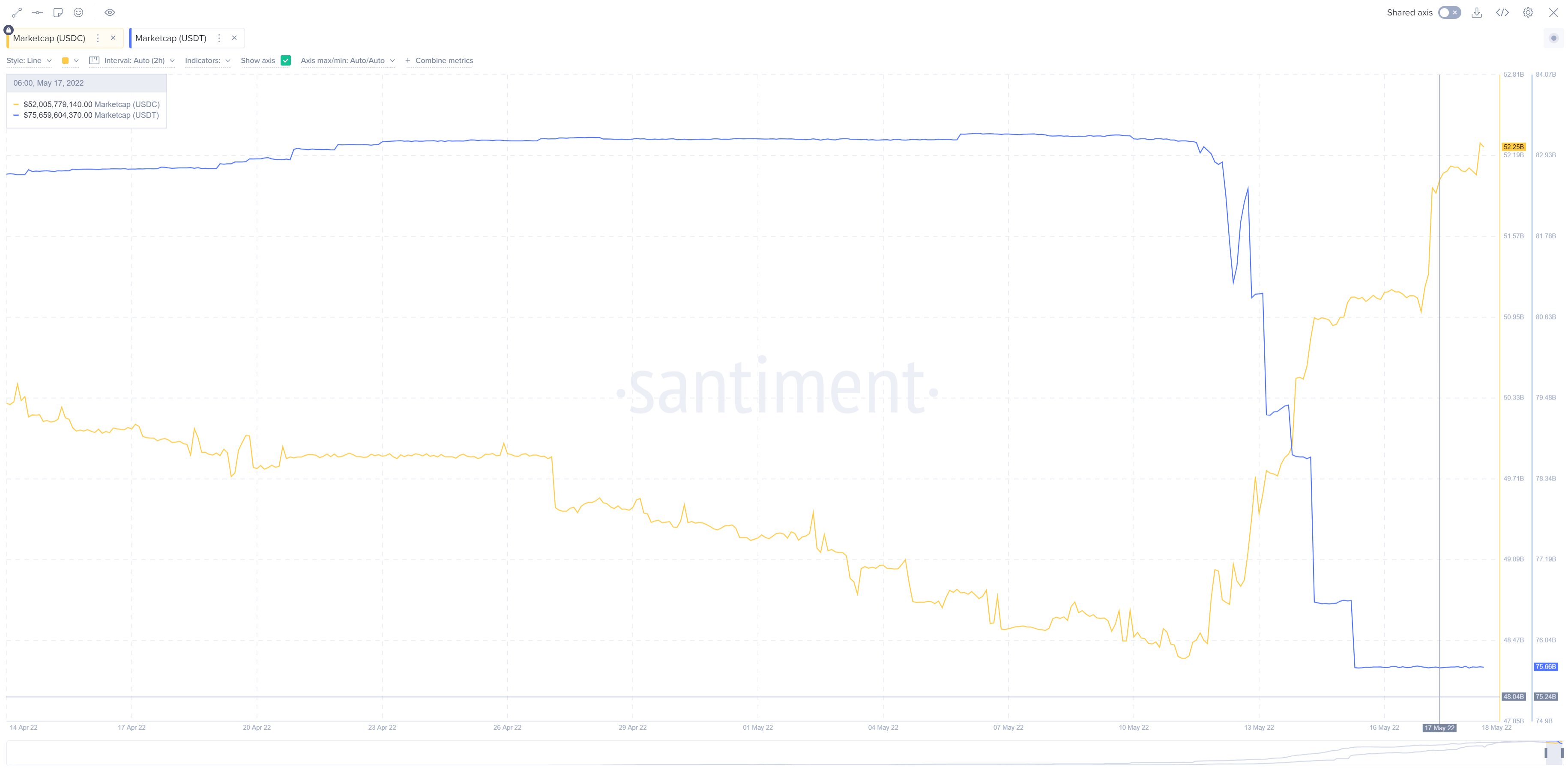 Meanwhile, the second trend was the failure of the algorithmic stablecoin discourse, also demonstrated by Santiment in the investors' refuge in USDC and USDT.
Finally, the company highlighted that USDC was the big winner in the failure of UST and that, very soon, it may surpass USDT as the largest stablecoin on the market. After all, even traders stopped holding USDT and started accumulating USDC.