Top 5 DeFi Coins For July
4 min read
This article will take a look at five cryptocurrencies in the decentralized finance (DeFi) sector. 
These DeFi tokens have interesting developments lined up for the month of July, which could also have a positive effect on their price.
Swipe (SXP)
Current Price: $2.00
Market Cap: $200 Million
Market Cap Rank: #148
The swipe platform aims to serve as a connector between the cryptocurrency and fiat worlds. The creator of the platform is
Joselito Lizarondo
, an early BTC (BTC) investor. The three main products offered by the platform are: The Swipe wallet, debit card, and SXP, the native token. The credit card can already be used at Visa payment terminals. A new component of the Swipe network, the
Swipechain testnet
will release on July 6th. It will focus on interoperability, more specifically enabling cross-chain swaps. The testnet is not intended to be a substitute for existing chains like BSC or ETH. Rather, it will act as an accessory in cross-chain trading. The launch of the mainnet will proceed after the testnet is up and running without issues. Since May 24, SXP has been trading close to the $1.65 horizontal support area. It has bounced twice, potentially creating a double bottom pattern, which has been combined with bullish divergence in the RSI. However, the RSI has not moved above 50 yet, nor has the MACD signal line crossed into positive territory. The main resistance area is found between the 0.5-0.618 Fib retracement resistance levels at $3.08-$3.62.
Kava.io (KAVA)
Current Price: $4.28
Market Cap: $274 Million
Market Cap Rank: #124
Kava.io
is a DeFi lending platform that allows users to earn yield by depositing cryptocurrencies. It offers support to cross-chain assets, making in unique in relation to other lending platforms. Also, users can earn rewards straight from the protocol by running their own staking nodes. The Kava Swap Incentivized Testnet
will launch on July 12.
It will offer several new features, such as :
Governance parameters
Rewards for delegation
Swap fees
Finally, it will offer deposits, withdrawals and swapping of assets between liquidity pools. Since April 6, KAVA has been decreasing inside a descending parallel channel. Such channels often contain
corrective structures.
So far, it has made three unsuccessful breakout attempts (red icons) and is currently in the process of making the fourth one. Technical indicators are turning bullish. The RSSI has moved above 50 and the Stochastic oscillator has made a bullish cross. Therefore, an eventual breakout is likely. If so, the next closest resistance would be at $7.25.
Avalanche (AVAX)
Current Price: $11.60
Market Cap: $1.994 Billion
Market Cap Rank: #46
Avalanche
is an umbrella platform that is used to launch DeFi applications. In addition to this, it has a use case in trading and setting up financial applications. One of the main aims of the platform is to become a global assets exchange, meaning it would allow anyone to trade and control their assets in a decentralized manner. It launched in Sept. 2020 and the native token is AVAX. The Defi Yield Protocol, which is a yield farming platform, will
complete its expansion
to Avalanche in July. In addition to this, the
USDC stablecoin
will come to Avalanche sometime in July. AVAX has been moving downwards since reaching an all-time high price on Feb. 10. It is following a descending support line and potentially trading inside a descending wedge. On June 22, it reached the descending support line, which coincides with the $11.30 horizontal support area. If the token does not bounce at this level, it could drop sharply due to the lack of support below the current price. Technical indicators are showing some bullish signs, such as the bullish divergence in the MACD histogram and impending bullish cross in the Stochastic oscillator.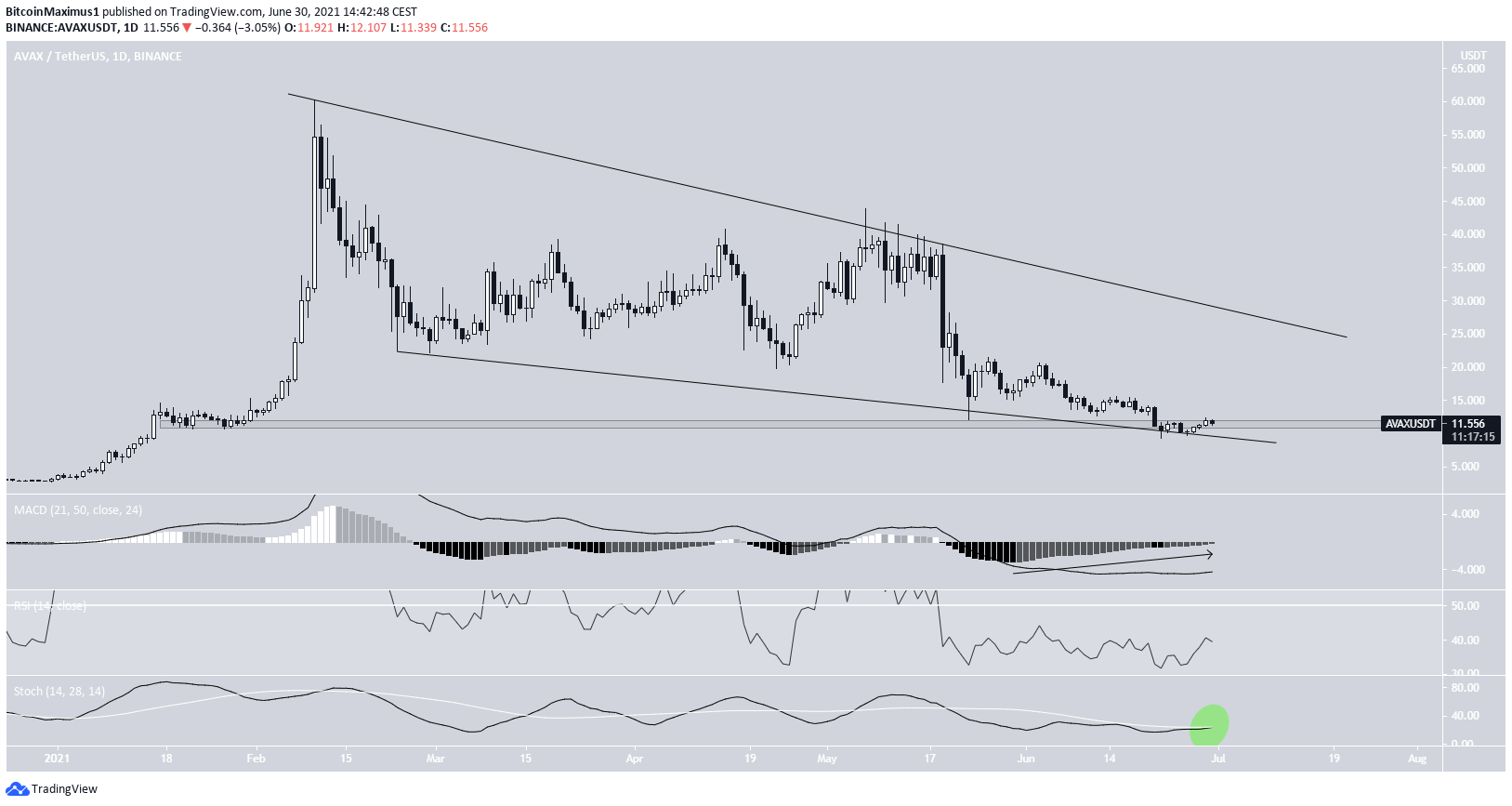 1inch (1INCH)
Current Price: $2.45
Market Cap: $529 Million
Market Cap Rank: #107
1inch is a DEX aggregator,
which is used to find the best cryptocurrency prices across DEXes. It removes the need to manually check prices, rather sourcing liquidity from exchanges and offering users the best swap rates. It launched in Aug. 2020, created by Sergej Kuncz and Anton Bukov. Its native token is 1INCH. The established method to earn tokens is to provide liquidity in the platform and receive tokens in exchange for doing so. A unique feature of 1inch is instant governance, allowing users to vote for specific protocol settings. In the end of June, the Swiss bank Sygnum started offering clients
opportunities for investment
in several DeFi tokens, including 1INCH. 1INCH bounced above the $2.25 area on May 23 but returned to the area once more in July. It is potentially in the process of creating a
double bottom
pattern. The pattern has also been combined with significant bullish divergence in the RSI, MACD & Stochastic oscillator. Despite the possibility of a bounce, the trend cannot be considered bullish until the token reclaims the support line from which it broke down from prior (red icon).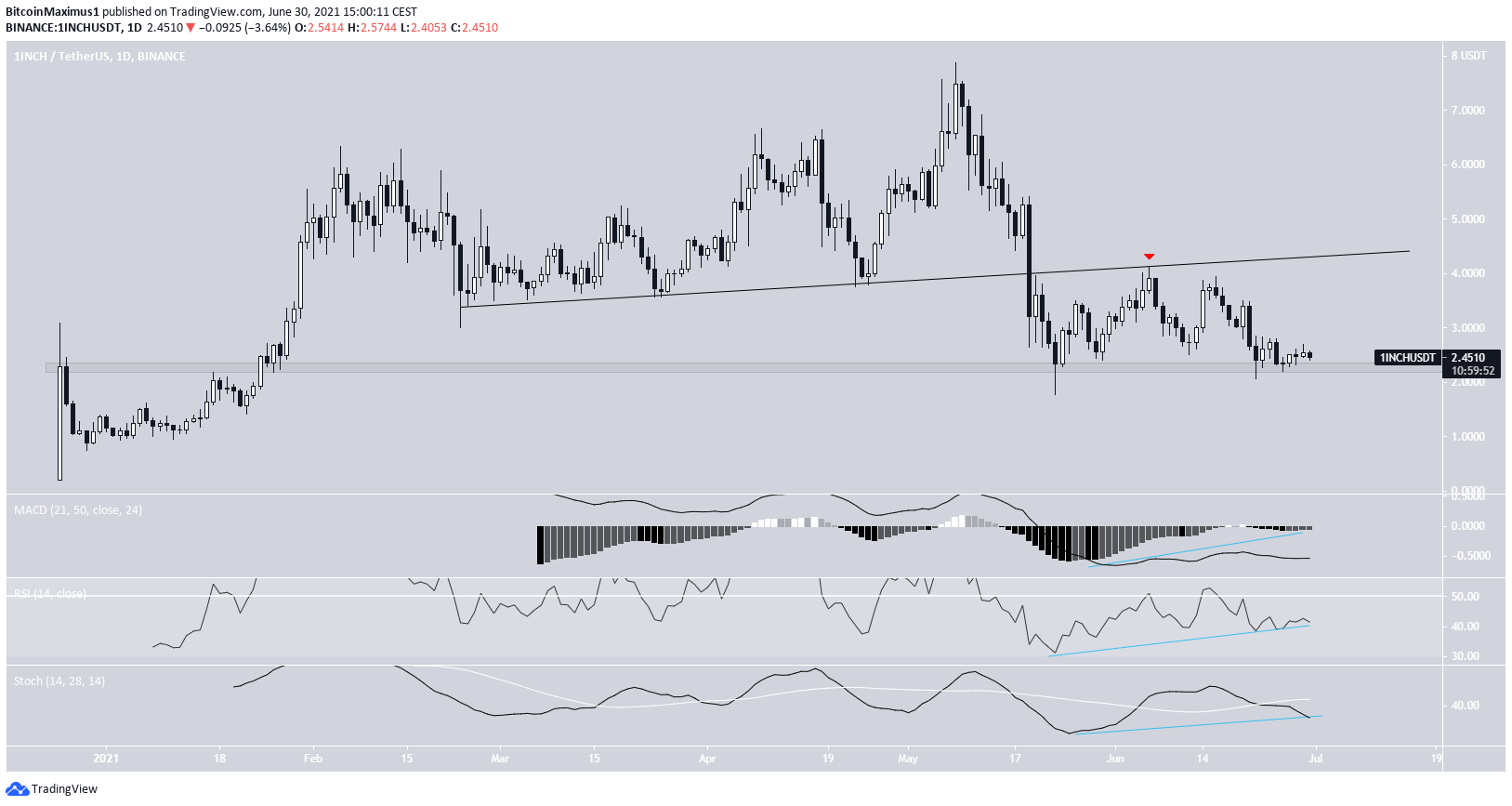 The Graph (GRT)
Current Price: $0.572
Market Cap: $1.657 Billion
Market Cap Rank: #53
The Graph
is an indexing protocol that powers applications in both the DeFi and Web3 ecosystems. It gathers data and stores in indices, which are called subgraphs. Its main use case is increasing the efficiency of dApps. So far, more than 3,000 subgraphs have installed, used for dApps such as Synthetix, AAVE, Uniswap, Decentraland and others. The graph is also home to a local community, which includes around
2,000 Curators, 200 Indexer nodes and numerous delegators.
GRT has been decreasing since reaching an all-time high on Feb. 12. So far, it has reached a low of $0.428, doing so on June 22. The ensuing bounce served to validate the $0.47 area as support. In addition, the RSI & MACD have generated considerable bullish divergence, increasing the likelihood that the token will bounce. If an upward movement ensues, the closest resistance would be at $1.37.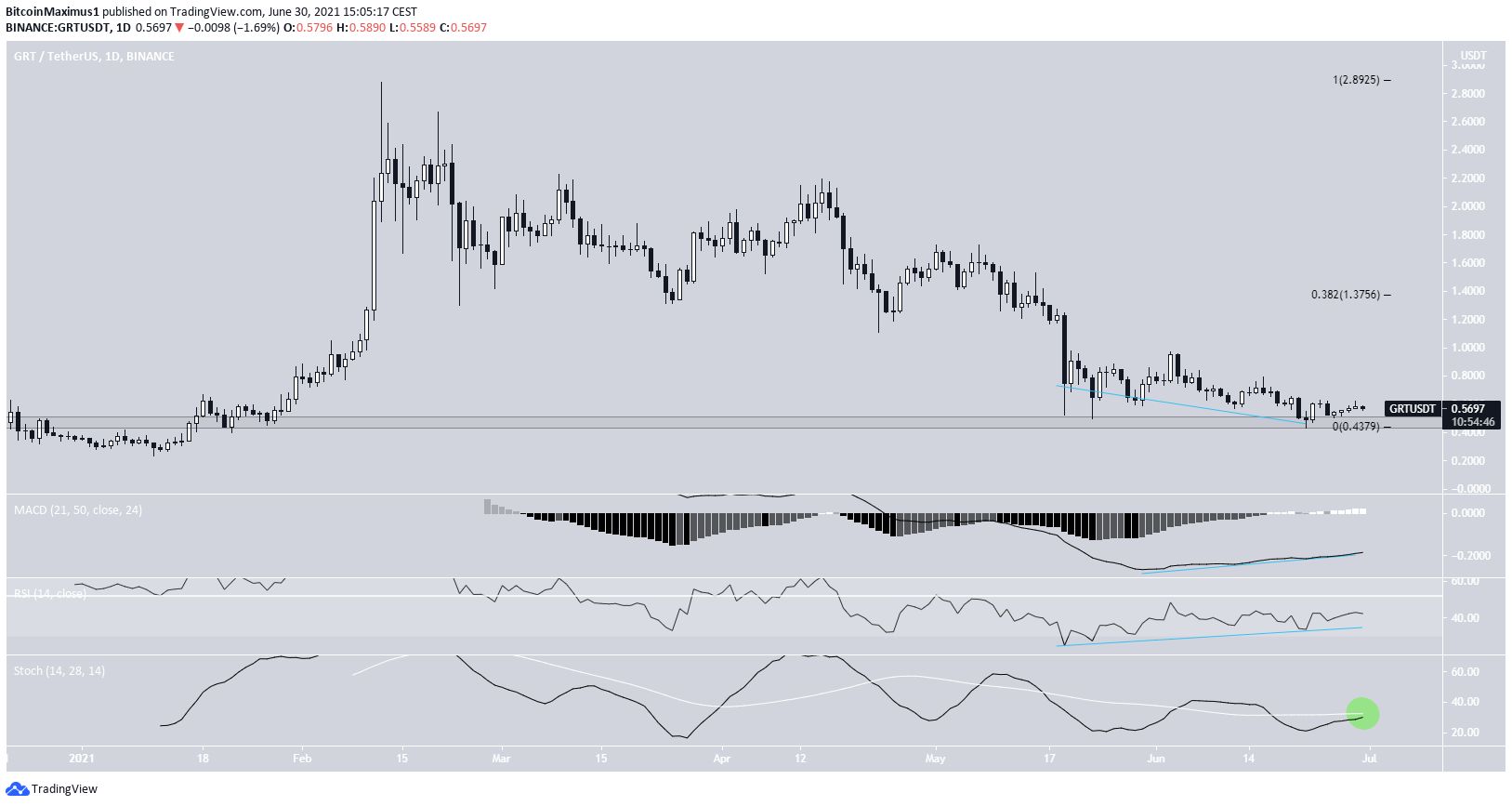 For BeInCrypto's latest BTC (BTC) analysis, click here.
The post Top 5 DeFi Coins For July appeared first on BeInCrypto.
Source