TurboXBT — Next-Generation Supercharged Trading Platform
5 min read
TurboXBT is a next-generation digital asset trading platform that is designed to offer both new and professional traders a high earning potential through short-term contract trading.
PrimeXBT, a leading BTC (BTC) margin trading platform, created the TurboXBT platform to enable traders to generate unrivaled profit levels.
TurboXBT is a user-friendly platform that allows you to profit up to 90% in 30 seconds by simply predicting short-term price moves of various assets.
These include BTC, gold, S&P500, oil, and EUR/USD.
TurboXBT in a nutshell
Synthetic short-term contracts.
Up to 90% profit for a single trade.
17 assets, 38 trading pairs.
Up or down contracts.
Contract durations are different from 30 seconds to 15 minutes depending on the chosen instrument.
An overview of TurboXBT
TurboXBT's platform is unique in that it allows users to trade in BTC-settled synthetic contracts.
TurboXBT allows you to make short-term price predictions and profit from accurately predicting if an asset's price will be higher or lower after a short interval. These vary from one minute to 15 minutes.
The platform is completely newbie-friendly and requires no previous trading experience to get involved.
If the prediction is right, a user can earn up to 90% in profit, which equates to almost double the initial investment.
TurboXBT interface
The TurboXBT interface is made up of two main sections: the account statistics bar, situated on the left. On the right is the prediction interface.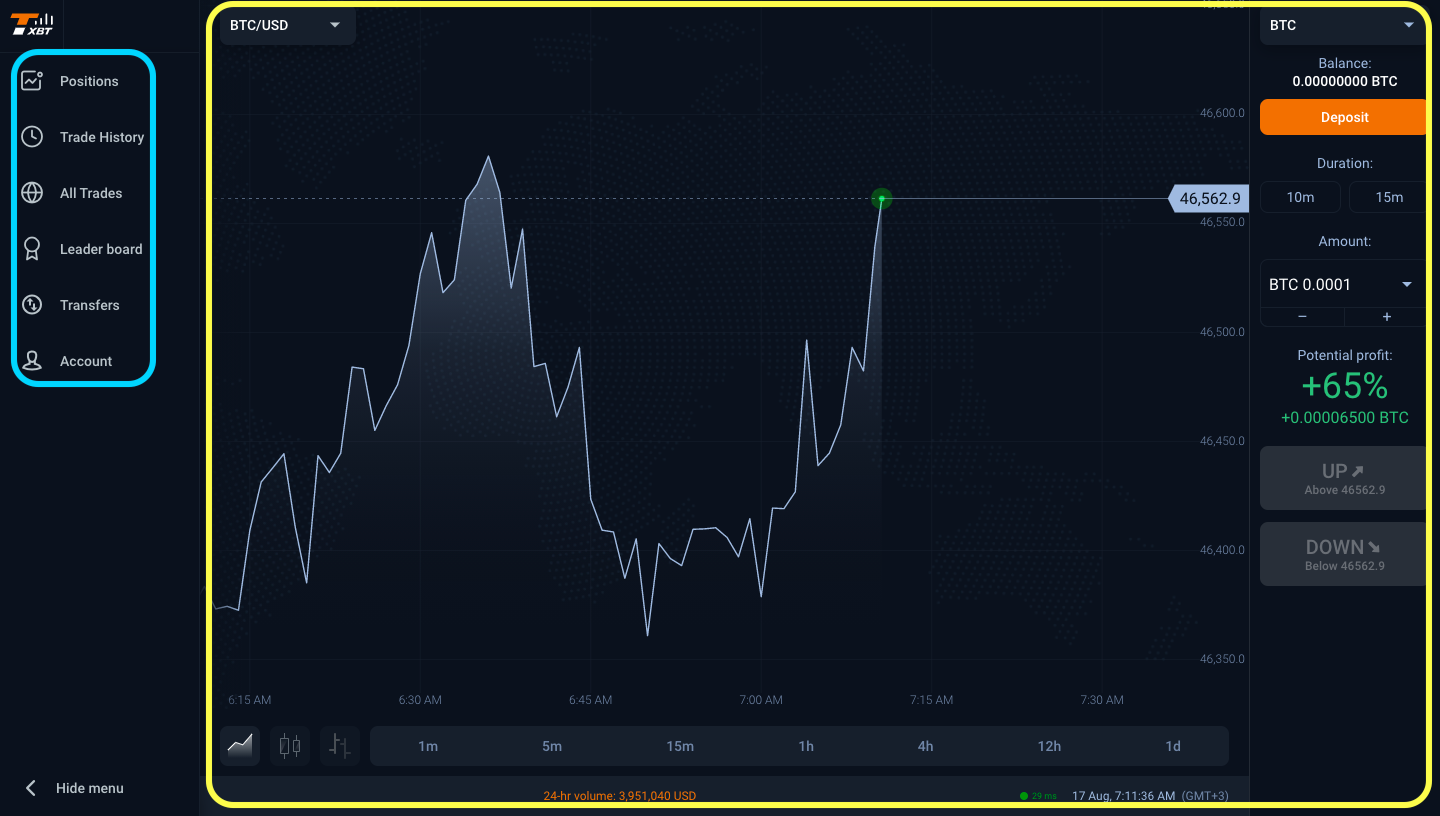 The account statistics bar is where users will find the prediction/ position statistics and activity. There are six tabs located here:
Positions: reflects your active predictions.
Trade History: reflects your latest completed predictions.
All Trades: reflects latest completed predictions made by other traders.
Leaderboard: a leaderboard of all traders.
Transfers: deposit and withdraw menu.
Account: edit your nickname, enable One-Click trading, access account security settings (such as password, 2FA, and latest logins menu).
The prediction interface is where users can make predictions and alter chart settings. Users select the parameter of their predictions here, including currency, duration, and the number of funds allocated to a prediction.
Assets available to trade with
Users have a varied choice of assets to trade with. From crypto to fiat currency, there are 17 assets in total with 38 trading pairs. The assets available include:
Cryptocurrency
Fiat currency
EUR
USD
AUD
JPY
NZD
GBP
CAD
CHF
Commodities
Brent
Crude Oil
Gold
Silver
Indices
How synthetic short-term contracts work
User selects the asset pair to trade, for example, the BTC/USD pair.
A suitable time frame that is visible on the chart interface is then chosen. The trade is executed by clicking either the green "up" button for the upward trend or the red "down" button to bet on price falls.
Trade winnings are dependent on whether the traded pair gained or lost in value within the set time limit.
Payout and profit
TurboXBT explains that when making a prediction, the funds selected will automatically be reserved and deducted from a user's balance.
If the prediction is correct, the funds will automatically return to the balance, as well as the profit received.
High stakes mean high risk
While the platform is very user-friendly, caution needs to be taken when it comes to trading.
The risk-reward scenario needs to be fully understood before diving in. With high stakes, there are high risks.
When trading synthetic contracts, there are two possible outcomes and there is a higher chance of losing money than with normal trading.
The two outcomes include winning an investment back and earning a profit, or losing all capital if the prediction is wrong.
A user needs to know their personal risk tolerance before making a trade. To get used to this idea, there is a demo account feature on the right-hand side of the website.

This is pre-funded and allows users to familiarize themselves with the features as well as the trading environment.
How to sign up on TurboXBT
TurboXBT lives up to its user-friendly features and the registration process is very simple.
To trade, a user will need to register with TurboXBT and create an account.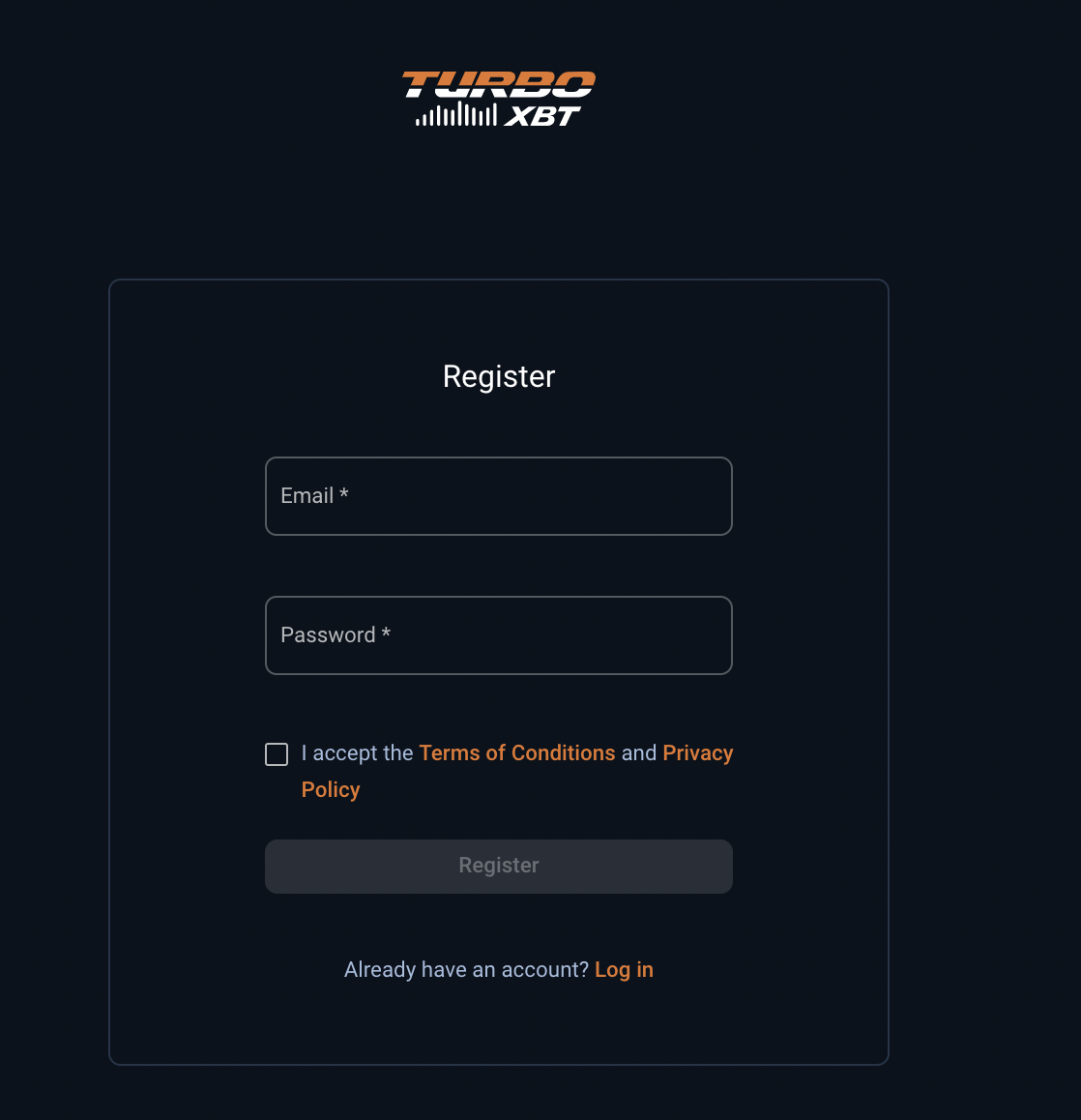 Once the account creation process is complete, the next step is to deposit funds. To do this, select the "account" section and then click "deposit wallet".
This is where a user will access their personal BTC deposit address which is needed to transfer funds. There is a minimum deposit fee of 0.001 BTC and a minimum order size of 0.0001 BTC.
Trading can be done by selecting the "Turbo" option, which will take users to the synthetic contracts trading platform.
Users can select their preferred trading pair from a drop-down menu in the top left corner of the trading interface. The payout ratio will be given along with the trading pair selected. The chart can be analyzed to predict future price movements.
After this, the trade duration needs to be selected from the right side of the platform's interface, under the deposit button.
Here, the trade amount must be entered and depending on the price movement analysis, the trader will need to select the "up" or "down" button. The potential profit for this specific trade is below the "amount" column.
Trader wellbeing
TurboXBT places a strong emphasis on the risks associated with trading. The platform is conscious of the fact that not all traders can afford to lose money and advises individuals to exercise caution.
Rather than trying to swindle funds away from people, TurboXBT demonstrates how it values its community's well-being and highlights the need to be careful as there are various risks associated with trading.
"Trading on TurboXBT platform involves a significant level of risk and is not suitable and/or appropriate for all clients. You should never invest funds you cannot afford to lose," says TurboXBT on its website.
TurboXBT makes trading exciting
For new and veteran traders alike, TurnoXBT is a user-friendly platform that offers an exciting opportunity to earn unmatched profits.
The platform's interface is intuitive and easy to navigate but for those who need a bit of guidance, the Help Centre has all the solutions.
The platform itself is fast, efficient, and simple to use. There is no element of intimidation that is often seen within other crypto and traditional trading platforms.
TurboXBT is an exciting platform for those with a tolerance for risk. For individuals looking to learn something new, the demo feature is a great way to practice trading before making a financial commitment.
Stay up to date with TurboXBT here: Medium | Twitter | Telegram | Register |
The post TurboXBT — Next-Generation Supercharged Trading Platform appeared first on BeInCrypto.