Upland introduces meta-adventures and new business ownership model
2 min read
Play-toearn-style game Upland recently announced that player-owned businesses will now be called "meta-adventures".
In addition, the team decided to discard the old NFT-based business ownership model. A new "Venture Dues" fee model will be implemented. According to the developers, this new model will allow for more opportunity, flexibility and decentralization.
Upland recently secured $18 million in a round of investments aimed at accelerating its screenplay. Part of that roadmap includes launching highly anticipated player-owned businesses.
In a recent post on Medium, The team introduced the official term for player-owned companies within Upland, along with the introduction of the revamped ownership system.
With meta-adventures, players won't need to have an NFT in-game. Originally, Business License NFTs would allow players to create businesses within a specific city.
It made sense, but the team realized that it created a huge barrier to entry, discouraged competition, and had potential distribution challenges. They finally concluded that NFTs were not the way to bring meta-adventures to life.
The new way of starting and operating a business is called the Venture Dues model. But how will this new model affect your ability to build a business in Upland?
What is the Upland Venture Dues model?
The objectives of the Venture Dues model are: to encourage competition, allow anyone to participate and create a healthy market. Metaventure owners will pay a monthly fee to maintain their businesses.
How much will you pay to operate your business?
Each player who transacts with a company will pay a UPX fee to the Upland Community Pool as part of their transaction. The fee to operate your meta-adventure is based on the average UPX fee for your business type and location. Your fee will be a specific percentage of the average UPX contribution for your business type and location.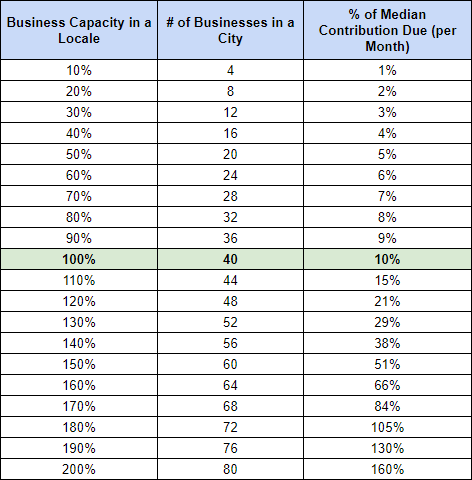 Let's assume your location is at 100% capacity. You will be paying a 10% fee each month. An average community pool contribution of 600k UPX will require all companies to pay 60k UPX.
However, all of this is subject to change. It is best to always consult the official site for up-to-date information on charges.
What is Upland?
Upland is a Monopoly-inspired EOS blockchain game. Players buy and own digital versions of real-world properties. Purchases of virtual properties using in-game tokens (UPX), which you can also earn in-game.
The game world of Upland uses real world maps. Players start in San Francisco or Fresno and can travel to other cities, including New York, Oakland and Chicago.
Players earn income from owning and trading virtual properties, completing signature collections and participating in treasure hunts and other live events. Plateau properties are based on real-world boundaries.
Upland allows players to create virtual businesses. Additionally, players can work together to build and upgrade their properties. Upland runs in a browser and is accessible on most devices.
Turkish lira collapses massively: Investors are fleeing in BTC