User loses 42 ETH when trying to trade very low liquidity token
2 min read
A user lost the trifle of 42 ETH on Thursday night (13). According to data from etherscan, the loss occurred when he tried to buy an unknown token called Fees.WTF (WTF).
User loses 42 ETH
The operation was performed on Uniswap V2. According to information from the official website, the Fees.WTF protocol carried out an airdrop – free distribution of tokens – on Thursday night. Then, the user tried to perform the purchase operation.
Data shows that 42 ETH was equivalent to $135,000 at the time of purchase. However, the purchase made was only 0.00004 WTF, which was worth $0.00000525172 at the time of purchase. That is, almost two thousand times less than US$ 0.01.
In practice, the user has lost his funds in a blunt way.
Low liquidity affected the operation
The transaction failed due to low liquidity in the pool where it took place. According to the anonymous profile titled Pentoshi, the pool was just $0.79. Therefore, the system did not have sufficient funds to support the operation.
After the crash occurred, some people criticized the Fees.WTF developers. For them, the liquidity failure represents a mistake in the way the initial pool obtained funding.
As blockchain data shows, Fees.WTF developers seeded the initial pool on Uniswap with more than 2,211 WTF, but placed only 0.000001 ETH, causing a huge imbalance in liquidity.
This allowed users to sell low amounts of WTF for relatively high amounts of ETH. This is what happened in this transaction: a user paid over 40 ETH for a fraction of WTF.
On the other hand, WTF buyers ended up buying the tokens at a much higher value. Soon, sellers benefited at the expense of whoever acquired the token.
The WTF price has been hit hard and operates down nearly 60% from its high. After surpassing US$0.20, it is only worth US$0.09 at the time of writing.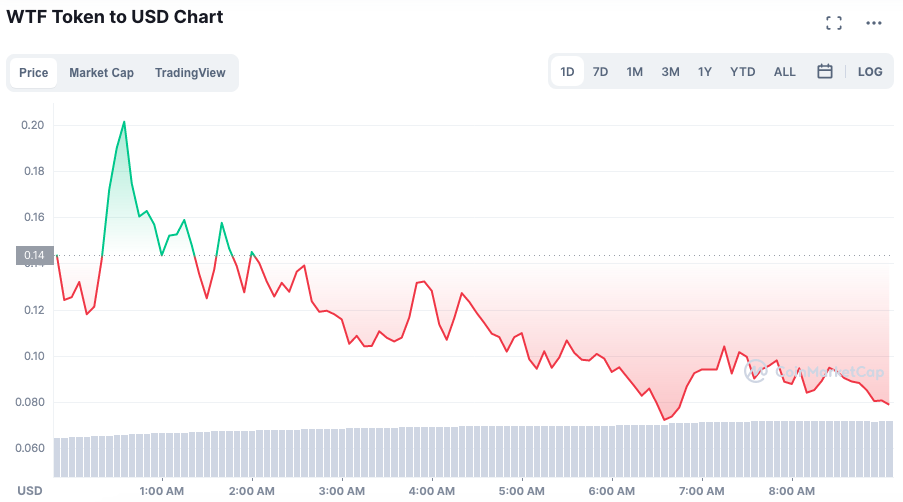 About the project
Fees.WTF is a popular tool that allows users to track the fees they spend on ETH trades. The protocol airdropped it directly into users' wallets based on their usage prior to distribution.
One of the possible uses of this token is to feed the liquidity pool, which offers annualized returns of up to 7,000%. Additionally, users are able to receive a non-fungible token (NFT), which Fees.WTF says is unique to each individual wallet.
These advantages have led to a rush by traders looking to accumulate WTF. After the airdrop, the token was listed on Uniswap, which brought an expectation of huge returns. But later events made the optimism fade.
Increased correlation between BTC and the stock market poses a risk