Venezuela's Biggest Petro Fan is Starting an OnlyFans
3 min read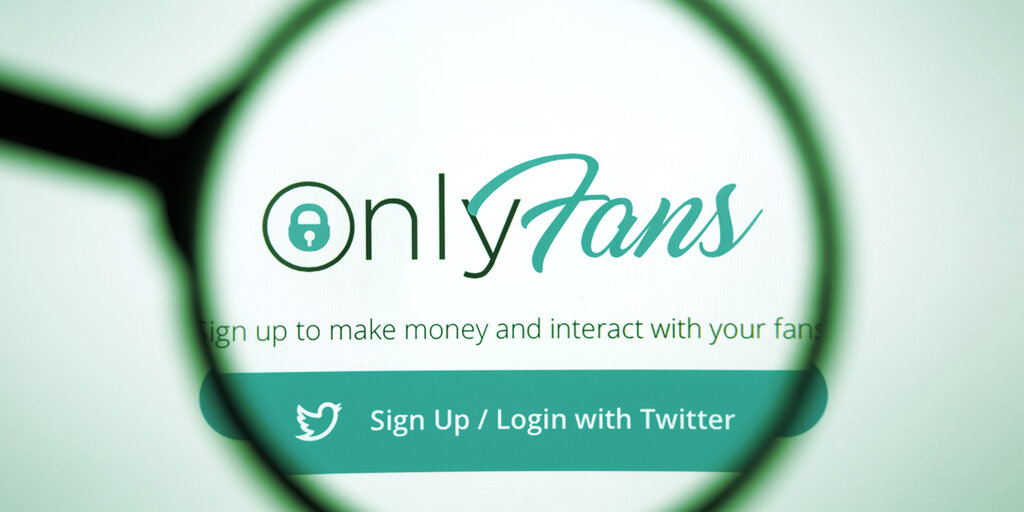 PetroDivisa, one of the most popular promoters of Venezuela's state-rolled crypto, the Petro, is teaching their flock how to trade and spreading the crypto gospel on OnlyFans, a platform best known for…porn. 
In a recent tweet to their 79,000 followers, the pseudonymous trader said they are opening an OnlyFans account to get closer to their fans.
Unlike the salacious material with which so many adult entertainers bloat the platform, PetroDivisa will provide no nudity and will not satisfy any fetishes—unless trading signals and charts erected from long green bars arouse its audience.
Muchos usuarios me solicitaron crear un espacio para interactuar de forma más dinámica con las señales de #Trading en las distintas criptomonedas que estudió, incluso me indicaron que estaría dispuesto a cancelar una membresía. Pronto estaré en #OnlyFans para este propósito. pic.twitter.com/bZESSTuUqJ

— Petro Divisa❁ (@PetroDivisa) January 16, 2021
Not that PetroDivisa is above this: they clarified that they do not have the kind of voluptuous physique from which so many other OnlyFans users earn their keep. So, instead, they're offering advice on trading signals and lessons from the world of crypto. 
"Many users asked me to create a space to interact more dynamically with the #Trading signals on the different cryptocurrencies I study," tweeted Petrodivisa. "I will soon be on #OnlyFans for this purpose," they said. 
Who is PetroDivisa?
Venezuela's crypto community is not only divided by maximalists and altcoiners: it is also defined by politics. PetroDivisa represents the faction that believes that Venezuela's own cryptocurrency, the Petro, is a good thing. 
Accounts like PetroDivisa think that the Petro admirably escapes the unilateral sanctions that the United States imposed against Venezuelans.
Others think that the Petro is garbage, the latest terrible machination from President Nicolás Maduro, the strongman who brought economic ruin to the country. 
Such people often conceive of Bitcoin as an escape from inflation caused by the bad policies of the Venezuelan government, which makes the Fed's "brrr" seem like child's play.
Since 2018, PetroDivisa's Twitter account has defended the Petro. The account has expanded to other platforms, such as Telegram, Instagram and Mastodon, where it shares content related to the Petro, cryptocurrencies and politics.
So successful is PetroDivisa, that they have a larger fanbase than that of Joselit Ramirez, Venezuela's Crypto Superintendent—the government official who calls the shots on Venezuela's crypto economy, be it regulations, trading, payments or mining. Ramirez has 31,000 followers on Twitter to PetroDivisa's 79,000.
Why OnlyFans?
But why has PetroDivisa turned to OnlyFans? 
OnlyFans isn't just for porn. Tim Stokely, the CEO of the London, UK-based platform, told Buzzfeed last May that erotic or pornographic content forms half of that stored on the platform. The rest is scattered among other content producers, including musicians, fitness experts and reality stars.
So using Onlyfans to promote cryptocurrencies, although unusual, would not be anything new for the platform. That said, although other crypto traders have tried their luck on OnlyFans, the ones Decrypt found have been inactive for months.
PetroDivisa said they chose to create an OnlyFans account to profit from paid subscriptions, which allows them to earn additional income in dollars, thanks to the platform's payment options. 
Earning US dollars is important for Venezuelans because dollars are protected from the government's monetary policies and can be used to access foreign markets.
The Venezuelan government, under Maduro, has trashed the country's national currency, the Bolivar, which has suffered from inflation rates as high as 1,500,000% in 2018 and 3,700% in 2020.
The US dollar, a comparatively stable, non-sanctioned currency, is useful to Venezuelans who want to interact with the global economy. 
For example, Nakary Spadafora, a young Venezuelan influencer, became famous when she earned $6,000 in her first 24 hours of selling nudes on her OnlyFans account. 
Spadafora thus earned in one day what she would have earned in several centuries under Venezuela's minimum wage. All thanks to OnlyFans.
Too bad OnlyFans doesn't accept Venezuelan Petros.