Virtual land in Decentraland metaverse sells for $2.4 million in cryptocurrencies
2 min read
A piece of virtual real estate in the Decentraland cryptocurrency-based metaverse was sold for a record $2.4 million worth of cryptocurrencies.
The sale was announced on Tuesday by buyer Tokens.com and confirmed by the virtual world team.
Metaverse on the rise
As reported by Reuters, in Decentraland users can buy land, visit buildings, walk around and meet people in the form of avatars.
Everything works based on the universe's native token, MANA, as well as non-fungible tokens (NFTs).
In the last 30 days alone, the MANA cryptoactive has already appreciated more than 450%. At the time of writing, the token is priced at $4.30.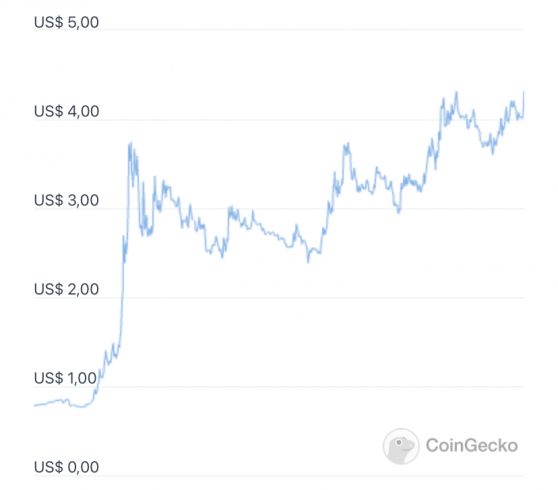 But MANA isn't the only metaverse token that's on the rise. Digital asset SAND, from the metaverse The Sandbox, recorded strong appreciation on Tuesday, up 40%. This appreciation pushed the token to $5.60, renewing its historic high.
Overall, the metaverse market is quite heated, especially after Facebook announced the development of its own metaverse and changed its name to Meta.
About buying virtual land
Still on the land in Decentraland, the acquisition was made by the subsidiary of Tokens.com, called Metaverse Group.
The organization purchased a plot of real estate for 618,000 MANA on Monday. At the time of purchase, the amount was equivalent to US$2,428,740.
According to Decentraland, this was the most expensive purchase of virtual land on the platform.
The space in question is located in the "Fashion Street" area of ​​the Decentraland map. According to Tokens.com, the virtual region will be used to host digital fashion events and sell virtual clothing for avatars.
As Andrew Kiguel, CEO of Tokens.com pointed out, the assets will complement the properties already held by the Metaverse Group.
In June, virtual land in Decentraland was sold for 1,295,000 MANA, valued at $913,228 at the time. Buyers built a virtual mall to sell digital clothing.