What Changed in Crypto Markets While You Were Sleeping — April 1
2 min read
BeInCrypto presents our daily morning roundup of crypto news and market changes that you might have missed while you were asleep.
BTC (BTC) Update
While BTC has been increasing since March 25, the rally stalled yesterday. After reaching a high of $59,800 on March 31, BTC created a Doji candlestick — a sign of indecision. This can be seen as a sign of weakness when transpiring in an upward trend.
The candlestick was created at a resistance area near $60,000. This the same place where three upper wicks had been previously created at the beginning of March.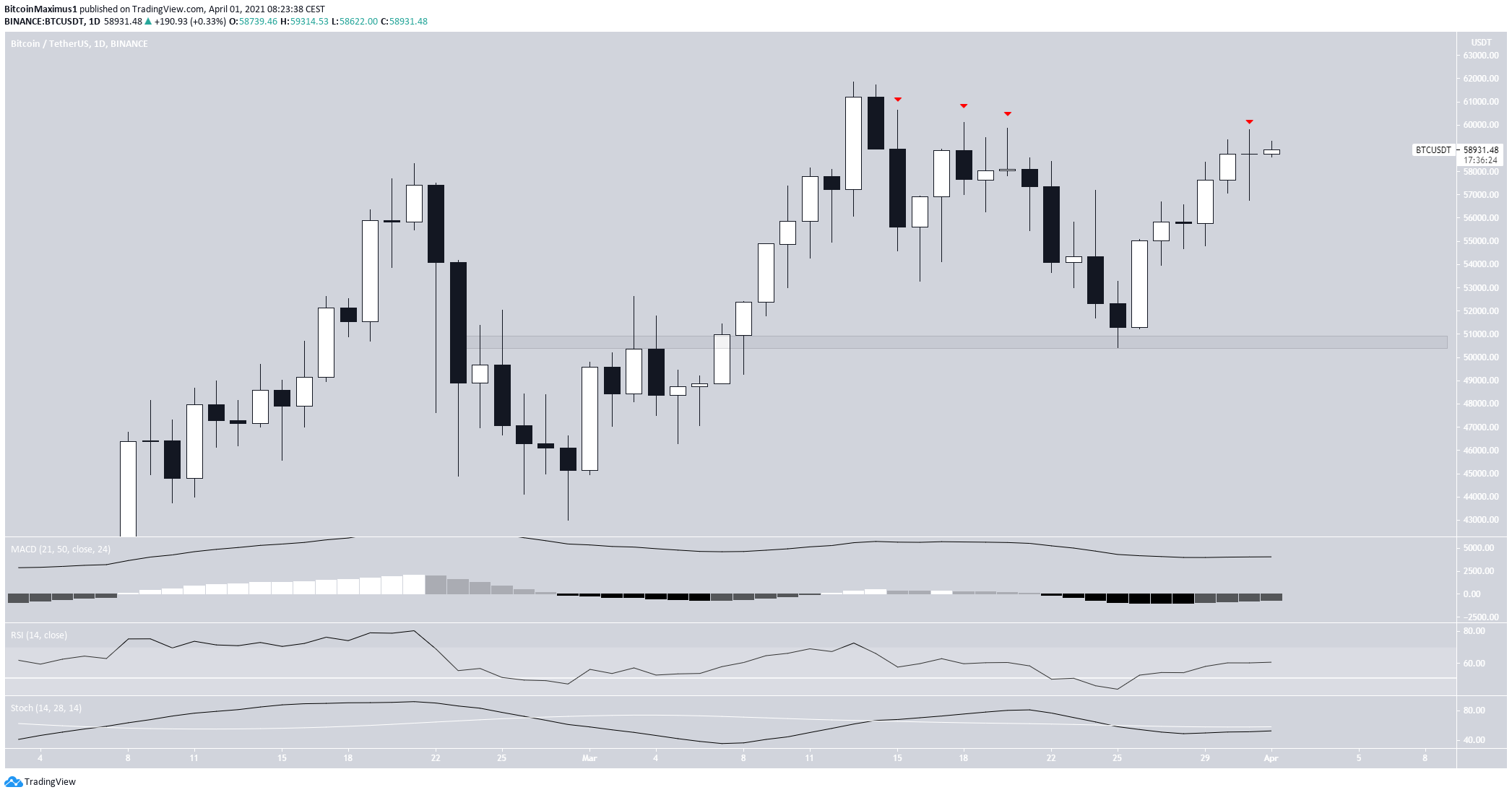 Altcoin Movers
The crypto top-10 by market cap stayed pretty much the same in the last 24 hours. However, Filecoin (FIL) exploded in value, sending it into the #10 spot. This caused it to knock THETA back to the twelfth rank.
Filecoin was the biggest mover in the past day. FIL is currently up by more than 37% on the day trading at $213. It's up an even greater 137% in the past week alone.
Kasuma (KSM) is the biggest daily loser in the top-100. It's down by more than 13% today to trade at $471. At the moment, this just appears to be a slight correction. The gaming-centric coin has climbed by more than 600% since the beginning of 2021.
In Other Crypto News
European Central Bank President Christine Lagarde outright mentioned that the bank will consider launching a central bank digital currency (CBDC). Concerning a timeline, Lagarde said, "The whole process—let's be realistic about it—will in my view take another four years, maybe a little more."   
The Element Finance protocol is bringing high fixed-rate yields to DeFi to maximize capital efficiency. Users will be able to purchase discounted BTC, ETH, and USDC without being locked into a fixed term.
The latest offering from decentralized finance (DeFi) aggregator Yearn Finance is a grant distribution platform that it has dubbed "Coordinape." Coordinape essentially allows decentralized teams to autonomously allocate and reward contributors with funds. This is pertinent to DAO's without top-down management or human resources departments.
The post What Changed in Crypto Markets While You Were Sleeping — April 1 appeared first on BeInCrypto.