What Changed in Crypto Markets While You Were Sleeping — July 5
2 min read
BeInCrypto presents our daily morning roundup of crypto news and market changes that you might have missed while you were asleep.
BTC update
During the week of June 28-July 5, BTC did not move significantly in either direction. On the contrary, it ranged between $32,699 and $36,660. It's still trading above the long-term horizontal support level of $32,600 and has created several long lower wicks below it. 
However, technical indicators in the weekly time frame are still bearish. The MACD is negative, the RSI has crossed below 50, and the Stochastic oscillator has made a bearish cross.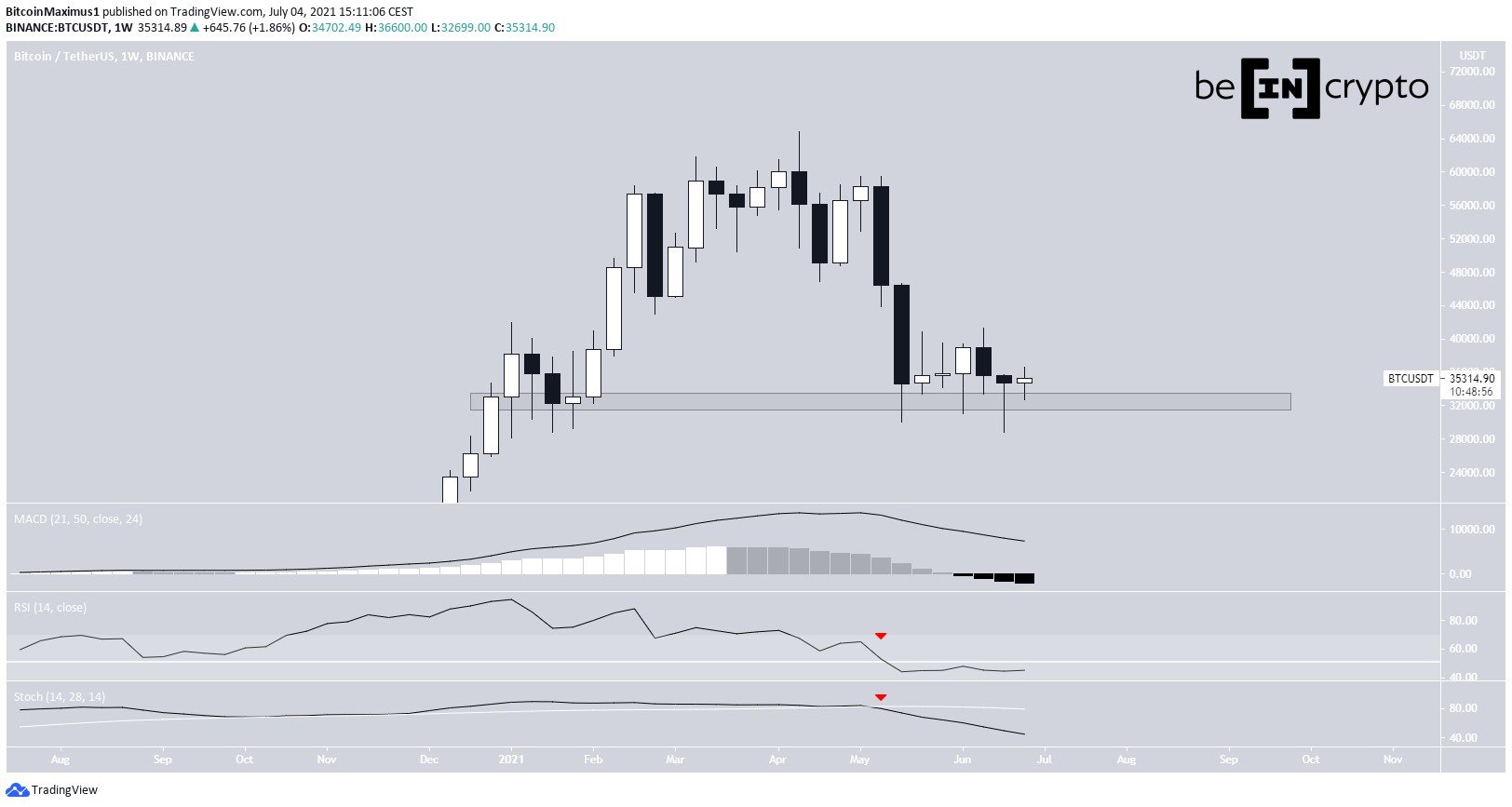 Altcoin movers
The total cryptocurrency market cap is currently sitting at $1.48 trillion and has remained mostly flat throughout the past weekend. BTC (BTC) and ETH (ETH) are down 3.5% and 2.5% respectively, while most altcoins in the top-100 are also seeing slight losses on the day.
Synthetix Network Token (SNX) is faring the best. SNX is up 18.5% in the past 24 hours and has gained more than 41% in the past week. The Graph (GRT) and ECOMI (OMI) are also both up by over 10% from yesterday.
TitanSwap (TITAN) is the day's biggest loser, trading down nearly 8%. However, this appears to be only a slight pullback. TITAN is still up by over 100% in the past week, beating out every other altcoin in the top-100.
In other crypto news
The Kazakhstan government has imposed a new law that will see cryptocurrency mining taxed. The government published an official notice saying that the head of state had signed the law into effect late last month. The law will come into effect on January 1, 2022, and is expected to generate billions in the national currency tenge.
The President of the Philippine Stock Exchange has said that he wants crypto trading to take place on the exchange, and is waiting to hear back from the country's Securities and Exchange Commission (SEC).
Auditing firm Ernst & Young (EY) has released a zero-knowledge proof Layer 2 protocol in order to help with addressing rising transaction fees on ETH.
The post What Changed in Crypto Markets While You Were Sleeping — July 5 appeared first on BeInCrypto.